Almanac (Covid) Life – Lockdown submarine
Locked down again in Brunswick East.
Dire straits for local strip shops, whose doors are locked and shuttered with closed security screens.
Going under. We all live in the lockdown submarine.
Here, I'm thankful for ongoing work (from the 'temporary' arrangement at home). Thankful for laughs and ridiculous moments with friends and family. I reckon this is day 485ish since Melbourne was first affected by some form of restriction. How many of these days have been spent under some form of restriction order? 150? 200? Stage 3s, Stage 4s, States of Emergency, States of Disaster… they all kind of blur into each other. No leaving a 5km radius from your home, nighttime curfews. It's been a blast.
Today as I look at that roller screen door of the Tatts outlet I know that it has been hard.
And I think of Ringo and of his boundless messages of peace and love.
Right now, it seems a wonderful thing to share.
Peace, love and imagination to all.
And we live a life of ease
Every one of us (every one of us)
Has all we need (has all we need)
Sky of blue (sky of blue)
And sea of green (sea of green)
In our lockdown (in our lockdown)
submarine (submarine, aha)
To return to our Footy Almanac home page click HERE.
Our writers are independent contributors. The opinions expressed in their articles are their own. They are not the views, nor do they reflect the views, of Malarkey Publications.
Do you enjoy the Almanac concept?
And want to ensure it continues in its current form, and better? To help things keep ticking over please consider making your own contribution.
Become an Almanac (annual) member – CLICK HERE.
One-off financial contribution – CLICK HERE.
Regular financial contribution (monthly EFT) – CLICK HERE.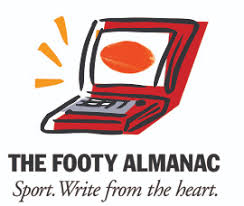 David Wilson is a writer, editor, flood forecaster and former school teacher. He writes under the name "E.regnans" at The Footy Almanac and has stories in several books. One of his stories was judged as a finalist in the Tasmanian Writers' Prize 2021. He is married and has two daughters and the four of them all live together with their dog, Pip. He finds playing the guitar a little tricky, but seems to have found a kindred instrument with the ukulele. Favourite tree: Eucalyptus regnans.