Almanac (Bush) Footy: The Mighty (Tanunda) Magpies
This piece first appeared in The Age in July, 2009.
SATURDAY afternoon in the Barossa Valley. I am sitting with Robert O'Callaghan — winemaker, yarn-spinner, cricketer, golfer, Port Adelaide supporter, larrikin, lover of life — in front of the fire in his 1850s home. A mallee root burns beautifully. Fev is having an ordinary first quarter.
Robert's winery, Rockford, is a two-iron away, if you can get the ball rolling down the Krondorf Hill. Robert is telling stories.
"The old man played for Barooga in '59. Maroon and gold: the Hawks. Team full of O'Dwyers and Tooheys and Dohertys and Cullens. Could have been an Irish hurling team. Vin Toohey is Bernard's father," he explains.
"Played for Geelong," I say.
"And Sydney," he reminds me. "Great characters. Sparrow Quinane: jockey-size, just wanted to blue. Gav Cullen: the whitest skin and the reddest hair; used to take off on these long runs and come back rosy-cheeked and puffin'. Bricky Neal who was wider than he was tall. But not as big as Tubby Brooks, the full-forward. Sat in the goal square. Pioneered the lace-up jumper up the Murray. So big the Barooga jumper wouldn't go round him. His mother had to cut it up the middle to put in a panel. Had to lace it up.
"They made the grand final. Against Wunghnu, the Presbyterians. Three-quarter-time they were copping a hammering. Gerry O'Dwyer, great player, great coach, searched for inspiration. 'Look at those wowsers,' he said, pointing at the other huddle. 'If they win this they'll be celebratin' with three pots of tea and a lemon sponge cake. But if we win …' He was interrupted. 'I'll put on a keg,' came a voice from the outer circle. 'I'll kill a sheep,' said another. 'I'll put on another keg.' They won running away and partied for a week."
We're in the footy mood. I suggest we duck into Tanunda to watch the local match.
So we do, driving through the puddles, past rows of shiraz vines, as knotted as Kevin Sheedy's knuckles. Into town.
Huge pine trees ring Magpie Park, the home of the Tanunda Football Club. We drive in. Past the Tanunda Kegel club where they've played skittles on the wooden floor (and drunk a lot of port) for generations.
Blue-grey clouds sweep across the sky. Bitter sou' westerly. Tanunda is giving Willaston a lesson, playing skilful footy on the squelchy wings and avoiding the sour-mud centre square.
Old Ray Giersch is on the port in his time-keeper's box. He's been keeping time (in his own way) forever. But time is different in the Barossa.
We stand in the outside bar which is on the Antarctica side of the stone and red-brick and wrought-iron grandstand. One of the few footy bars with a port keg. And it's going down nicely. As restorative as Communion wine.
I look at the advertising hoardings on the far fence: "A.P. JOHN — COOPER". Never known a sponsor like that before.
Robert introduces me to Carl Lindner, a big ruckman-type with a ginger-grey beard. One of the famous Lindner clan of Don and Hank and Bruce. Carl was a star at Tanunda in the '60s. "Did you go to town?" I ask.
"Oh, I went down to Centrals in '64, in the days when Adelaide was a long way away," he tells me. "My first game, 'Bubbles' Obst tackled me. I thought he'd cut me in half. I suddenly knew what old Pastor was saying when he used to talk about the soul leavin' the body. I just wanted to come home."
One of the South Australia's great footballers was captain-coach of Centrals then. Ken Eustice was regarded by Fos Williams, Mark's dad, as one of the toughest footballers ever. He didn't think the boys were hard enough.
"Football is about getting the best out yourself," he said one Thursday night at training. "You blokes aren't aggressive enough. Here's what you need to do. On Saturday morning you're going to eat a plate of raw meat."
"I really wanted to come home then," Carl says. "Footy was more glorious here."
I go out to the three-quarter-time huddle. Blokes are hot-cold. They clear their throats and nostrils. Snorting. Clapping. Urging. Listening.
Tanunda is too strong. All but two are locals lads. It was undefeated last season.
Robert and I return to the fire. Fev has kicked nine.
Read John Harms column A Year in the Barossa HERE.
Read more stories by John Harms HERE.
The Tigers (Covid) Almanac 2020 will be published in 2021. It will have all the usual features – a game by game account of the Tigers season – and will also include some of the best Almanac writing from the Covid winter.  Pre-order HERE
To return to our Footy Almanac home page click HERE.
Our writers are independent contributors. The opinions expressed in their articles are their own. They are not the views, nor do they reflect the views, of Malarkey Publications.
Do you enjoy the Almanac concept?
And want to ensure it continues in its current form, and better? To help things keep ticking over please consider making your own contribution.
Become an Almanac (annual) member – CLICK HERE.
One-off financial contribution – CLICK HERE.
Regular financial contribution (monthly EFT) – CLICK HERE.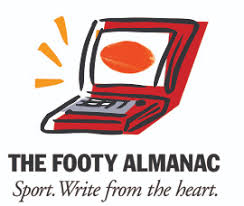 JTH is a writer, publisher, speaker, historian. He is publisher and contributing editor of The Footy Almanac and footyalmanac.com.au. He has written columns and features for numerous publications. His books include Confessions of a Thirteenth Man, Memoirs of a Mug Punter, Loose Men Everywhere, Play On, The Pearl: Steve Renouf's Story and Life As I Know It (with Michelle Payne). He appears on ABCTV's Offsiders. He can be contacted [email protected] He is married to The Handicapper and has three kids - Theo13, Anna11, Evie10. He might not be the worst putter in the world but he's in the worst three. His ambition is to lunch for Australia.