Almanac Boxing: Australian Boxing and the rise of Super Middleweight Zac Dunn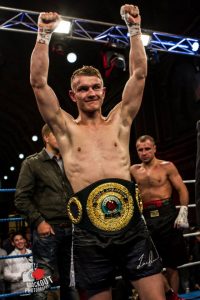 The Super middleweight division is arguably world boxing's best.
With a history of highly skilled, tough champions, breaking into the top echelon of this division, is not only difficult but damn near impossible.
Not considered a traditional weight division, it's home to those fighters that are too big for middleweight and too small for Light Heavyweight.
Household names like Sugar Ray Leonard, Joe Calzaghe, Nigel Benn, Chris Eubank, Roy Jones Jnr and Iran Barkley have held Super Middleweight world titles.
Some of those fighters are pound for pound the greatest names in the sport, and some of the fights, the best the world has ever seen.
For 25 year old undefeated Aussie boxer, Zac Dunn, the weight division is perfect, and he leads a wave of Australian Super Middleweight fighters knocking on the door of world boxing.
Jake Carr, Blake Caparello, Renold Quinlan, Rowan Murdock and former world Middleweight boss Daniel Geale are all campaigning at Super Middleweight and are rated in the top 50 fighters in the world.
They are supported by a string of up and comers, that include Sydney fighter Bilal Akkawy and Victorians Ryan Breese and Jayde Mitchell.
Like standing on the rarefied space that is Mt Everest, to be a world boxing champion is a view only the very best can see. With 22 straight wins, Zac Dunn is climbing the mountain that is elite boxing.
Being Australian in many ways is a blessing, in boxing it's almost a curse.  Dunn carries with him not only rarefied talent but he is burdened by the weight of 13,000 kilometres of ocean.
That's the distance from Australia to the USA, the heart of world boxing.
In a sport that cares little for its own, it seems to care less for those not in the inner sanctum of the US or European boxing markets.
Zac Dunn has to force his way in, and he is.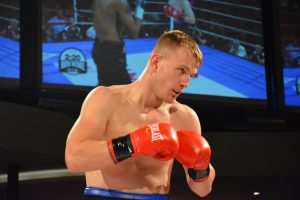 Australia is world boxing's backwater, and at its most basic level, without the support and income of mainstream television, it struggles.
Limited to internet streaming, and infrequent recognition in local papers and pay TV, boxing is stuck on the ropes, struggling against a barrage from commercial power sports like AFL, the A League and NRL.
TV brings money and the advertising dollar, without it, sports wither on the vine.
In Australia, boxing plays out in front of small boutique audiences around the country, with fighters themselves charged with selling tickets to fill venues.
Mainstream TV tends to shy away and the broadsheets remain focused on the 'old' tried and true formulae of AFL footy, soccer, NRL and horse racing.
Boxing doesn't pay they say, and apart from the random curiosity of an Anthony Mundine fight, mainstream media gives it scant attention. It's about eyeballs, and the thinking is that boxing doesn't attract many of them.
Rather comically, the Australian media seem more interested in a bout between two NRL players throwing wild swings at each other, as opposed to a fight between two well schooled, skilled boxers.
At an individual fighter level, the costs associated with boxing are astronomical. To beat the best in this sport, you must travel to fight the best, which costs money.
To bring first rate fighters to our shores takes even more money. As incentive, good foreign fighters are paid 'overs' to get them to travel. Add in the potential for a loss, and the motivation to come to Australia decreases even further.
To the casual observer, fighters like Floyd Mayweather make millions every time they grace the ring. The difference between the remuneration of the very best and the rest, is light years.
Make no mistake, Australia has produced some great fighters over the years. Jeff Fenech, Lionel Rose, Barry Michael, Lester Ellis, Fammo, Carruthers, and Russian expat Kostya Tszyu were larger than life characters and great Australian world champions.
Years ago those fighters, and others, were front page news and it was common to see them fight on television. TV ringside was beamed weekly into lounge rooms and the fighters of the day became celebrities.
For an Australian fighter these days, times seem tougher, or is it we just need another hero.
Zac Dunn started boxing at age 11, after playing Australian Rules football. He liked the team atmosphere but enjoyed fighting more. He was good at it. He had his first fight at age 14.
He wasn't what you would consider a 'rough' kid and he attended one of Melbourne's best private schools, St Kevin's College.
It's not that he was born with a silver spoon in his mouth, far from it, it was simply that his parents wanted to give him the best they could.
He is polite and understated and whilst somewhat shy and guarded, he is welcoming to people he doesn't know. A sure sign of a good bloke.
He has a big smile and laughs a lot, particularly around people he trusts and cares about.
His Facebook page is full of beaming smiles and friends. If you didn't know any better you wouldn't guess he was a fighter.
It's only on closer inspection that you can tell. He has a deep nasal tone when he speaks, courtesy of a broken nose, and when he takes his shirt off, he epitomizes an athlete. A rippling torso highlights zero fat and years of exercise. He is supremely fit.
What you can't see on the surface, or on his Facebook page, is a ferocious appetite for battle. He is a fighting machine intent on destruction.
His has a natural aggression that ignites the very moment he steps between the ropes, and he hurts people who dare challenge him.
In the days leading up to a fight he can barely look at his opponent, let alone shake hands with him. He doesn't want to like his opponent, he wants to hurt him, he wants to win.
It's almost as if the ring is the place where he is free, unstifled and unrestricted. It's the place he works best.
When the bell sounds, he stalks his opponent, waiting for the right moment to explode. When that moment arrives he throws vicious punches to both the head and body.
It's said he could be the best body puncher Australia has ever produced, and his stopping power is unquestioned. 18 of his 22 opponents can attest to that.
For those confronted by this description, put simply, it's boxing. It's a sport that feasts on the weak. It's a hurt sport that by its very definition is the world's toughest.
Honing his craft with long stints in the fighting cauldrons of Thailand and Cuba as a teenager, Dunn was away from family and friends, sometimes for months at a time. Being forced to live in conditions close to poverty, he focused on two things, becoming a better fighter and a world boxing title.
Historically the greatest fighters come from an underprivileged life. The slums of Mexico City, Thailand, and the ghettos of New York and LA are where boxing champions are made. Fighting is a way out, it's money to support a family, and you fought to survive.
With a middle class upbringing, there was nothing to suggest he would become a world class fighter. Dunn is from middle class Brunswick, in middle class Melbourne. On the surface it appears a contradiction. Maybe that's what his past 22 opponents made the mistake of thinking.
Zac fights like his very life depends on it. For him it is survival.
As an amateur representing his country, he was self-funded. Not one to take a handout, his mother and father supported his entire boxing career, world championships and all.
Zac Dunn's only debt is to his family and himself.
The journey to a world boxing title is strewn with broken dreams and heartache. At the very top of the game deception hides behind every corner, and for an Aussie its worse.
Top level boxing starts in whispers behind closed doors, with fighting the last part of a jigsaw puzzle. The opponents you can't see are sometimes more dangerous than the ones you can see.
Zac Dunn is well supported, so he needn't worry about what lurks in the shadows, and the tyranny of distance is offset by a memory of fighting in far off places, away from the comfort of home.
Born to fight, Dunn has trained his entire life. His will to overcome an industry on its knees, and sit centre stage as our best ever, is testament to him, his desire and his family.
This is the story of Australian boxing, and the rise of Super Middleweight Zac Dunn.
@runnerboy22
This post first appeared on www.runnerboy22.com
Lover of coffee, sport and human endeavour. A writer and life enthusiast with a shameless admiration for dogged persistent people that get 'stuff' done.