Almanac Books: Not Bad Thanks is a hoot
Last Tuesday night, at the North Fitzroy Arms, a table of a dozen or so revellers celebrated Graeme Willingham's excellent book Not Bad Thanks. The evening developed into a round-the-table 'In Conversation' with Graeme who told many stories about how this magnificent basketball team came together, some of the antics which characterise this forever-young band of lunatics who have competed for almost four decades.
As I have mentioned elsewhere:
'This is the stranger-than-fiction tale of a grass-roots team's refusal to let power struggles, tragic events, media scrutiny and lack of skill hinder their climb from the bottom of a city league. Spurred on by run-ins with the Harlem Globetrotters, Makybe Diva and a fugitive train robber, the dysfunctional group of blokes discover just how far the Australian traits of mateship and sporting obsession can take you.'
It was an excellent night. I must admit to yearning for the same retention of the same undergraduate sensibility Graeme and teammates have, and I do love wondering whether they are serious or not. The beauty is in never knowing – especially around the history, the ritual, the body of literature and so on that is the life of the team. It's an anthropologist's delight. (Psychiatrists' delight?)
Not Bad Thanks is well worth the read.
Copies of the book are available by contacting us here at the Almanac in the first instance and we will pass your details on to Graeme. [email protected]
For an extract from Graeme's book, CLICK HERE:
If you enjoyed that, here's another taste.
Do you really enjoy the Almanac concept?
And want to ensure it continues in its current form, and better? To help keep things ticking over please consider making your own contribution.
Become an Almanac (annual) member – CLICK HERE
One off financial contribution – CLICK HERE
Regular financial contribution (monthly EFT) – CLICK HERE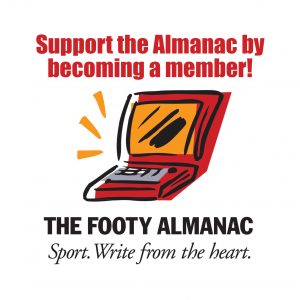 JTH is a writer, publisher, speaker, historian. He is publisher and contributing editor of The Footy Almanac and footyalmanac.com.au. He has written columns and features for numerous publications. His books include Confessions of a Thirteenth Man, Memoirs of a Mug Punter, Loose Men Everywhere, Play On, The Pearl: Steve Renouf's Story and Life As I Know It (with Michelle Payne). He appears on ABCTV's Offsiders. He can be contacted [email protected] He is married to The Handicapper and has three kids - Theo13, Anna11, Evie10. He might not be the worst putter in the world but he's in the worst three. His ambition is to lunch for Australia.