Almanac Book Review: 'Flags, Spoons and Knives' by Lee Harradine
Lee Harradine had little choice but to be an ardent follower of West Adelaide, first attending matches as a young lad in the 1950s, his grandfather 'Stud' Harradine was the club's timekeeper and had been since since 1904!
Flags, Spoons and Knives is the story of Harradine's sixty-plus year affair with West Adelaide as a boyhood fan amongst his idols, an die-hard adult supporter craving success, an enthusiastic volunteer running water (and the occasional message), his rise to head trainer, recruiter, club life member, committee member and finally President.
Using Lee's own words, the book is also:
"… a celebration of [West's] spasmodic brilliance and wonderful players and an attempt to understand its frequent mediocrity and its well-known propensity to shoot itself in the foot when on the verge of success."
To understand a little of West Adelaide, consider Neil Kerley who captain-coached the club to the 1961 flag and was summarily dumped as coach after losing the 1962 Grand Final. West's next premiership came in 1983, in the third year of Kerley's second stint with the Red and Blacks. He promptly left them after the 1984 season (chasing the America's Cup!) but was prevailed upon once more to return for an unsuccessful two years in 1992 (replacing Kevin Morris after 1991's Grand Final loss).
Until Mark Mickan took them to the 2015 pennant, that was all the success that Harradine had seen from his beloved Westies. Coaches of the calibre of Jack Oatey, Fos Williams and John Cahill were unable to deliver a flag to Westies despite their records at other clubs. (Harradine himself had to deliver the bad news that Mickan was to be relieved of his coaching duties two years later.)
The book's season-by-season retelling reinforces West's reputation as the club that invariably follows any short-term success with an extended period of self-inflicted misery.
The story of Kerls' return to assemble what many have said was one of the all-time great SANFL sides is very well presented. That early '80s period saw some canny recruiting from over the border (think Ian Borchard, Mark Dreher, Bernie Conlen, Mike Smith, Richard Hamilton, Craig Williams) supplementing home grown talent like Grantley Fielke, Leon Grosser, Roger Luders, Mark Mickan, Robin McKinnon, Bruce Lindner and Geoff Morris. That 1983 flag was West's last for over thirty years.
As the SANFL's post-Crows-and-Power position in the footy hierarchy diminished, Harradine conveys the near-futility at club level of developing players such as Tony Modra, Mark Riccuito, Shaun Rehn and Adam Cooney.
Harradine's laconic style comes to the fore when talking about the transition from "man in the outer" to "man on the inside", describing his first volunteer job at the club thus:
"My job description, not that there was such a thing at that time, included holding the sponsor's sign at the huddle in the breaks, handing out the guernseys for both League and Reserves teams and being a general dogsbody, a task for which I was well qualified… By late-season I was well versed in the match day duties of an Assistant Reserves' Property Steward, scraping mud off players' boots at the breaks, handing out 'Grippo' and becoming expert at ensuring the proper strength of the cordial supply"

Moving on to join the training staff, Harradine's sense of the slightly absurd brings us such gems as the time he was greeted on field when running water with a polite "We haven't been introduced. I'm Paul Belton", followed by a handshake with the club's new recruit from Port Adelaide whilst the game continued around them.
Volunteers such as Jeannie Luke remain the bedrock of local clubs, even at the state league level and this book recognises many of them. Junior premiership sides, Reserves victors and long-time administrators such as Doug Thomas are all given their due.
An initiative of Harradine's time at the top was the naming of West Adelaide Team of the Centuries. Including such legendary names as Henry 'Dick' Head, Kerley, Ken Eustice, Mickan, Brian Faehse, Bernie Smith and Bruce McGregor, Harradine proudly reflects on this high point of his time at the club with insider details such as the selection machinations involved with this event.
The final quarter of the book describes in detail (apart from some of the names) Harradine's time on the Committee of Management and his rise to President. The book ends on a slightly downbeat note, as Harradine recounts the events leading up to the sudden end of his formal involvement at the club.
Lee Harradine has succeeded in producing a very readable account of West Adelaide's trials and tribulations during his lifetime, as well as plenty of behind-the-scenes perspective from Richmond Oval and should be keenly received by anyone with an interest in the post-war years of the SANFL. The visual element of this book is excellent, with many photos and clippings that enhance its importance.
I'd give it a very solid: Four Knuckles.
Copies are available from Kurrulta Park Newsagency on Anzac Highway or by emailing the author at [email protected]
To return to our Footy Almanac home page click HERE.
Our writers are independent contributors. The opinions expressed in their articles are their own. They are not the views, nor do they reflect the views, of Malarkey Publications.
Do you enjoy the Almanac concept?
And want to ensure it continues in its current form, and better? To help things keep ticking over please consider making your own contribution.
Become an Almanac (annual) member – CLICK HERE.
One-off financial contribution – CLICK HERE.
Regular financial contribution (monthly EFT) – CLICK HERE.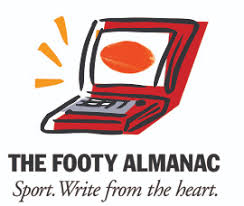 Saw my first SANFL game in 1967 - Dogs v Peckers. Have only ever seen the Dogs win 1 final in the flesh (1972 1st Semi) Mediocre forward pocket for the AUFC Blacks (1982-89) Life member - Ormond Netball Club -That's me on the right