Legendary racing writer Les Carlyon once observed that "horse racing is about horses and people – everything else is dross."
From Andrew Rule's recently published book Chance it would appear the author is a devotee of Carlyon's thinking as he presents for his readers 348 pages of captivating reading about, well, just exactly that – and in trumps, if you don't mind umpire.
The genesis of the book is provided in the Foreword where the author explains how he was approached by Steve Cain, son of Ron Cain and grandson of Norm Cain, both of them leviathan bookmakers last century. Your reviewer even remembers laying bets with the pair of them as a young man.
Essentially, Cain wanted someone to consolidate a record for posterity of what he saw as…
"…racing and its twin, the punt which are woven into Australian culture in a way they aren't anywhere else, except maybe Ireland and New Zealand…That golden age of bookmaking and punting is still within living memory but ebbing away, funeral by funeral."
Or as Rule puts it,
"For every story young Cain grew up with, more can now be told because many people are dead and others are in jail. He remembers those survivors of a harder time and place and wants to herd their stories into page and screen before it's too late."
And Cain couldn't possibly have come to a better storyteller than Rule.
All the noteworthy racing headlines are there.
Readers learn about the Great Bookie Robbery of 1976, the Big Philou doping of 1969, the ring-in scandals of Regal Vista and Fine Cotton, Kerry Packer's monstering of the Sydney betting ring, Mark Read's military precision $1.3 million plunge (1982 currency) on Getting Closer, the attempted nobbling of Galilee in the 1966 Melbourne Cup and the emergence of the "new gear" in the harness racing world at the turn of this century that routine post-race swabs couldn't initially identify.
But it's more than a simple list of events such as the above. It is an analysis of the details of events and industry trends.
It lays out for us the Australian societies that led to the development of betting from the illegal SP operatives between the wars through to the legalisation of tote betting in the mid 20th century through to the decline of bookmakers who became dinosaurs with the emergence of diverse information sources and betting options in the digital age.
To racing aficionados, these above references will be all too familiar.
But the book will have appeal to a far wider audience too as the human behaviour – both noble and venal – behind these stories is all so very human. Think here, horses and people. Thanks Les.
Sure, the author takes us to some very dark places inhabited by criminal thugs…
"… the difference between a scallywag and a standover man is one has a gun in the boot…"
…but he also shines the light on some extraordinarily generous people such as prominent Melbourne Jewish businessman and big rails punter, Michael Pitt.
"…(he) is trusted as a mediator and loved as a philanthropist. When his wife Esther dies young in 1954, he sets up a fund in her memory to help both new arrivals from Europe and anyone in the Jewish community who is struggling…His secretary for 55 years is a devout Catholic woman always addressed as Miss Muirhead, who lights candles at her church for Pitt's daughter Paula when she sits her medical exams. Pitt tips Miss Muirhead a horse every other Friday. If it loses, he reimburses her money on the following Monday morning. If it wins, that's her bonus."
You couldn't make that up, surely!
Andrew Rule is, by trade, a crime reporter albeit no 'one trick pony' by any means. The legacy of this is a forensic approach to detail in his writing.
His style reminds us often of Vladimir Nabokov's maxim that there are only three things important about writing and they are "detail, detail and detail."
The plots and the punch lines of the stories in Chances all stack up well but that is largely because his research skills are well developed and thoroughly executed. His investigative work behind his stories was obviously very extensive.
For all that, the other bit I haven't got to yet is the author/reader relationship thingee.
This is a most highly readable book. Rule is a brilliant story teller who captures a vast panoply of racing industry yarns in a most engrossing style. Think here, somewhere between Damon Runyan, Red Smith, JK Rowling and Mark Twain – and you're getting warm.
His prose is tight, punchy and colourful. The energy of the narrative is overwhelming.
Perhaps it's his knockabout crime background but we hear words like "croaks" when describing underworld shootings.
But even back in the world where most of us live we learn flinty dry truisms such as…
"…vets who punt are tricky beasts…" and
"…racing, like life itself, runs on hope. And hope is a hostage to chance…" and
"…$100 bills don't go lame…" and, probably your reviewer's favourite,
"…(jockey) Allen McLean is so good at giving a horse an easy run to get it beaten that trainers who ask him to do exactly that sometimes lose confidence in the horse's ability because he makes it look so ordinary…"
As suggested earlier, Chance is a must read for anyone with an interest in horse racing.
However, it is also an outstanding primary source account of many racing industry people and events over the last century that would, in its own right, be of more than passing interest to Australian History research students and general members of the public alike.
Steve Cain is to be commended for his foresight is suggesting this whole idea.
And Andrew Rule is to be warmly commended for his marvellous execution of the undertaking.
To purchase a copies of Chance contact us HERE.
To read more on the Almanac by Roger Lowrey click HERE.
Two books will be published in the lead-up to Christmas 2021. The Tigers (Covid) Almanac 2020  as will the 2021 edition to celebrate the Dees' magnificent premiership season (title is up for discussion
at the moment!). These books will have all the usual features – a game by game account of the Tigers and Demons season – and will also include some of the best Almanac writing from these two Covid winters. Enquiries HERE
To return to our Footy Almanac home page click HERE.
Our writers are independent contributors. The opinions expressed in their articles are their own. They are not the views, nor do they reflect the views, of Malarkey Publications.
Do you enjoy the Almanac concept?
And want to ensure it continues in its current form, and better? To help things keep ticking over please consider making your own contribution.
Become an Almanac (annual) member – CLICK HERE.
One-off financial contribution – CLICK HERE.
Regular financial contribution (monthly EFT) – CLICK HERE.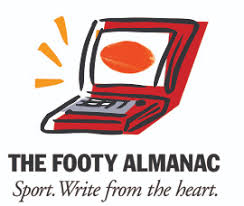 Roger Lowrey is a Geelong based writer who lists his special interests as reading, writing, horse racing, Roman history and AEC electoral boundaries. Some of his friends think he is a little eccentric.