Almanac Book Review – Albert 'Pompey' Austin: A Man Between Two Worlds
Albert 'Pompey' Austin: A man between two worlds – Some general impressions.
Roy Hay's latest book in an extensive career encompassing social, cultural and sporting history is Albert 'Pompey' Austin: A man between two worlds, which details the life and world of Poorne Yarriworri, aka Albert "Pompey" Austin, a multi-talented Aboriginal man who was born and lived most of his life (c.1846 – 1889) in the Western District of Victoria. Among numerous achievements, particularly in the sporting arena, Austin has the distinction of being the only known Aboriginal to play top level Australian Rules football in nineteenth century Victoria (one game for Geelong in 1872).
Hay's book is enjoyable and stimulating in equal measure. A good part of its impact is imparted by the large number of often splendidly evocative images (paintings, photographs, maps) spread throughout it. Many of these provide a fine sense of the milieu in which Pompey lived. Also, the images often evoked personal associations, as my paternal family history is very much concerned with Victoria's Western District over the last one and hundred and seventy years or so. There's a good chance that some of my relatives met Pompey and possibly competed with/against him in sporting events. I know, for example, via the online Trove NLA newspaper collection, that a great-great grandfather of mine (English-born) was playing Australian Rules football for the Terang club at least as early as 1879.
In terms of conveying a strong sense of Pompey the individual, Hay's task was a difficult and complex one – a matter, of course, of which he indicates a full awareness. In his book, one does get some sense of Pompey as a kind of multi-talented trailblazer for Aboriginal people, but with the lack of detailed biographical material available about the man, combined with the obvious complexities involved in writing about him from a non-indigenous perspective, a three-dimensional Pompey is not present or indeed possible. That said, Hay clearly indicates that he wishes to present Pompey to the extent that he can, with the hope that in the future other (preferably indigenous) writers will take the baton from him and continue the search for Pompey the individual into the future: "This will not be the last word on Poorne Yarriworri, Albert … Pompey Austin. If he is better remembered as a result of this book, that is all I ask. I hope and expect that some of his descendants will make it redundant, sooner rather than later."
Overall, the book is a highly successful one and what it does best is uncover a layer of Western District history that many tend to forget about or do not recognize to the extent that they should. To a very significant extent, it is as if Hay paints back in an Aboriginal world onto a conventional "white man's" canvas of Western District history, and that is a wonderful achievement.
Albert 'Pompey' Austin: A man between two worlds
Roy Hay, Sports and Editorial Services Australia, Bannockburn (Victoria), 2020, pp. x + 265, $29.95 (paper), ISBN (13): 978-0-9946-0194-0.
For more from Kevin, click HERE.
To return to our Footy Almanac home page click HERE.
Our writers are independent contributors. The opinions expressed in their articles are their own. They are not the views, nor do they reflect the views, of Malarkey Publications.
Do you enjoy the Almanac concept?
And want to ensure it continues in its current form, and better? To help things keep ticking over please consider making your own contribution.
Become an Almanac (annual) member – CLICK HERE.
One-off financial contribution – CLICK HERE.
Regular financial contribution (monthly EFT) – CLICK HERE.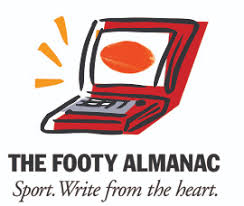 About
Kevin Densley is a poet and writer-in-general. His work has appeared in print in Australia, the UK and the USA, as well as on many online venues. His fourth book-length poetry collection, Sacredly Profane, has just been published (late 2020) by Ginninderra Press. He is also the co-author of ten play collections for young people, as well as a multi Green Room Award nominated play, Last Chance Gas, which was published by Currency Press. Recent other writing includes screenplays for films with a tertiary education purpose.