Round 15 – Geelong v Adelaide: All roads (and trains) lead the Cats faithful and others to Billy's pub
The Friday 3.50 pm Geelong bound train pulls out of Spencer Street.
Like most other services, it's standing room only although I have managed to snag a seat. Already there is a smattering of navy blue and white scarves and caps throughout the carriage. These will become more prevalent in the peak services that follow as Cats fans make their way home to Kardinia Park for the Adelaide Crows game.
Across the aisle though my attention is captured by a group of four young fellas with an out of place looking royal blue and gold West Coast bag.
"Sure you've got the right game?" I throw out as a gentle conversational half volley.
"Nah, we're over from Perth to see our boys play Hawthorn tomorrow, mate, but we got seats for this game too," replies Mitch, the nearest of the group on the aisle seat.
"And we saw the Essendon/GWS game last night. We follow up tomorrow night for the Collingwood/North game and we finish on Sunday with St Kilda and Richmond," adds one of the others.
"You're bloody keen."
"And a midday hotel checkout on Sunday too," adds Mitch.
"Why? A big night out somewhere tomorrow, huh?"
"No. The hotel has Fox Sports so we're staying up to watch the World Cup game against the Kiwis."
Strewth. "Bloody keen" doesn't really seem to do them justice.
I try to win brownie points by telling them I'm in their corner tomorrow as each week I barrack for two teams – Geelong and whoever plays Hawthorn.
'What? Even Fremantle?" asks the quiet one in a disbelieving tone as the concept of anyone apart from rusted on fans supporting the Dockers seems to be a bridge too far for all of them.
"Anyway, can you tell us how to get to Billy's pub?"
Billy Brownless' Cremorne Hotel is a ten minute walk from the ground and is a very popular local watering hole for pre-game lunches and dinners. John Harms recommends the lamb cutlets. Coming from a bloke who has a stated bucket list aspiration of "lunching for Geelong" his advice must surely be taken seriously. I provide my new friends with appropriate directions and part company.
On getting home I discover Jill hasn't planned anything about dinner.
"Kerry and Baethan are eating at Billy's so we can join them if you like."
Sounds a good idea and soon we too are off to Billy's to join the happy crowd and meet up with Kerry and his son Baethan who are part of our regular footy group in A 29 Row N.
Seats at Billy's pub are scarce but Luke is a bravely adorned Crows fan at the same table who has finished eating. He and his mate Tony helpfully surrender their seats to us and we are in business.
Getting to the ground we start to assemble the rest of the group. Hugh Brodie is the first one sighted. His daughter is an item with Tom Atkins so Hugh and wife Deb dutifully saw every Cats VFL game last year in addition to the senior games. This year young Tom's handy form in the ones means they don't need to double up. Hugh and Deb's 2019 weekends are a lot less cluttered.
But it's game time and the Cats are away to a slow start as the Crows kick the first two goals. Bugger! And Jack Henry is in the forward line, so what gives? I'm still trying to get my head around the team structure as Cam Guthrie opens our account with a welcome goal and Gazza provides some handy link work. Adelaide are clearly on top though and we start to worry. Jill has a fixed "tolerant but not entirely happy" look about her. It's a look I've come to recognise all too well over the years!
Suddenly Tom O'Connor finds space and drills one down Tom Hawkins' throat. The big fella kicks accurately at the 22 minute mark prompting Baethan to suggest that Bernie Quinlan may have spent some time with Tomahawk over summer after all. Shortly afterwards the siren interrupts our speculation with the Crows nine points in front but I feel the scoreline flatters us.
More of the same in the first part of the second quarter as the visitors' lead skips out to 25 points. I don't like what I see. We are being smashed in the centre clearances. Our despondency deepens as we see Mark Blicavs in the ruck. Not because his ruck work is necessarily poor. We just mistakenly assume Rhys Stanley must be injured. It turns out he isn't but Danger certainly is injured after being cleaned up by Daniel Talia. Oh dear. One of our stars out of action and the game slipping away.
But Barbara Eden from I Dream Of Jeannie must have folded her arms and blinked because it all starts to change. Blicavs himself starts to take control in the middle; Chris Scott later says this was part of Plan B; Tim Kelly and Joel start to look dangerous and the Cats look like they have turned the corner. Hawkins kicks accurately again at the 15 minute mark and the deficit is reduced to two goals
If the Crows were tagging anyone it couldn't have been last year's draft pick 15 Jordan Clark as he is playing his best game of the season. He is everywhere prompting a renewal of the ongoing discussion in A 29 Row N that Steven Wells should be given a performance bonus. Hawkins misses one for a change after the half-time siren but his point puts our nose in front 7.6 to 7.5.
Time for a restorative beer.
From the depths of the Social Club emerges another Cats regular, our friend Barbara Joan O'Neill aka Barbie Doll aka BBD aka Doll. BBD hails from Finley, "the jewel of the Newell" as once described by Harmsy. Her dad Mick ran a farm while mum Wilma taught locally where the Hawkins and Crawford names appear in the alumni. They also appear on the honour boards of the Finley Footy Club who wear the Cats colours. Of course Doll thinks Tom Hawkins can do no wrong and has regularly chided those of us who have been even mildly critical when Tommy has had a quiet game. But tonight is not one of them. Her Tommy from Finley has kicked two already and helped keep us in he game she insists.
The third quarter kicks off and the Cats are up and about. Kelly and Clark continue to get plenty of footy and young gun Gryan Miers starts to show some customary sparkle. At the 22 minute mark he nails one of his two goals for the evening to see the Cats go to orange time with a 14 point lead.
The margin is sufficient for the company to engage in a little levity. Baethan mischievously insists he can't see any oranges and suggests this is all mythical. Well, he is much younger than the rest of us, isn't he? I swallow his bait completely and regale the group about how Fitzroy footballer Tony Ongarello used to smoke a pipe at 3/4 time. Sam Newman tells how on cold days early in his career trainers used to hand around a flagon of sherry. Nup. Not only are there no oranges in sight, but also, no pipes and no sherry either.
But I digress.
Tim Kelly kicks his second goal not long into the final quarter as he seems almost guaranteed to pick up another three Brownlow votes. And if Blixy had been the prime mover behind our second quarter revival, he lifts his work rate even further. His last quarter is an absolute blinder. Other "usual suspects" like the skipper and Mitch Duncan, the forgotten member of the Trinity, also provide plenty of grunt as I feel the game is slowly slipping away from Adelaide.
"I reckon it's enough, Rog," says Kerry confidently at the 17 minute mark – and I agree. Jill's expression has changed to "settled, content and quietly confident" so it looks like the trifecta has landed.
"Over the line," says Baethan a couple of minutes later thereby completing the quaddie.
Some more Ablett magic including his second goal late in the quarter thrills the adoring hometown crowd as the siren sounds and the Cats have a 27 point win – 14.12 to 10.9.
Kelly, Clark and Blixy are our best while Adelaide are well served by Seedsman, Sloane and Matt Crouch.
The gang from A 29 Row N all go our separate ways happy little vegemites although I explain to puzzled looks that I would dearly love to find room in my votes for Mitch and his Perth mates on the train for outstanding dedication to sport. I start to explain the story but my audience is clearly more focused on the forthcoming rounds against Footscray, St Kilda and Hawthorn not to mention the state of Paddy Dangerfield's injured hip.
That concerns me too but at the back of my mind I can't help feeling there is a treat in store for me back at Billy's pub before any of that unfolds. Pepita crumbed lamb cutlets with grilled haloumi, dutch carrots, sweet pea mash, winter squash in a pomegranate and shiraz jus. As Doll's son Patrick used to say as a little boy, "oost yum!"
Our writers are independent contributors. The opinions expressed in their articles are their own. They are not the views, nor do they reflect the views, of Malarkey Publications.
Do you really enjoy the Almanac concept?
And want to ensure it continues in its current form, and better? To help keep things ticking over please consider making your own contribution.
Become an Almanac (annual) member – CLICK HERE
One off financial contribution – CLICK HERE
Regular financial contribution (monthly EFT) – CLICK HERE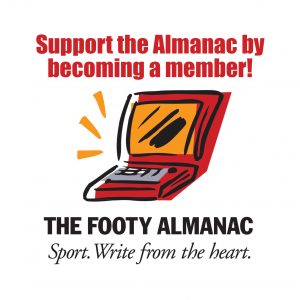 Roger Lowrey is a Geelong based writer who lists his special interests as reading, writing, horse racing, Roman history and AEC electoral boundaries. Some of his friends think he is a little eccentric.