AFLW Round 1 – Carlton v Collingwood: Loves a paddle.
Chloe Molloy, darting up from centre-half forward, meeting the footy on the bounce. Jinking around to the right, urgently, eyes up, wheeling. Careful on the left, up to the next contest. Newman attacks the contest, she's fast, but she misses the take. Sherrin locked in – but! A healthy snap forward. Molloy has got there, dodged the contest, read the play. Rolling forward. On the bounce, on the tear, the paddle.
The paddle.
I fuckin love a paddle. Molloy is a footballer. Paddles with her right hand, flat out. Tucks it to her left armpit as it sits, as her feet pound to grass, as she picks up a yard. Reel to the right. Balanced. Roost it through the middle. Bellow.
This is a significant paddle. Footballers who learn the game late, athletes with the right body, the right size, the right attitude, know not of the paddle. Football is a random, imprecise game, of wrong angles made right, of calculated craft.
The oval ball is a gremlin and sits for no woman. Molloy shapes it to her needs, gathers, and flings off her opponent disdainfully. Nat Plane had slowed significantly to force Molloy to the pocket. Collingwood's #2, the good one, the one worth signing up for a generation, is having none of it.
"Don't you fucking corral me, Natalie," Molloy might have said. Goal.
Moments later, the Pies have roosted it inside fifty. They are dominating. And from the side, here she comes.
Molloyyyyyy.
Chest mark. Safe as houses. Molloy knows the game. Straight through the middle.
There is a bit, a lot in this game.
Bri Davey is thrown to full-forward. Almost straight away, she's raging toward a one-on-one, step by step to the high ball. Loloifi is behind her, Harrington ahead. Davey hits the latter from behind as she barrels onward. Ball is lose. She lands solidly, upright, braces through her knees.
Brianna Davey missed much of the 2018 season due to an ACL injury. This is a footballer who knows how to land.
The bouncing football unchecked, Bri Davey gathers in an instant and bursts to favour her right foot. The pack is still woozily recovering, Loloifi is a moment behind and Guerin too late to the event. Davey rolls on the right, slides. Calculated craft. Four goals in a canter. Davey against her old club. Breaks left, roars, spools in Alisha Newman like an overenthusiastic octopus. It is a goal that drops, then sets, jaws.
Carlton sway back into the game in the third quarter, scoreless before its introductory siren. Prespakis fires a dart into Hosking, who salutes. The Blues are desperate to find their superstar, in her third year, to make as much use of the football as possible. Her pass to Hosking is a 35-40 metre bullet, sliding between five defenders to find the only unmarked Blue on home soil. It is frankly bonkers.
Vescio threatens. Gee is thereabouts. There is a spirited comeback. Carlton control play.
Collingwood make it safe with another outstanding piece of individual play, this time from Jaimee Lambert: late in the third, scooping a ground ball up with one mitt at pace, snapping over the shoulder in front of a darting Aishling Sheridan, who becomes the game's second multiple goalscorer. A footballer's play. Shrewd, opportunistic.
The game is enticing. Carlton cannot bring it close enough to provide a nerve-jangling finish in the last but manage enough to promise more. There are skerricks still of a lack of game awareness, skills, understanding; but they are skerricks only.
The socially distanced crowd is at capacity, fee-payers all. There is so much to come.
CARLTON               0.0     0.0     3.1     4.3     (27)
COLLINGWOOD     0.1     4.2     5.2     5.3     (33)
GOALS
Carlton: Stevens, Vescio, Hosking, Harrington
Collingwood: Molloy 2, Sheridan 2, Davey
BEST
Carlton: Prespakis, Egan, Wilson, Hosking, McKay
Collingwood: Bonnici, Lambert, Molloy, Sheridan, Schleicher
VOTES
Prespakis (Carl) 1, Molloy (Coll) 2, Lambert (Coll) 3.
For more from Paddy, click HERE.
The Tigers (Covid) Almanac 2020 will be published in 2021. It will have all the usual features – a game by game account of the Tigers season – and will also include some of the best Almanac writing from the Covid winter.  Pre-order HERE
To return to our Footy Almanac home page click HERE.
Our writers are independent contributors. The opinions expressed in their articles are their own. They are not the views, nor do they reflect the views, of Malarkey Publications.
Do you enjoy the Almanac concept?
And want to ensure it continues in its current form, and better? To help things keep ticking over please consider making your own contribution.
Become an Almanac (annual) member – CLICK HERE.
One-off financial contribution – CLICK HERE.
Regular financial contribution (monthly EFT) – CLICK HERE.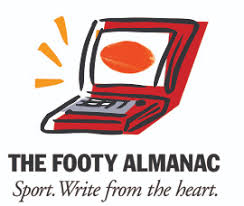 Paddy is new to the city and thinks it's all a bit much at the moment. He's studying at RMIT University and can be found 'round the traps.