AFLW Round 1: A conference imbalance already?
Nail-biting finishes and scorching hot conditions were in plentiful supply as AFLW Season 3.1 saw both debut expansion teams register starkly contrasting victories. With a compressed seven week regular season fixture affording no chance to ease into the season, pressure and nerves were again evident in most games, accentuated by the generally tight margins. But in a significant development on the first two AFLW seasons, most sides also showed ample intent to emulate the faster, cleaner ball movement of the better teams from last season. Some sides succeeded, only to squander the impact with poor finishing in front of goal.
Geelong and Collingwood got proceedings under way at GMHBA Stadium on a hot Saturday evening. The 18,429 crowd squeezed into the shaded side of the ground, leaving the sun-drenched Hickey stand largely unpopulated for the duration. They witnessed Collingwood dominate the opening 13 minutes for little scoreboard result, before Geelong's first forward foray was aided by a 50 metre penalty, leaving the teams a goal apiece at quarter time. The second term belonged to Geelong, who finally established some ball transition from defence to attack. Collingwood hit back in the third term, to lead by a point at three quarter time. In a goalless final term, a poster to Nina Morrison, who starred on debut, proved the final difference.
The win was a fine result for a relatively young Geelong team, who have been drilled into cohesion by two seasons in the VFLW. With skipper Mel Hickey, forward Phoebe McWilliams, and rugged utility Richelle Cranston to return to the team, they would appear every chance to compete strongly in their debut AFLW campaign. For the Magpies, it was yet another Round 1 disappointment. A team that has seen a massive talent exodus over its three seasons of existence will be acutely aware of the costs of a slow start to the season.
Defending premiers, the Western Bulldogs, travelled to Norwood Oval to play the inaugural AFLW premiers, Adelaide. The Crows dominated early, but finished their work abysmally in front of goal. A brace of goals to Katie Brennan saw the Dogs hit back in term 2. Though the second half saw plenty of fast midfield transition, and some superb pressure skills, it didn't see another goal. The Bulldogs dominated field position in the final term, but proved just as poor at finishing as the  Crows. In the end, they were probably fortunate to sneak home by a point, in their first win over Adelaide. In what shapes as a tough Conference A, it may prove a vital result.
Highly-touted debut side North Melbourne served notice on Sunday with an emphatic thrashing of last season's wooden-spooner, Carlton. After a competitive first term, North powered away. Ex-Pies Emma King and Jassie Garner starred, and debutant Ashleigh Riddell dominated in midfield. Most of North's swag of high profile recruits made their mark in a dominant display. Carlton saw their lack of midfield run and generally poor field kicking once more thwart their efforts. Though they held a slight statistical advantage in inside-50's, the poor quality of these entries merely served to set up North rebounds. Without a major turnaround, another tough season  looms for the Blues.
The best game of the round was played in the most oppressive conditions, 39 degrees and a blustery wind at Casey Fields made this fixture one for the true diehard supporter, yet the Melbourne and Fremantle players put on a high-scoring, see-sawing encounter. After establishing a 20 point lead at half time, the Dockers saw Melbourne kick 5.4 to nothing in the third quarter. Undaunted, they used the magnificent return of Kiara Bowers (after 30 injury riddled months) to inspire them to three unanswered final term goals, producing a four point win as their first interstate success.
The final match of the round saw Brisbane demonstrate yet again how tough they are in a tight finish. Seeking to avenge their comprehensive final round loss to the Lions last season, GWS's powerful midfield group gave them the advantage in forward entries, but the formidable Brisbane defensive unit again proved hard to crack. Only the remarkable Cora Staunton was able to conjure a couple of goals, but she was more than answered by Lion Jess Wuetschner, who with three goals again proved herself the competition's premier opportunist goal sneak. Though GWS fought to the end, it was no shock to see the Lions prevail by two points. Underestimate Brisbane at your peril.
With four out of five matches decided by less than a kick, this looks likely to be the most tightly contested AFLW season yet. This makes the AFL's decision to divide the expanded competition into two conferences loom as a fateful decision. With only the top two teams in each conference to progress to the semi-finals, any imbalance in the strength of the respective conferences would see the fixture potentially decide at least one finals position. Though predictions based on one round are a fraught exercise, it seems distinctly possible that Conference A might prove significantly stronger than Conference B.
In American conference systems, wild cards are used as a mechanism compensate for conference imbalances. No such provision has been made for AFLW. This could lead to a situation where the second team in Conference B could reach a semi-final with an inferior record to the third team in Conference A. After such a thrilling and entertaining first round, it feels disappointing to contemplate that AFL fixturing might arbitrarily override the efforts of the players.
While that potential scenario is for future consideration, the performance of the players this weekend, in extremely trying conditions, deserves our celebration in the present. Both previous AFLW seasons have seen a significant improvement in play as the rounds have progressed, and teams have settled into their stride. Given the opening round efforts of most sides, we have a most enticing season ahead of us.
Geelong 3.6.24 d Collingwood 3.5.23
Adelaide 1.11.17 d by Western Bulldogs 2.6.18
North Melbourne 7.10.52 d Carlton 2.4.16
Melbourne 8.7.55 d Fremantle 9.5.59
Brisbane 4.5.29 d GWS 4.3.27
For more of John Butler's writing, CLICK HERE
To find out more about memberships CLICK HERE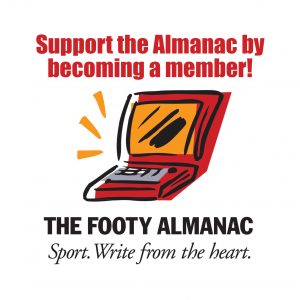 John Butler has fled the World's Most Liveable Car Park and now breathes the rarefied air of the Ballarat Plateau. For his sins, he has passed his 40th year as a Carlton member.