AFLW Grand Final – Adelaide v Brisbane: We are Lions, hear us roar – a Premiership too big to ignore
We Are Lions, Hear Us Roar –
A Premiership Too Big To Ignore!
The commentariat suggests that the gap between Erin Phillips and the next best players in the AFLW is Bradmanesque. I wish I had learned more about her prior to this morning. I wish I knew that her earlier career as a basketballer included WNBA titles and a plethora of individual accolades. It says something about the centrality of Australian Rules Football in our society and our culture that her WNBL championship with Adelaide or her time with Connecticut and Indiana in the world's premier competition for women's basketball didn't make her as famous as she became when she switched sports and became a Crow. Or perhaps it says something troubling about our recognition of women's sport and our gendered world in general.
I wish that her career in the AFLW didn't have to be described through a male gaze for us to understand her dominance – 'she's like the Dustin Martin of the competition.' I'd like to go back to the start of this report and find a descriptor other than Bradmanesque to capture Phillip's dominance. But as a casual sports fan, I only really come to know the sporting legends that permeate into the ether, the male dominated common knowledge and collective consciousness that ensures we all know and rightly venerate Muhammad Ali, Rod Laver, Usain Bolt, Michael Jordan and Lionel Messi. Yeah, it is possible to push back on the inherent thesis is my last sentence – 'Serena' needs no surname for you to know exactly who I mean. But do what I just did, google 'greatest athletes of all time' and see what the search engine's algorithm generates for you.
When Matthew Lloyd is introduced on Footy Classified his status as a 'five time All Australian' is referenced. We are then reminded, that former chief football writer for The Age newspaper, Caroline Wilson is the 'first lady of football.' When I read Harry Potter and the Philosopher's Stone to my daughter, leaving aside the publisher's decision to not reveal the author's name of Joanne lest sales be affected by the fact it was written by a woman, it was hard to not wonder why the focus of the story was not the far more interesting, capable and heroic Hermione, Harry's classmate. We have a long way to go.
Even though I cringed a bit at Scott Morrison's clumsy wording when he suggested he came to fully appreciate the gravity and ramifications of Brittany Higgins' allegations only after he 'spoke to his wife', who challenged him to 'imagine it was one of his daughters,' I understand where he was coming from. You do see the world differently when you are the father of daughters. I hope my empathy for our prime minister's awkward comments don't prove some sort of proprietorial patriarchal reflex. One shouldn't need to be the father of daughters or need a wife to see inequity in our world.  Let's hope that all footy fans are sitting down to watch the grand final this afternoon, not only daughters and their fathers but mothers and their sons.
The game begins and it is an entertaining juxtaposition of style. Brisbane hug the boundary line and wait for players to present; Adelaide attack the centre corridor like a light horse regiment and seem to have more of an appetite to kick to a contest. It's surge footy from both teams. They clearly respect each other; players sit on the defensive side of the pack and move the ball with caution. Courtney Hodder electrifies the first half with two of the Lions' three goals, one a loose ball miracle that she kicks out of mid-air comes against the tide. Nice goals for Crows Stevie-Lee Thompson and Danielle Pontor keep it close. Jess Wuetschner gives the Lions a slight half time advantage with a late goal. It feels like more. There is a surety to way the Lions' defenders keep intercepting and repelling the Crows.
Great footy everywhere from the Lions in the third quarter. Wuestchner finds the goals again and the Lions start swaggering. I like the purity of the game. Players from both teams stream forward fearlessly at every opportunity, they don't posture for free kicks every time a tackle is laid, or the ball is forced out of bounds. They stand under the footy and take marks. A goal in the shadows of three-quarter time to Lauren Arnell, Brisbane's sixth, give them a twenty-two-point lead going into the last quarter.
There is some stirring footage of the Crows huddling at the boundary line with their captain Chelsea Randall. Randall is the first footballer to miss a grand final under the new concussion rule. She has been the story of the week; the case study. The argument for rejigging the finals series to allow a two-week break before the grand final in the men's game allowing for concussed players to have their mandated twelve-day period of rest. Randall lights a fuse for the fourth quarter. The crowd starts to roar, Brisbane seems exhausted and the game lives in the Crows forward line. The first fifty metre penalty of the game turns a likely Adelaide goal into a certain one and it is a sixteen-point game. The next ten minutes become a study in grit from the Lions. Desperate defence before they slowly inch forward. Wuestchner snaps a free kick from the pocket which finds the post.
The siren goes. Brisbane are premiers. I've been so engrossed in the game I forgot I was watching a revolution. One hundred years from now, history will judge Adelaide and Brisbane to be the heavyweights of this new competition. This is the Lions first flag on their third attempt whereas Adelaide won two of the first three flags. Hearts and minds like mine are being won with a fierce momentum by this latent competition. The Brisbane Lions have had a lot of player movement throughout the first five years of their existence. Tayla Harris left for Carlton and courageously stared down some distasteful online misogynists. Sabrina Frederick became a Tiger when Richmond were part of the second round of licenses awarded for women's teams. One of those who stayed, Ally Anderson, became a premiership player today in her tenth grand final across different competitions. Kate Lutkins, another inaugural Lion is a fitting best on ground. Emma Zielke, who announced her retirement immediately after the game, becomes the first Lions premiership captain and probably the first ever AFL premiership captain with a surname starting with 'Z.' Let's hope that Dayne Zorko can become an interesting footnote in her biography by one day doing the same. I hope his career can one day be described as Zielke-esque.
ADELAIDE     1.0     2.1     2.2     3.2     (20)                 
BRISBANE     1.0     3.0     6.0     6.2     (38)
GOALS
Adelaide: Thompson, Ponter, Jones
Brisbane: Hodder 2, Wuetschner 2, Arnell, Dawes
BEST
Adelaide: Thompson, Hatchard, Considine, Marinoff, Allan
Brisbane: Lutkins, Anderson, Svarc, Koenen, Bates, O'Dwyer 
To return to our Footy Almanac home page click HERE.
Our writers are independent contributors. The opinions expressed in their articles are their own. They are not the views, nor do they reflect the views, of Malarkey Publications.
Do you enjoy the Almanac concept?
And want to ensure it continues in its current form, and better? To help things keep ticking over please consider making your own contribution.
Become an Almanac (annual) member – CLICK HERE.
One-off financial contribution – CLICK HERE.
Regular financial contribution (monthly EFT) – CLICK HERE.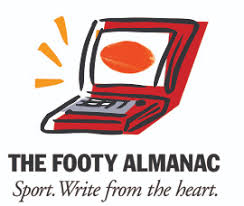 Loving life as a husband, dad and teacher. I'm trying to develop enough skill as a writer so that one day Doc Wheildon's Newborough, Bernie Quinlan's Traralgon and Mick Conlon's 86 Eliminatiuon final goal will be considered contemporaneous with Twain's Mississippi, Hemingway's Cuba, Beethoven's 9th and Coltrane's Love Supreme.