AFL Draft: What's in the WAFL?
You may have heard that the AFL Draft is happening on Wednesday 24 November.
Already we know everything we need to know about a bunch of Bont-Fyfe-Dusty-Petracca-like kids with saintly character traits.
The recruiters look for old people too (even 22-year-olds) who might be able to boost lists. So, in the lead-up to the big day, the phone starts ringing – 'Hey big fella. How ya goin'? How's the family, how's work, how's the back? Who have you noticed in the WAFL that we should draft?' And so they pick my brain and give no credit when my suggestions turn out to be premiership players.
The two main mature-age WAFL prospects this year didn't exactly hide their talents – they were the Sandover and Simpson Medal winners.
Greg Clark was the WA U18s captain and strong draft prospect a few years ago but it didn't happen. Now a powerful midfielder with 94 league games for Subiaco under his belt, he's ready for the AFL. This season he won the Simpson Medal as best-on-ground in the Grand Final and was third in the voting for the Sandover Medal. He hurt a shoulder in the first half of the Grand Final and South Fremantle's Nick Suban thought it would be a good idea to 'test it out' with a few whacks as they waited for the centre bounce to start the third quarter. By the four-minute mark Clark had three kicks and two goals.
Bailey Rogers has played 99 league games for Claremont. He made his name as a running defender but this year spent more time in the midfield. He's strong, quick and can kick, and the move to where the action is paid dividends – he won the Sandover Medal.
Toby Mcquilkan caught the eye for South Fremantle in the latter part of the season. Then came the Grand Final when his brilliant performance in defence was almost the only highlight for the Bulldogs. A big performance in a big game is good sign.
In recruiter-speak, Noah Pegoraro has upside. He's big (194cm), athletic and versatile. Mainly used as a defender for West Perth but with a good enough leap to help out in the ruck.
Jesse Motlop is close to a draft certainly but worth mentioning here as he played eight league games for South Fremantle, including the Grand Final, in a useful addition to his CV. He's clever, skilful and quick.
Others worth a look:
Jesse Turner (Swan Districts): very consistent


Tyler Keitel (West Perth): kicks goals and is clever in the ruck inside the forward 50. He's 25


Liam Hickmott (Subiaco): strong performer in the Grand Final


Finn Gorringe (East Fremantle): makes things happen


Brynn Teakle (East Fremantle): he's 203cm and from Northampton – two noteworthy factors


Blake Schlensog (South Fremantle): spent time on the Geelong list. Showed a bit in attack and defence.
We'll do our best to publish two books in the lead-up to Christmas 2021. The Tigers (Covid) Almanac 2020 and the 2021 edition to celebrate the Dees' magnificent premiership season(title is up for discussion at the moment!). These books will have all the usual features – a game by game account of the Tigers and Demons season – and will also include some of the best Almanac writing from these two Covid winters. Enquiries HERE.
To return to our Footy Almanac home page click HERE.
Our writers are independent contributors. The opinions expressed in their articles are their own. They are not the views, nor do they reflect the views, of Malarkey Publications.
Do you enjoy the Almanac concept?
And want to ensure it continues in its current form, and better? To help things keep ticking over please consider making your own contribution.
Become an Almanac (annual) member – CLICK HERE.
One-off financial contribution – CLICK HERE.
Regular financial contribution (monthly EFT) – CLICK HERE.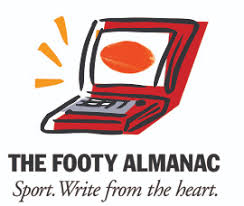 A Footy Almanac veteran, Les Everett is the author of Gravel Rash: 100 Years of Goldfields Football and Fremantle Dockers: An Illustrated History. He is the footyalmanac.com WAFL correspondent and uses the money he makes from that role to pay for his expensive websites australianrules.com.au and talkingfrankie.com and fund the extravagant Vin Maskell at scoreboardpressure.com