A Mea Culpa for Chris
The above title echoes a piece I wrote following the end of last AFL season. Then, I was unable to admit wrong (pen was hopefully poised) for doubting Chris Scott when a promising campaign ran predictably out of juice.
To recap, 2019 was a story of two halves, as if a different team trotted out post bye, like an episode in a series of Jekyll and Hyde running on repeat since 2011. It was a particularly strange case. What serum had Chris concocted?
My most likely 2020 plot prediction (as earlier posted – now metaphorically transformed) had 'Hyde' dominate coaching characteristics with ties being severed, probably by mutual agreement. That is, we'd fall away badly, Chris would pack up his dual personalities, his kit bag of win-loss ratio success bundled with pointy-end failure, and be on a fixed-gear treadly pedalling Geelong's cobblestone lanes on a bleak, foggy night, his Hyde, or hide, never to be seen again.
Then reality woke me from phantasmagorical sleeps, induced by a week of imposed self-isolation.
We all have a little Jekyll and Hyde, a bit of sanity, a bit of madness, rational vying irrational, good and bad and the potential to become more of one than the other, depending on life's elixir.
*
Post-match, round one against GWS, in the midst of a rapidly transforming corona-virus crisis, Chris Scott is a voice of reason among the mayhem of media dramatisations, contradictory information and mixed messages.
His checked emotions and rational diagnosis that may have sometimes irked on previous presser consultations is perfectly apt now.
"We're in unprecedented times… We have to stick together… it's our job to support AFL headquarters… trying to navigate a bizarre situation… (We) Should criticise less, ask fewer questions and just do as we're told". He calls for empathy. "Now is not a time to squabble amongst ourselves."
In the past, this could've also been interpreted as deflection, but here it sounds more like a statesman's words.
His match summation is equally appropriate and concise, suiting changed circumstances. "We competed well, but couldn't convert against a high quality side…"
No excuses. We were simply beaten by a better team.
Though, our performance had me raise expectations for the year a little, even if we lack the talent of teams like the Giants. And, in a shortened season, should it proceed, unusual things are possible.
*
I doubt it will be a year for sacked coaches. Perhaps one or two might conclude they have other things to pursue. The running of the game could end up being simplified with the fans, once again, having more ownership. Even if it's only briefly, it can be an opportunity for supporters to stake a claim for a greater say. But, I digress… back to mea culpas…
*
Later in the week, Chris continues his role of unofficial mediator by supporting the players in the face of widespread condemnation, and asks for understanding during their contract renegotiating with the AFL.
As situations worsen, and people across the land and in football clubs lose their jobs, Scott, in solidarity, forgoes his own pay.
Yes, he's a media go-to footy person, but he's using that privilege in a measured way.
A cynic might say he's positioning himself for a career post-football. So what? It wouldn't detract from the relevance of his comments, but I'm prepared to take him at face value. Among carps, I have been known to suggest he has potential in the public arena post-coaching, anyway.
*
Finally, what I have previously chided as our 'mediocre success' holding pattern since 2011 could prove fortuitous because it has the club in a strong position during a time of financial uncertainty.
*
Robert Louis Stevenson's novella ends with Jekyll writing a confession in the knowledge he is about to permanently transform into Hyde.
In my case, I'll just say, "I was churlish, Chris. Praise where it's due. In the league of COVID-19 AFL public commentary and role-modelling you've been exemplary."
Though, footy-wise, if you can get us moggies to take the game on consistently throughout the whole season, win, lose or draw, I'll grovel even more.
The previous piece Paul references can be found here.
Our writers are independent contributors. The opinions expressed in their articles are their own. They are not the views, nor do they reflect the views, of Malarkey Publications.
Do you really enjoy the Almanac concept?
And want to ensure it continues in its current form, and better? To help keep things ticking over please consider making your own contribution.
Become an Almanac (annual) member – CLICK HERE
One off financial contribution – CLICK HERE
Regular financial contribution (monthly EFT) – CLICK HERE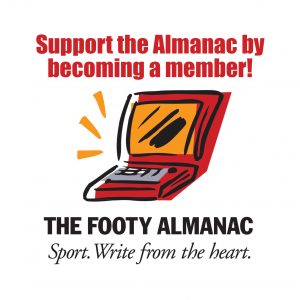 I have writing published and performed in various mediums, but usually not enough of it to pay the rent. Had many jobs, travelled a lot, so I think this experience allows a broad perception of society. I'm not an academic, though did complete a BA as a mature-age student. Below are links to some published written pieces. https://newmatilda.com/2017/07/30/its-time-for-our-baby-democracy-to-walk/ https://meanjin.com.au/blog/the-elephant-in-the-chamber/ https://overland.org.au/2017/11/australias-workplace-laws-a-narrative-tragedy/ https://newmatilda.com/2019/05/16/the-green-blind-spot-on-australias-expanding-population/ https://www.smh.com.au/sport/tennis/is-ashleigh-barty-the-saviour-australian-tennis-has-been-waiting-for-20200108-p53prl.html https://spinksytravelworld.com/pirate-of-padstow/ https://overland.org.au/2020/10/the-slow-death-of-a-public-institution/ https://overland.org.au/previous-issues/false-documents/fiction-paul-spinks/