I missed the 1973 Grand Final (although I saw North topple the Double Blues in the Prelim Final, watching on tiptoe from the crowded Northern Hill with an assortment of Elizabeth South's finest junior sportsmen).
A week after Glenelg's drought-busting, Tregenza-inspired but Cornes-sealed flag win over the Roosters, I made sure that I was at Adelaide Oval's last feast of footy for several decades (if you exclude The Blacks A1 premiership over Riverside in 1986 or the Sunday afternoon SAFA Match of the Day).
The four major footy state premiers came together for one long weekend to decide the best side in the nation. Richmond, Glenelg and Subiaco only had to win one grand final to qualify. For the team from the tiny town on Scottsdale in the north-west east of Tasmania, as NTFA premier they had to win two more matches against Hobart (TFL premiers) and Cooee (NWFL) before representing the Apple Isle.
My Footy Budget records the first day's play in all of its glory (crudely enhanced by an afternoon on the textas, unfortunately – what was I thinking?)
Take away the garish headings and this colourful shot from the 1972 Champions of Australia series final where North Adelaide famously spanked smashed slammed narrowly defeated Carlton is marred only by the out-of-focus shot of the scuffed Native Brand match ball.
Fortunately, I was able to overcome the First Year High/Year Eight pressure to take up the invitation to clog my puny lungs with the sponsor's product, although I did have a found packet of Alpine(!) stashed between some rocks in the Shell service station car park near the beginning of Underdown Road. I probably tried a couple of them before turfing them for good, not touching another smoke until giving the Norman Gunston approved Dukes a go, before giving that particular avenue of emphysema carcinogenic pleasure a permanent miss.
"Clear Menthol"
The eight track cartridge version 5KA's of "The Year of The Tiger" was probably sold out already. Spotify appears to have no listing for "Interviews in Dressing Room" so I can't enlighten you on what Kerls, Studley or Bomber Hamilton had to say after the game.
The 'Tiser ran with this ad for years
Don't forget to mention the sponsors Don, and the coveted Consolation Cup. And can you give Footy Park a plug while you are there? I'm sure the SACA won't mind.
1973 was the second year of the extended Champions of Australia series. Last year's Match 3 was keenly contested, considering its end of season nature.
Trevor Farrant's weekly stab at humour was more miss than hit, but he tapped into the end of season mood here.
The evolution of AMSCOL's Footy Colours products – there's a thesis in that.
Bruce Andrew's tireless (inter)national crusade continued. It bore fruit eventually, at the expense of Populo Ludis Populi, some would argue.
A redundant progress scores page.
Who would have thought that Peter Anderson's final years would be played out at Pecker Park?
Football Park was never developed to its proposed 80,000 capacity, but at least it had world's best practice vomitories.
I'm surprised that this registration form didn't have a selection for "Religion".
That's a fair crowd, pity that Sturt couldn't put up a better showing in front of the sticks.
Gilt Edge was a regular Budget advertiser, but I can't vouch for its smoothness as I was an ouzo drinker once I entered the world of alcohol appreciation.
Richmond, Carlton and Hawthorn took it in turns to flog SA's finest, all in front of decent mid-Spring crowds.
Channel Nine's (Onkaparinga) blanket coverage of this series was, well, Total.
North Adelaide's historic victory over Carlton the day after the Blues took on Mal Brown was written up extensively by John Devaney here, but he didn't uncover the contents of Bob Hammond's cup.
I would have taken the tracksuit.
Sonny Morey took a while to get to his 200th, but it was worth it. That's the current Melbourne coach's dad notching the half century in May.
Wide belts and thin ties
Scottsdale was chock full of players either being "eagerly sought by the V.F.L." or "formerly from the V.F.A." but Ken Lette's paragraph was particularly eye-watering.
The Subiaco pars were somewhat succinct. Mike Fitzpatrick took smugness to a new level, but Sierakowski looked just like the sort of bloke you'd want on your side. Mick Malone was very versatile.
Back when chicken was special, before the Koreans worked out how to remove the bones and sell it for three times the rotisseried rate.
I have no idea what time I arrived, but Scottsdale gamely competed against the Lions.
The eastern Tigers were at the peak of the Hafey Years. These copious pen-pix included the all-important "Occupation".
"Half-forward Plumber" doesn't quite sound right. Was Mike Green's job really "Dangerous close in"?
Glenelg's decision to have Graham Cornes write his own bio was a good one.
Ansett's early foray into group travel.
The week before this match was dominated by "discussion" over the respective guernseys. The local Tigers ended up sporting an all yellow jumper with black shorts, Richmond keeping their regular strip.
I petulantly refused to keep track of the visitors' scores. Did a young Francis Jackson make the trip over? Or Little Lleyton's dad? Four of the Richmond team list coached in the SANFL in future years.
Fun coaching facts from these lists
Glenelg –
1x SANFL coach – Cornes
1x AFL coach – Cornes
Richmond
4x SANFL coaches – Balme, Barrot, Morris, Keane
7x VFL/AFL coaches – Stewart, Hart, Sheedy, Sproule, Balme, Bartlett, Bourke
The Stanley H Lewis Trophy. Where is it now?
Just the facts.
That bloke's shirt was green and gold, his tie almost certainly burnt umber.
More statist stas stackistics facts and figures.
The detailed history of the SANFL 1973 premierships in all grades. Who can you spot?
An assortment of picnics, bingo, raffles and dances underpinned 1973 clubland.
Another future SANFL and VFL coach gets a mention in the Tassie dispatches.
Richmond had a fair sort of 1973 season clubwise.
The potted summaries and details of each Grand Final were well received.
The WA and Tassie umps might have been a bit miffed.
Race 7 Number 2 – one to follow. It saluted at the juicy pre-metric odds of 16/10. St Gerald knocked off the favourite Asgard in the Derby.
The twin Parks, VFL and West Lakes are, sadly or otherwise, no more.
Have a look at those goal kickers. John Cahill and Rex Voigt averaged three goals a game. Handy. Another SA trainspotters' delight. Let us know.
Johnnies at Elizabeth. Sigh.
Paul Hogan > Benny Hill. Discuss
=====
Around The Grounds
Not much footage survived of these games, despite Channel Nine's Total Football Coverage. However, there are some cracking examples of 70s-style skills, including some pinpoint stabpasses from the Glenelg v Richmond match.
The Monday final between Richmond and Subiaco was sparsely attended, but those that went probably went early to see the Bays triple Scottsdale's score.
The Lions had the better of the Tigers for the first three quarters, but were overrun in the final stanza thanks largely to the efforts of Rex Hunt and were crowned Champions of Australia.
The Age had these reports from the weekend.
The traditional Wikipedia page is here
Over to you for your memories and observations.
For more from Swish, CLICK HERE:
Do you really enjoy the Almanac concept?
And want to ensure it continues in its current form, and better? To help keep things ticking over please consider making your own contribution.
Become an Almanac (annual) member – CLICK HERE
One off financial contribution – CLICK HERE
Regular financial contribution (monthly EFT) – CLICK HERE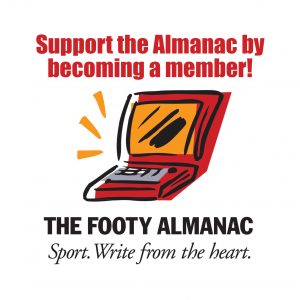 Saw my first SANFL game in 1967 - Dogs v Peckers. Have only ever seen the Dogs win 1 final in the flesh (1972 1st Semi) Mediocre forward pocket for the AUFC Blacks (1982-89) Life member - Ormond Netball Club -That's me on the right