Round 23: A wonderful reminder that sport plays a vital role in many lives
I woke last Friday morning and the first thing that came to mind was: 'It's footy tonight, can't wait.'
Most Friday mornings this footy season the same sentiment has accompanied my waking ritual.
I wonder why?
Lately I've allowed the doom and gloom in the world to stay in my consciousness. The media has told us all about the devastating earthquake in Haiti, catastrophic floods in China, Nigeria, India and Cameroon, wildfires in Algeria, Greece and Italy, a fuel tank explosion in Lebanon that killed many innocent people, Covid-19 deaths worldwide exceeding 4.3 million, Afghanistan in crisis, Neo-Nazis on our doorstep, women still being murdered and abused by men, and racism in all its insipid manifestations continuing worldwide. The list is far from complete.
Daily I search for uplifting and inspiring stories in The Age and on the ABC. Usually there are a few. I also tell myself daily that surely there are many more decent humans in the world than otherwise. Surely?
So, when Fridays arrive, I have something to look forward to. Something to act as some sort of distraction.
And what a wonderful distraction this weekend's footy has been.
Port's fightback. The Dogs, three goals up with not long to go, eventually losing by just two points, leaving the Brisbane v West Coast game to determine who would get the double chance. What a game that was! What tension, especially for Dogs and Lions supporters! With the 'live ladder' showing on the television, there were countless changes in percentage, until the final seconds, when Brisbane scored a behind, giving them the double chance and fourth position. Doggies relegated to fifth.
Then on Saturday, another memorable game between the Hawks and Tigers. Another thriller. Three goals up and leading all day, Hawthorn surrendered in the final four minutes and Richmond kicked what was needed to ensure a draw. Retiring Clarkson and Burgoyne were lifted up onto their mates' shoulders, as were Houli and Astbury for the opposition, farewelling their greats.
The Geelong v Melbourne match couldn't have been better, in terms of closeness and excitement. With a lead of 44 points in the third quarter, having kicked nine consecutive goals at one stage, Geelong (looking like 'the premiers') gave way to Melbourne's persistence and endeavour. Seven straight goals to the Demons saw them trailing by two points when the inspirational Max Gawn marked 15 metres out just before the final siren. Demons minor premiers. Geelong down to third.
Although the Collingwood v Essendon game hadn't been played as I wrote this, nor the Adelaide v North Melbourne one, the top eight has been determined.
I'm still pinching myself that my Swannies are there. Contrary to many footy fans' belief that we would struggle to move up the ladder from last year's position, we have proven that we have been the so–called surprise team of the year, and certainly the most improved. Our demolition of the Suns on Saturday afternoon, by 87 points, simply shows what we are capable of.
Let's face it, we have beaten five of the top eight teams this year: Brisbane at the Gabba, Essendon in Sydney, Geelong in Sydney, GWS at the Gold Coast, and the Western Bulldogs in Melbourne. Of the remaining four teams in the eight, we lost by only nine points to Melbourne and ten points to Port; the Giants also squared the ledger against us for a two-point loss. We've also beaten two teams who were in the eight at the time we played them: Richmond and West Coast.
We have been super impressive, and no matter what happens in the finals, all Bloods' supporters will be rejoicing in and giving thanks for our effort this year.
What a pity for all Victorian and NSW-based members that we won't be able to travel to wherever we need to, to witness what the future may hold.
So, my weekend has been full of brilliant footy, and I've deliberately not read any newspapers or watched any television news. Distraction or otherwise, our game is a wonderful reminder that sport does in fact play a very vital role in many of our lives. Well, at least mine anyway.
Go Bloods!
To return to our Footy Almanac home page click HERE.
Our writers are independent contributors. The opinions expressed in their articles are their own. They are not the views, nor do they reflect the views, of Malarkey Publications.
Do you enjoy the Almanac concept?
And want to ensure it continues in its current form, and better? To help things keep ticking over please consider making your own contribution.
Become an Almanac (annual) member – CLICK HERE.
One-off financial contribution – CLICK HERE.
Regular financial contribution (monthly EFT) – CLICK HERE.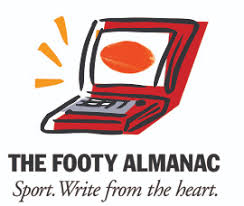 A Bloods tragic since first game at Lake Oval in 1948. Moved interstate to Sydney to be closer to beloved Swans in 1998. My book "My Lifelong Love Affair with the Swans" was launched by the Swans at their headquarters at the SCG in August 2016. www.myswansloveaffair.com