Almanac Footy: AFL Practice Match – Cats v Pies
The sun has been tame across the Melbourne summer. El Nino, El Nyonya, El Bow? One of those. It's a weather event (everything is an event these days) that brings the moisture down from the north. The rain arrives and dampens Melbourne's normally dry heat. For a month or so we've had a taste of a Brisbane existence but without the tropical sounds and mildew. The humidity has hung low and heavy and the local bats are confused. They silently flap away above my head as dusk settles on the day, but their normally uniform flying patterns look a little disheveled. Their radars are playing up.
I'm standing at the BBQ absently turning the snags that don't need turning. On the shelf next to me I'm streaming the Cats v Pies practice match replay, trying to find the next gun kid. Think I might have found him. Francis Evans has a bit of Chappy about him. Brick shit-house build, the turning circle of a unicycle, grunt in his attack on the ball, and a steady, measured kick. I think his hair is thinning a bit too. The whole package. But 'Evansssssss!' doesn't have the same ring as 'Chappyyyyyyyy!'. We might need to do something about that. However, if Evans kicks a goal over his shoulder to win us a grand final in future I probably won't care.
There are a few blokes I'm looking forward to watching this year: Constable (he looks fit and big), Stephens of the Cooper variety (bit of Cripps about him), and Jordan Clark (looks like a Stawell Gift winner from the 80s). Geelong supporters seem to like Constable, but the coaching panel went cold on him last year. Not sure why? Probably because he gets it 30 times a game and doesn't butcher it. Can't have that! We need role players.
In 1976 I did drama at school and we did role plays. My acting was described as "wooden". My Drama school report read something like "Damian's concentration in class has been appalling. He disrupts others and has no respect for the curriculum – F". I was never going to be the next De Niro. Maybe Constable has the same issue – he's honest. Zero acting or pretension in his play. He's hard and tough and runs in straight lines. I'm not sure what his role needs to be. But I reckon I'd find a spot for a bloke like that in my team.
Stanley is like a young colt in a fresh paddock until he trips over a tram ticket and gets dragged. He looks trim and lean. I hope his body holds up. Cameron roams around. And around. And around. I felt like yelling out "the ball's that way!". At one stage he was standing at full forward practicing his golf swing. It looked superb. But the surprise packet in the big man department was Josh Jenkins. He was covering the ground well for an old bloke. He competed hard, got in good positions, and kicked a couple. He looks like a bag of walnuts but is an awkward character to match up on.
There's a few other names I'm going to watch across the season: Shannon Neale, Nathan Krueger, and Stefan Okunbor.
There were quite a few missing. Narkle is in danger of becoming Geelong's new Dodo bird. We had Cocky on our list for a decade but no one ever saw him. He was like the Scarlet Pimpernel. Narkle is heading the same way. Enormous talent but perpetually being described as "getting closer", or "not far away". I hope he gets on the park because he does have a sparkle about his game.
I reckon Clarko has taken coaching tactics to a new high. When the Cats recruited Isaac Smith it didn't really make sense. It was like the Liberal Party recruiting Gough. I think the Cats might have walked into a sucker punch. Smith is double agent 07, successfully immersed into the enemy camp. The cuckoo bird of the Geelong Football Club. His nickname should be Blunt. It's a stroke of genius by Clarko who demands ultimate loyalty from his players. Smith has done a great thing for the Hawthorn Football Club; he has laid down his career for the good of his brothers. They will build a statue to him in years to come and erect it outside their home ground in (fill in the name of a city here).
I can just see Clarko and Agent 07 meeting under dusty bridges in Footscray or empty carparks around Lara on cold July evenings. Dressed in raincoats they'll approach each other in the darkness and give the secret passwords:
"The geese fly high".
"The dew is on the grass".
"Dangerfield has a weakness Clarko – he can't kick".
"I know that Smithy!! I need more!".
But I'm generally positive about the Cats this year. The corporation steams on. The young blokes (mostly) are getting a look in. Will it be the last hurrah for Joel?
To read more from Dips, click HERE
To return to our Footy Almanac home page click HERE.
Become an Almanac (annual) member – CLICK HERE.
One-off financial contribution – CLICK HERE.
Regular financial contribution (monthly EFT) – CLICK HERE.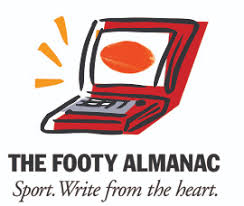 I'm passionate about breathing. And you should always chase your passions. If I read one more thing about what defines leadership I think I'll go crazy. Go Cats.