Almanac Comment: When superstitions evolve
I don't follow tennis these days, so a second round match at the Australian Open between the second seed Rafael Nadal and the American qualifier Michael Mmoh was never going to be on my radar.  However, an incident during this match did grab my attention, and I just could not let it slide.  The tournament has been completed and the circus has rolled on to the next destination, but some people may recall that this was the match where a (possibly intoxicated) fan was evicted for abusing Nadal.  The fan was alleged to have yelled "hurry up you OCD f***" as Nadal was preparing to serve.  There was a short interlude as the fan was removed and the game went on.  When questioned after the match, Nadal seemed as untroubled by the abusive fan as he was by Mmoh (6-1, 6-4, 6-2).  Nadal's tournament continued with minimal disruption until he went down in five sets in the quarter finals.  However, a couple of South Australian fans could not resist taking a parting shot at Nadal and his routines in the letters to the editor in recent days.  Maybe Rafa is an online subscriber to The Advertiser?
This kind of scrutiny is not new for Nadal at the Australian Open.  In 2014, commentators Jim Courier and Lleyton Hewitt drew flak from an OCD specialist psychologist for highlighting and trivialising Nadal's on-court (and locker room) routines.  Tellingly, this psychologist was most concerned with the distress that such mocking could cause sufferers of the disabling mental illness.
Cricket is more my scene.  Test cricket in particular, while acknowledging that T20 seems to be the direction the game is heading in.  Plenty of words have already been written about how prior to a BBL game earlier this season, commentators Shane Warne and Andrew Symonds took aim at Marnus Labuschagne and his mannerisms at the batting crease, unaware the cameras were rolling.  (Isn't that covered in Broadcasting 101?)  The comments themselves and Warne's response to the on-air gaffe were both pretty ordinary.  At least Symonds apologised.  I have great respect for what both men have achieved on the field.  Would I take advice from them on how to manage ADD or a similar disorder?  Based on this exchange, definitely not.
Steve Smith was spared a similar on-air attack, but that does not mean that people are not talking.  I have been involved in plenty of discussions in recent years where Smith has been diagnosed with OCD by the casual viewers.  I hear sentiments similar to the Warne-Symonds exchange expressed about Steve Smith anytime he hits a (rare) flat spot.  Then again, people say the same things when he gets on a roll and the runs are really flowing!  If Smith's mannerisms are present whether he is making runs or not, perhaps it is something else that determines his success?
Cricket is a breeding ground for superstitions.  Players from the greats of the game all the way down to D-grade park cricketers are superstitious.  Most cricketers would have acted on some form of superstition, not all are significant or obvious.  Good luck to those that don't.  But for some individuals, superstitions can evolve into OCD.
OCD is not about bouncing a tennis ball a certain number of times before serving, or undoing and fastening one's gloves between each ball, or putting things in a certain order, or even cleaning for that matter (there are some OCD sufferers who hate cleaning).  These behaviours can be present in sufferers of OCD, but in themselves are not necessarily symptoms or indicators of OCD.  The psychologist mentioned earlier in the piece suggested that Nadal's behaviours could just be a manifestation of the control that athletes seek to get.  In any competitive sport you feel much more comfortable when you feel that you are controlling the situation.
OCD and the behaviours that come with it are an attempt to control anxiety.  To get technical for a moment, obsessive-compulsive disorder (OCD) is characterised by repetitive unwanted thoughts (obsessions) and irrational, excessive urges to do certain actions (compulsions).  People with OCD may know that their thoughts and behaviours do not make logical sense, yet they are unable to stop them.
There are people who have OCD and nobody knows they got it.  Even sportspeople.  If you are not familiar with AFL footballer Wayne Schwass, I urge you to check out his story from the 1996 AFL Grand Final.  OCD can come on gradually to the extent that the sufferer often does not notice when their superstitions and mannerisms have morphed into OCD.  I use the term 'sufferer' when referring to OCD because to have OCD generally means that one suffers in one way or another.  Even those that have overcome it can still be susceptible to relapse.
A US study found it was taking people an average of 17 years from the time OCD begins for people to obtain appropriate treatment.  This is the time from it first appearing (often unnoticed), beyond the time that the sufferer admits to themselves that they need help, to the time they then work up the courage to seek help.  As with any mental illness, admitting to a medical professional that you have OCD, and then outlining the symptoms, can be extremely confronting.  Sharing with friends and family can be harder still.
There are any number of people walking the streets and in the workplace who are dealing with OCD.  You do not know it because they are going to great lengths to disguise it, to hide from it from view.  A sufferer of OCD is unlikely to 'out' themselves.  So, a sufferer of OCD is unlikely to willingly perform their compulsions in full view of the public (or on national TV).  When you know something does not make sense there is often a sense of shame attached to performing the compulsions.
The point I am endeavouring to make is that most people do not understand OCD or anxiety.  Even those who have studied it for years often do not possess the intimate knowledge that comes through lived experience. (But the professionals do have the tools to try and help sufferers overcome it.)  So, if you don't understand something, you should either educate yourself on it or steer clear of it.  If you are watching Rafael Nadal and you feel the need to call him 'OCD', just be aware that he may not have it but the person sitting nearby does.  If you don't like watching Nadal play on TV, turn it off.  If the mannerisms of a Marnus Labuschagne or Steve Smith annoy you, too bad.  The scoreboard doesn't record how, just how many.
OCD and ADD are not to be used as insults or jokes.  They are serious disorders that many decent people are working hard to overcome.  Just think about that before next summer.
The Tigers (Covid) Almanac 2020 will be published in 2021. It will have all the usual features – a game by game account of the Tigers season – and will also include some of the best Almanac writing from the Covid winter.  Pre-order HERE
To return to our Footy Almanac home page click HERE.
Our writers are independent contributors. The opinions expressed in their articles are their own. They are not the views, nor do they reflect the views, of Malarkey Publications.
Do you enjoy the Almanac concept?
And want to ensure it continues in its current form, and better? To help things keep ticking over please consider making your own contribution.
Become an Almanac (annual) member – CLICK HERE.
One-off financial contribution – CLICK HERE.
Regular financial contribution (monthly EFT) – CLICK HERE.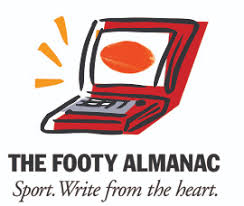 About
Dour opener and close-checking fullback. Peaked early.