War and Peace (and A-League) – Round 2
After the press were all over the lacklustre Socceroos, Cahill's hand and head gestures and wantaway Ange the focus kind of turned back to the A-League with a very entertaining Round 2 of the 2017/18 season.
BRISBANE ROAR 1 (Maccarone 8) ADELAIDE UNITED 2 (Kitto 88 Absalonsen 92)
Roar were again on a Friday and again they managed to fail. This week though it was in a much more ridiculous way than last week. While City merely played them off the pitch in the opening round in Melbourne their capitulation against Adelaide puts more pressure on the Aloisi brothers and their players who are under huge pressure to perform when the club is a basketcase.
Roar started brilliantly with their controversial signing Massimo Maccarone scoring his first goal for the club but in what was not much of a surprise a team of veterans in their 30s were expected to slow down in tropical conditions against a side who had had a tough physical pre-season under a German disciplinarian.
A chance to United's young striker Blackwood early in the second half was a warning to the Roar but Aloisi sat on his hands as Kurz made changes to United. After holding on like grim death for 20 minutes it was with 3 minutes to go that United got their equaliser through one of the subs Kitto who charged in to the area and scored. Then deep in to stoppage time the two new European recruits combined for Adelaide. The German midfielder Daniel Adlung set up the Danish winger Johan Absalonsen who rifled home the winner.
Aloisi following the match blamed an interrupted pre-season when all clubs get injuries but the simple fact is after going up 1-0 they tried to defend a lead for some 80 minutes with a side with the combined age of inifinity + 1. Off the pitch with the Bakrie Group's non payment of some bills not helping and General Manager Mark Kingsman being sacked yesterday it's not too rosy. When you haven't paid your Australia Post bills so they won't deliver for you, forcing members to have to come to the offices of the club to pick up membership packs then there's some issues that go beyond the age of their squad.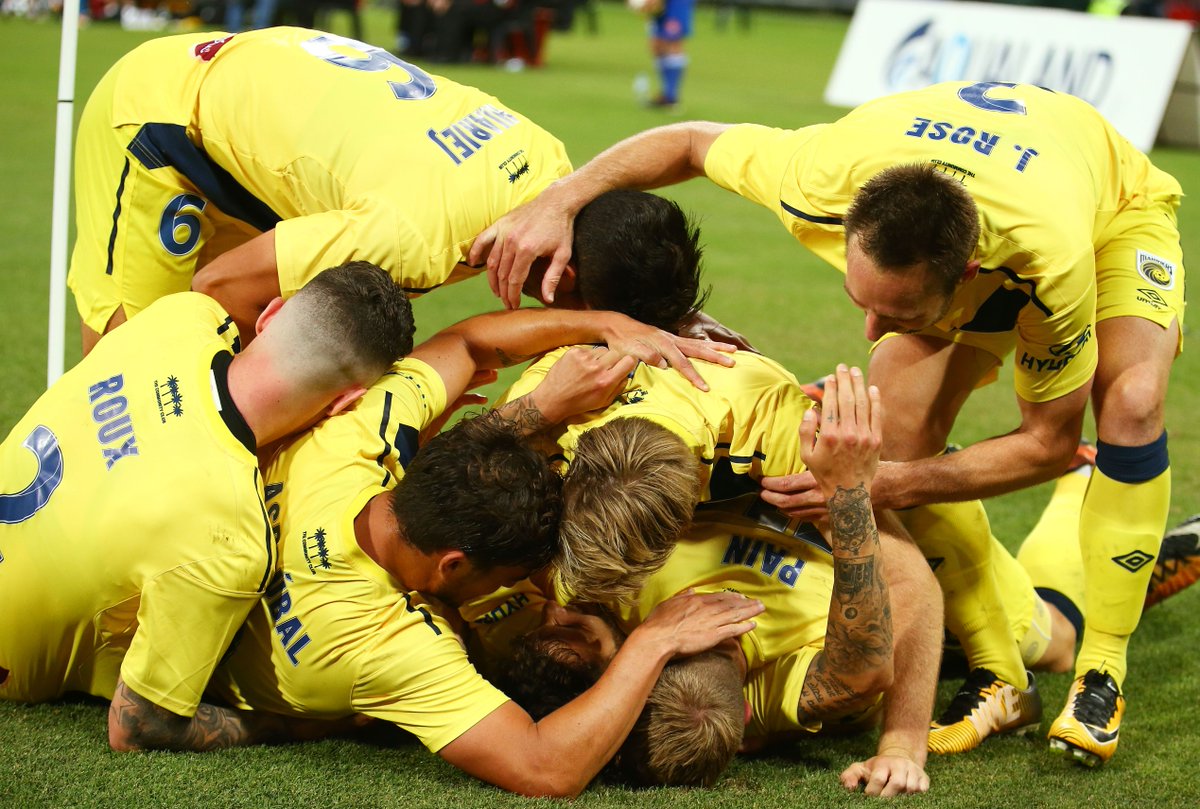 Teammates ensuring Danny Da Silva can't escape back to Europe just yet.
WESTERN SYDNEY WANDERERS 2 (Riera 39 Bonavacia 69) CENTRAL COAST MARINERS 2 (Asdrubal 21 Da Silva 63)
The first of the Saturday games was a brilliant game to watch as Wanderers found something to get a draw against a vastly improved Mariners. After being embarrassed at home by their arch rivals Newcastle last week the Mariners went ahead twice in this game only to be pegged back by a home side that were half the team they were last week.
The Mariners' Spanish import Asdrubal scored again in the first half with his celebration a little less flamboyant than last week. The Wanderers' keeper Janjetovic again making a mistake failing to hold on to a shot from Hoole which let Asdrubal in. Wanderers equalized from the spot through one of their new Spaniyairds.
Central Coast were then ahead again when Danny Da Silva was exsquisite with his finish thanks a lovely pass from Hoole. The 20 year old Da Silva left Perth Glory to seek fame and fortune in Europe but a stalled couple of years has seen him reset back in the A-League. Going on his man of the match performance in this game he won't be back in Austraila for very long.
The other star of the day, Roly Bonavacia, was the one to get the Wanderers level again. With 20 minutes to go the Dutch midfielder scored from close range after Glover failed to deal with a Josh Risdon cross.
The Wanderers got out of jail but the continued protest by members at having to play homegames at Spotless is still also a concern. A crowd of only 11,650 when they have almost twice as many members. They'll no doubt be out in force for the derby next week.
MELBOURNE VICTORY 1 (George 55) MELBOURNE CITY 2 (Budzinski 45 Kamau 64)
City's brave new world under new coach under Warren Joyce continued with a decent 2-1 win over their crosstown rivals at Etihad in the big Saturday night.
It was a top opening in front a massive vocal crowd with many a tackle drawing the ire of the crowd and the ref. There were three yellows in the first 11 minutes with Broxham's challenge perhaps lucky to have not been a different colour. The game started to settle down as the half went on as the excitement of the opening salvos died down and it turned in to a game that desperately needed a goal. Osama Malik's forced withdrawal due a savage Rhys Williams tackle in the shadows of half time seemed to help more than hinder City's tactics with the sub Marcin Budzinski scoring right on half time.
Victory got it back on level terms through the semi-impressive Dutchman Leroy George who scored from a tight angle.  As the seagulls multiplied in numbers and the minutes ticked away it would be City to take the win. With 30 minutes or so left the speedy winger Bruce Kamau broke down the left and squeezed a shot past a defender and hapless Victory keeper to score and dash over to the waiting arms of the celebrating City Fans. An impressive showing from a side that may have succumbed to the pressure when it was 1-1 in previous clashes with Victory but managed to hold firm and grind out the win. This City side may actually have something akin to a spine this season.
For Victory another home game and another loss. While the two games have been against the champions and their local rivals it's not the best start for a side firmly in Sydney FC's shadow at the moment. The Socceroos call ups also haven't helped. Next week won't be any easier travelling to Adelaide to take on United.
NEWCASTLE JETS 2 (O'Donovan 30 Kantarovski 60) PERTH GLORY 2 (Taggart 8, 90)
After last week's glorious win in Gosford the Jets came back to Newcastle to take on a Glory side who had again had been dacked in a visit to Sydney. In front of a very decent crowd, it was Glory that shut them up very early thanks to a lovely finish from former Jet and sometimes Socceroo Adam Taggart. The ball to Taggart from Diego Castro was also quite sublime. This is Perth Glory away from home though so after Castro fluffed his lines with a one on one with the keeper the Jets were back on level terms when Roy O'Donovan scored on the half hour, the sprinklers at the ground showing more pressure than the Glory midfield in the build up. Former Victory title winner Daniel Georgievski made his presence felt showing his Kevin Muscat-esque brand of physicality getting booked for a horrible tackle on Joe Mills and then missing a sitter right on half time.
It was a tight game between the sides until local lad Ben Kantarovski scored on 60 minutes, the Glory capitulation running the schedule as per usual. With the subbing on of Chris Harold, Glory wouldn't completely melt though with the speedy winger forcing Jack Duncan into a good save. After being booked for a dive that perhaps was a little harsh Harold put in a pinpoint cross to Taggart with seconds to go. The glancing header from Taggart was tremendous, beating the keeper and securing Glory a point with one of the last plays of the game.
Glory would take that with the players they had out and mediocre performance. The Jets wouldn't be that blue about putting in another decent performance even if they didn't get the win.
If Bobo scores a brace in the forest was there anyone there to see it.
SYDNEY FC 3 (Bobo 29, 49 Zullo 34) WELLINGTON PHOENIX 2 (Kaluderovic 44 Vidosic 60)
Sydney FC were at home for the first time since their magnificent title win last May, such a shame hardly anyone showed up to celebrate their return. With the exception of 'The Cove' the crowd was a massive disappointment, a 7pm kick off at Moore Park not really the most family friendly time for a family day that saw the flag unfurled. The FFA Fixturing Department does it again.
Despite the awful crowd it was another cracking match. It did seem initially it would be another example of Sydney FC strongarming the opposition to yield going up 2-0 in the first half through Bobo and Zullo who scored his first goal in the league in nine years. Right on half time though a goal to Phoenix meant the second half would perhaps be worth watching.
Another goal to Bobo early in the second half seemed to put an end to the challenge by the plucky Phoenix until on the hour Dario Vidosic's fantastic finish made it 3-2. Despite the attempts by the Kiwi side to get a point from a place still fresh with wreckage of teams who failed last season, they could not conjure a third goal and Sydney got the points despite a bloody nose. That was the first time Sydney had conceded two goals in a league game since January 3 which was the only time they only leaked two goals the whole season in the league so fair play to Phoenix.
It's very safe to say the crowd will be larger at the SFS next round for the Sydney derby.
SACRED COW OF THE ROUND – Melbourne City
Now that City have gone out and showed some actual heart (as it were) this will either be a sign they are now developing some kind of consistency and balls under old Manc Waz as coach. As said above, an equalizer to Victory usually would have ended up with City surrendering and conceding another but they found a way to not only not concede again but come up with the win. Could this be when they go up a level on and off the pitch.
Also great to see Cahill booed, shows the Derby means something.
ARSE CLOWN OF THE ROUND – The FFA.
A brace for the FFA already for Arse Clown of the Round awards thanks to their handling of the Ange situation and putting the champions Sydney FC on at an unsociable hour as to appease the Fox Sports Gods. While it was great for those of us at home watching while consuming a Sunday roast the lack of a crowd and atmosphere doesn't make great viewing.
A slap in the face for arguably the best side the league has seen to have to play at that time in the first home game since their Grand Final triumph. We all know Sydneysiders can be fickle at the best of times and anyone who has attended the SCG or SFS can agree with Moore Park a prick of a place to get to at the best of times.
TOTAL GOALS FOR THE ROUND – 19 (Season Total-33. Av. 3.3 goals a game)
WHAT TO LOOK FORWARD TO NEXT WEEK – The first Sydney derby of the season will be great to see where both teams are yet. Sydney FC king of the hill and Wanderers with a new bevvy of players looking to win back the hearts and minds of the Harbour City. On free-to-air too which will be a bonus.
The United v Victory game at Adelaide Oval will also be a cracker. Even this early in the season Victory can't afford to drop this one. Should be a half decent crowd too.
RTR FM Presenter. Glory Guerrillas Producer and Co-Host. Contributer to Football Nation Radio and Football West. Worships at the feet of the mighty Cats, Socceroos, Matildas, West Perth, Glory and Glasgow's Green and White most of the time.