Almanac Olympics – Tokyo 2020: Thoughts From the Couch
Tokyo 2020, undertaken in 2021… Two weeks which we privileged folk will remember as a glorious mid-pandemic excuse to revel in some serious couch time with the kids, enthralled by Olympic excellence in all of its forms. In Australia, the 7plus app gave us access to every single live event – and many on delay – and in our house, the 9 year-old and his 6 year-old sister ignored footy for a fortnight and instead made sure they caught at least some of every sport throughout the Games.
And so, in commemoration of a spectacularly memorable fortnight of viewing, here are scattered Tokyo 2020 thoughts from our joint:
* The unsurprising advantage of being able to watch the Olympic World Feed for each event was that we could avoid the overly-patriotic Aussie commentary. The surprising advantage was we could also avoid the fake crowd noise that Channel 7 had decided Aussie viewers wanted.
* The sport during which the lack of crowd noise felt most strange? Weightlifting. In hindsight, this shouldn't be surprising: not only do they compete on a literal stage, but for a huge percentage of the time a lifter is in front of the crowd, they're not doing anything other than being pumped up by or celebrated by the fans.
* As always, every random athlete had one personal story designed to humanise them to the viewing audience. Did you hear that Kaylee McKeown's dad passed away last year?
* Mind you, who doesn't enjoy Steve Robilliard informing them that British trampolinist Bryony Page received first-class honours for her dissertation on the sounds that dinosaurs might have made.
* The USA, where the face masks of Olympians look like the mask of Bane from The Dark Knight Rises.
* You can watch feats of extraordinary athletic brilliance for two weeks and still be completely stunned on the second last day of the Games by the talent it takes for divers to casually stand with two-thirds of their feet off the back of the platform.
* Want to make a 9 year-old boy laugh? Show him dressage.
* Speaking of the dressage, while we were watching, a horse made an error that was going to completely destroy their score. The commentators thought it would be appropriate to explain to we non-equestian-enthusiasts at home why the rider and horse bothered to continue their routine. The reason? Because horses are trained to complete their routine regardless of errors they might have made. According to the commentators, horses are smart and if they are taught they can stop if they make a mistake, then they'll deliberately make mistakes so that they can stop their routines. Ultimately, it sounded like the commentators were saying that the horses we were watching probably didn't want to be performing all these bizarre dance moves and would love an excuse to be allowed to stop?
* Softball was faster and seemed filled with more variety than baseball.
* Hockey shootouts – like their ice hockey cousins – seem far more skilful and exciting than the coin-flip that is a soccer shootout.
* With apologies to Aussie gold in the freestyle BMX, sport climbing was the winner in the New Olympic Sport stakes. Such extraordinary skill; such nerve-wracking final climbs.
* Lots of discussion re: 3×3 basketball. Our conclusion? The best indoor volleyballers aren't automatically the best on the beach. The best test cricketers aren't always the best at T20. But the best basketballers would be the best regardless of how many players are on the court.
* That said, it was fun watching basketballers work out how to approach plays towards the end of a game without endless, time-consuming timeouts and coach intervention.
* How's Kyle Chalmers? Wins the 100m Freestyle in Rio. Comes to Tokyo, swims faster, but finishes second, 0.06 seconds away from first. Nothing he can do other than laugh and congratulate the guy who was two lanes over from him.
* On one channel, people are dancing across mats and taking punches and kicks to the head. On another, soccer players are rolling around on the grass as if the tap they received on the toes from an opponent's boot has caused them unbelievable pain.
* Seemed a little one-sided of the Olympic rugby organisers to play 'You're the Voice' by John Farnham in the stadium at half-time of the Australia-Fiji quarter-final?
* Meanwhile, 'We Will Rock You' was pumping up the crowd between rounds at the platform diving.
* Men's beach volleyball – so long dominated by Brazil and the USA – saw gold go to Norway. Here's to more Nordic kids being inspired to hit the sand this week. If they're not jumping over hurdles, that is.
* Best team logo of the Olympics: the Cote d'Ivoire football team.
* The podcast Blind Landing reminded us of the horrible mistake made at Sydney 2000 by the officials who accidentally set the women's vault a couple of inches low. Here's to the Australian Olympic Committee beginning their search for the nation's most meticulous measurers to ensure a similar fate doesn't befall the gymnastics at Brisbane 2032.
* There are a remarkable number of team sports where an individual can suffer the fate of being the one who is clearly responsible for letting down the team. Team archery? You can be the archer who doesn't score full points. Team gymnastics? You can be the gymnast who falls. Perhaps the most full-on example of this in Tokyo was the men's 3m springboard synchronised diving. On the verge of a medal, the Russian pair scored 0.0 for their final dive because Nikita Shleikher botched up his jump off the board so badly that his dive attempt was deemed illegal. The two divers didn't say a word to each other for the remainder of the broadcast. The tension between the two of them was made all the more dramatic because Shleikher looked like an innocent teenager when compared to his bearded companion Evgenii Kuznetsov who has a tattooed skull.
* When warming up for a doubles match, tennis players share one side of the net with their partner and each hit with one of their opponents. In badminton, though, teammates face each other on opposite sides of the net and warm up by hitting with each other. The jury is still out on which of these approaches seems more reasonable.
* Boxing: the sport where you get to watch people beat the crap out of each other, and then listen to 'Be With You' by Mr Big as in-arena music between rounds.
* Good on the Olympics for allowing women to swim the 1,500m freestyle for the first time. Here's to them now creating equal events in other sports too…let's start with women having the same number of dives in their diving finals as men.
* The most extraordinary team at the Olympics? In 1988, women's team archery was brought into the Games. Since then, South Korea has won every gold medal. In Olympic competition, teams participate in a knock-out tournament during which they shoot a maximum of 24 arrows against an opposing team during each match. South Korea are yet to lose a match after nine Olympiads.
* That's a fair legacy for 20 year-old Korean archer An San to have to try to maintain and extend this year. Her three gold medals from three events was as impressive as any other performance in Tokyo.
* Meanwhile, some athletes such as the delightful self-coached, team-less Austrian road cyclist Anna Kiesenhofer had no legacy to protect but suddenly now know the first line of their obituary. Kiesenhofer broke away, stayed out in front of the peloton for the entire race, and when sprinting for the line, the eventual silver medalist from the Netherlands didn't even realise that the Austrian was still out ahead.
* Great Olympic Names, Bronze Medallist: French hammer-thrower Quentin Bigot.
* Great Olympic Names, Silver Medallist: Argentinian volleyballer Agustin Loser.
* Great Olympic Names, Gold Medallist: Chinese diver Shi Tingmao. When she participates in synchronised diving, the on-screen graphics abbreviate her name to SHI T.
* Quote from the 6 year-old, speaking to her older brother: 'OK…you can change the channel, but if this girl from Kazhakstan is in the karate again we have to switch back over.'
* There's a break in the sport climbing final, so you flick through the channels and settle on watching a freestyle wrestling final as it'll only take 6 minutes. Suddenly, you find you've stumbled upon an epic super-heavyweight bout in which Georgian triple World Champion Geno Petriashvili drops behind early, comes back late, and loses when American Gable Stevenson scores 2 points with 0.3 seconds left on the clock to win. The Georgian is distraught, the American is back-flipping across the mat, the commentators are calling it the best match at the Olympics and an all-time classic, and you've never been so emotionally exhausted by your half-time viewing.
* At ages 73 and 68 respectively, HG and Roy are still incomparable at ensuring we don't take anything too seriously.
* The technology surrounding Olympic sports, video-assisted replays and international broadcasting is extraordinary. And yet, the Olympic app provided such little information for some things that it seemed the most effective way to find results and standings was often…Wikipedia?
* Every Olympic viewer adopts random favourite athletes. Early in the Games, our family accidentally stumbled across Guatemalan badminton player Kevin Cordon. While watching him for the first time, we learnt that Our Kev had decided as a kid that he wanted to become an Olympian, and had devoted himself to badminton as he thought that such an unpopular sport in the Americas would provide him with the best chance of Olympic qualification through that part of the world. He was right – he's now a 4-time Olympian and was the Guatemalan flag-bearer in 2008. And in Tokyo? Kev had the tournament of his life, winning his pool and then winning two knock-out matches to become the first player from Central America to reach the semi-finals. He didn't finish with a medal, but he came closer to the Danish gold medallist than anyone else did in Tokyo. His journey was both delightful and magnificently nerve-wracking for those of us cheering our 34 year-old balding hero from our couch in Australia. 
* An extraordinary amount of ink (umm…pixels?) was used to comment on the 'un-Olympic' behaviour of Novak Djokovic. He threw his racquet into the empty stands, he smashed it against the net, and he pulled out of the mixed doubles bronze medal playoff which meant that his partner couldn't win a medal. Meanwhile, absolutely no-one was writing about the domestic violence allegations that are hanging over new Olympic tennis gold medallist Alexander Zverev.
* When female athletes perform incredible feats, they are often said to be role models for all of the young girls watching. Can we all agree that when our gold medal winning athletes are as well-spoken, humble and unpretentious as Jess Fox, Emma McKeon, and the Campbell sisters, it's not just young girls who can look up to and be inspired by them?
* For we kids who spent our primary school years dreaming of being Boomers, the boys winning bronze on the penultimate night in Tokyo was the most beautiful moment of all. After going 0-4 in bronze medal matches in the past eight Olympics, Patty Mills and co handled themselves perfectly. Having been watching the world feed, when the siren went Mrs EPO appropriately said 'I'd love to hear what what Andrew Gaze is saying now.' So over we turned, and beamed at the great man's emotion. And just quietly, Patty – at only 6'1" – has grown to become perhaps our greatest male basketballer yet. 42 points in the biggest game in men's Aussie basketball history. Who'd have thought?
* Arthur Tunstall might be rolling in his grave, but here's to the Boomers deciding to standing on the podium behind the Aussie, Aboriginal, and Torres Strait Islander flags.
* Watching unfamiliar sports with kids is such a joy. Their open-mouthed awe – at both male and female feats of athletic brilliance – can remind one of just how indescribably talented these people are and how lucky we are to enjoy them.
* "Can we have two golds?" "It's possible…"
It's possible…
What a magnificent fortnight.
To return to our Footy Almanac home page click HERE.
Our writers are independent contributors. The opinions expressed in their articles are their own. They are not the views, nor do they reflect the views, of Malarkey Publications.
Do you enjoy the Almanac concept?
And want to ensure it continues in its current form, and better? To help things keep ticking over please consider making your own contribution.
Become an Almanac (annual) member – CLICK HERE.
One-off financial contribution – CLICK HERE.
Regular financial contribution (monthly EFT) – CLICK HERE.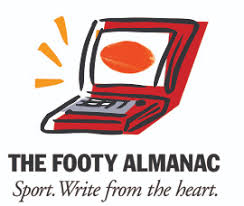 EPO is equally passionate about sport and sports writing. While others toil away at the local indoor sports centre re-living their futile childhood dreams of being one of the best of all time, he types away at home re-living his futile childhood dream of being one of the world's great columnists.