The Wrap – A letter from the Saloon Bar
Chief O'Hara had the Batsignal he could flash into the sky to call out the Caped Crusader(s).  In the Deep Woods it was the jungle tom toms that altered The Phantom to attend a troubled world.  Here at Wrap Publications we have no such options.  It's very much a waiting game.  How He knows is not for us to question, but we know that when it is time, when the Peril to Our Great Game is at its peak, a neatly typed essay in an unstamped envelope will mysteriously appear on The Editor's desk as if delivered on a moonbeam.  The following is what we received earlier this week.  We waited for the coded classified to appear in the Tibooburra Tribune verifying its authenticity before we went to press with it.
I pen this letter from the Saloon Bar of The Telegraph at Pooncarie.  It's a time of great sadness up here on the Darling.  Mortality is a startling realization for that which seemed eternal.  And while part of the Nation's lifeblood shrivels to a stinking stagnant sewer, it is the threat to Our Great Game that brings this pang of sadness to the soul.  In these troubled times, a more threating menace pervades us.  The very fibre of our core belief system is challenged.  Confusion reigns where The Faithful seek certainty.  Yes, it's those perplexing decisions of the MRP.  Never mind having a referendum on whether we elect our Governor General, how about we have an election to determine who sits in the Star Chamber.
Let's look at their latest little imbroglio around at Jellymont House.  And let's start with Fyfe and Ablett.  How they got off this week, I'll never know.  There's been some unsubstantiated rumours that the gambling industry could be concerned at losing two of their major drawcards.  Of course, Wrap Enterprizes can in no way support such unfounded innuendo, and we repeat here, as Molly has told us so often, gamble responsibly.  Or was that don't do drugs.  Sometimes Molly can be as confusing as he can be confused.
But getting back to the Star Chamber; while two decorated players set a bad example to young footballers, a first-year player whose head accidentally contacts another player's head in a firm-but-fair bump gets a blot on his name and a week's holiday.  You want to know the truth, I'd go to a Geelong game just to boo Ablett.  Never mind shame on those who boo a champion.  I'd be booing an egotistical little mercenary who took the thirty pieces of silver to betray his supporters, his teammates and The Guernsey down at Kardinia Park.  Then he walked out on those who paid him the thirty pieces of silver in search of more glory.  There's no sign of his nagging injury down on the healing shores of Corio Bay, you'll notice.
Then he thumbed his nose at the administration and spat on The Game the week after he appealed his blatantly off-the-ball hit on Dylan Shiel.  Be honest, that incident was two weeks down to one with a guilty plea and maybe he wins the appeal on his track record.  Then the very next week he goes out and does it again – without even being cited.  He should have been given two weeks for arrogance and suspended until he apologized to supporters for Contempt of The Game.
And then there's another Brownlow favourite, Nathan Fyfe.  Never mind the raised elbow — his default tackle — he trod on Jack Ross's ankle.  Now we haven't had the slowmo version up here at The Telegraph, so it's not possible to say whether or not it was an accident, but what we can say is that when Jack Ross limped off the field Fyfe blossomed.  I'd go to a Fremantle game just to boo him too, if it wasn't for the boring brand of Ross-Lyon football that they play.  That also warrants a Bronx cheer.
Then there's the goal post incident.  Here's a clear breach of the rules.  No penalty and the CEO mumbles something about common sense prevailing.  And he made a point of going on several radio stations that day, totally un-briefed and un-rehearsed, to with an explanation that generated more debate on the issue.  What would have been wrong with saying we got it wrong and we're very sorry?  But when he used common sense as a reason the rule was overlooked on this occasion you could hear a sharp intake of breath across the Football Universe.  From the segment that didn't see it as a diplomatic blunder there came a howl of derision.  The seismograph located the epicentre of the 8.2 quake as being somewhere between Mt Macedon and Moonee Ponds.
But you have to hand it to those Essendon Supporters; they really are a classy lot.  I'm sure there's no truth to the gossip that they've changed their name to The Bronx Cheer Bombers, and shame on those who suggest it.  C'mon, they haven't had the rub of the green this season.
Getting back to the sharp intake of breath; can we expect to see some common sense when players are inadvertently running through the protection zone from now on?  And what is this protection zone anyway?  The kicker invariably goes back a chain from the mark and the first thing he does is run off his mark inboard to gain the corridor.  Where's the maggot's call of play-on the instant he moves off the straight line?  And surely it's about time we reduced the 'protection zone' penalty – inadvertent or otherwise – to say 25m.
And how about paying free kicks in front of goal?  I'll accept that the old Admiral black & white we have up here at The Telegraph can be a bit snowy at times, and that the reception depends on the density of the dust storm of the day and how many crows are sitting on the antennae, but even so, the blatant frees that go unrewarded – either way – man or ball – we get to see in real time are an insult to the art of The Tackle.  It's not only an integral part of The Game, a great run and tackle is as much a feature as the Specky, The Don't Argue and the Eddie Betts/Macedonian Marvel something-out-of-nothing goal.  A quiet word from Hologram Man down at Maggot Central would be all it would take to sort it out.  And it'd boost the scoring they're all worried about around at Jellymont House and Dorcas Street.
And you wonder why I'm trapping rabbits and shooting goats up along the Ana-branch.
On the season – and remember where you were when you read this – The Tigers are BIT.  They've dug deep into their reserves and haven't they struck gold.  But the main thing is that they've re-discovered their Inner Tiger.  They'll be there when the whips are cracking and with their wounded fully recovered and rested by the end of July, and their last seven games – yes, seven* –on the Hallowed Turf, they'll be cherry ripe for September.  And with something to prove.  I for one, can't wait for Sydney Stack to meet Gary Ablett Junior.  Gaza will need more than one of his pussy little half-cocked elbows for this encounter – even off the ball when Sydney's not looking.  Maybe the Son of God should be getting fitted for a Stack hat at his soonest.
* Benny Gale doesn't organize the fixture, not yet anyway Caroline.   Besides, like Dusty, Punt Road is his home and he's a Tiger Forever.
The Wrap has rarely lacked for an opinion. To read more from The Wrap, CLICK HERE:
Our writers are independent contributors. The opinions expressed in their articles are their own. They are not the views, nor do they reflect the views, of Malarkey Publications.
Do you really enjoy the Almanac concept?
And want to ensure it continues in its current form, and better? To help keep things ticking over please consider making your own contribution.
Become an Almanac (annual) member – CLICK HERE
One off financial contribution – CLICK HERE
Regular financial contribution (monthly EFT) – CLICK HERE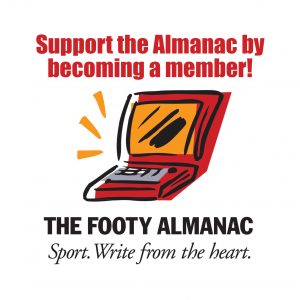 I'm an Aussie Rules tragic who can remember, as a four year old, shaking the hand of Captain Blood in the rooms just before he ran out onto the ground after half time, as my Old Man slipped him a packet of under-the-counter Craven A cork tipped. Now it's my turn to take my grandson Ben through the ritual of character building that is the journey through PUNT ROAD to the outside world.