The history of the VFL/AFL has its fair share of bleak periods. None more so than its centenary season of 1996 when Fitzroy's life support finally gave out. In a season when there was cause for celebration, there was nothing good about this. But nobody could have been too surprised, what with a Thatcherite-led administration with a bootstraps-driven ideology, particularly with regard to foundation clubs. The absence of the kind of revenue that was to later come in from tv rights etc that necessitates having to keep all existing clubs afloat may have been a factor but, more tellingly, so was the lack of collective will to want to intervene. With Oakley at AFL House, Kennett in Victorian Parliament and Howard in Canberra it was springtime for neoliberals.
But what of that other blot on the landscape? The stain at the business end of the league's first season as the rebranded Australian Football League: Collingwood's 1990 premiership victory.
1990 saw the end of a dream run of Grand Finals at the MCG which began in 1946. That year the monopoly five clubs had on the premiership came to a close. From 1967 until this point, only Richmond, Carlton and Hawthorn, with a little help from North Melbourne and Essendon, would take the honours. This all began in the same year as country zoning in which this very thing was predicted to happen. The zones were supposed to be rotated on a yearly basis but once certain clubs found they were sitting on a goldmine they thought it best to hold on to their areas for just a little while longer.
I will state now that on the subject of draws, I remain forever in favour of replays but only following Grand Finals. Why? Grand Finals are about making history. They're not about the gratification of individual clubs, players or their respective fans, some of whom may feel entitled to a result on the day. They are about giving everyone who follows the game something to talk about for years to come. The very scarcity of dead heats, three in over a hundred years, makes them all the more memorable. They also serve to impart valuable lessons. In the case of Essendon in 1948 and North Melbourne in 1977, they further highlight the importance of kicking straight. In 2010, it was very much a case of the football gods unable to make up their minds. What was the least-worst option? Putting a premiership medal around the neck of Stephen Milne or the entire Collingwood side? The fact that the following week they settled on the latter says a fair bit about the former.
Extra time advocates say, "But we're a non-Victorian club." No problem. Stay in Melbourne! With the extra revenue gained from the replay, there's little stopping the League from covering expenses to accommodate the visiting team for another week.
"Why can't we have the result decided today?" Because today is just half time. Consider it an eight-quarter game.
All finals leading up to the big dance, though, are another matter. Extra time, golden goals, coin toss, three-legged sack race, anything but a replay. We're grateful this was rectified and, as a result, we were rewarded with what was easily one of the most exciting opening weeks of finals matches in 1994. The buzz in Melbourne between the North Melbourne-Hawthorn and Geelong-Footscray games must have been absolutely electric on that Saturday.
1990 brought this change and the Pies are to blame. Or was it Peter Sumich's fault for not kicking straight? He could never be depended upon to get it through the big sticks, so maybe it was Suma's point that cost West Coast a spot in the second semi and thus creating a path for the preferred match up on Grand Final day of the ladder leaders in Essendon against the up-and-coming Eagles. The inaugural premiers of the VFL up against the newcomers in the now national league. It would have been a dashing encounter too and both sides had their fair share of dashers.
But we'll never know. Barring a haphazardly organised scratch match between Essendon and what amounted to an Under 19s Fitzroy side, the Bombers didn't play a game for over three weeks before the second semi. The Qualifying Final draw scuttled their routine, deprived them of match practice and fitness and, on Grand Final day, they got done in a lacklustre affair by a team of well-seasoned plodders. Ok, maybe that's not being fair on the likes of Daicos, or Graham Wright who did ok that day.
But things weren't all bad.
I set myself a challenge. How can the best be made of a bad situation? That is, how can we shed light on a day where Collingwood spoiled it for everyone by winning a flag?
I found ten things to appreciate about the 1990 Grand Final.
First, I must give thanks to Adam Collins, Dan Brettig and Shannon Gill at the Greatest Season That Was podcast for their 'Bound for Glory' series on the 1991 Grand Final for the inspiration. Also, I tip my hat to Rhett Bartlett for posting the footage of the pre-match and half-time entertainment and to ABC Grandstand for their 1990 episode of 'Vintage Grandstand'.
So here goes:
The Southern Stand – Tear the roof off the sucker!
It was pretty clear in the 1980s that the old Southern Stand's days were numbered. Ross Oakley described it as having 'concrete cancer'. So, a major renovation was set in motion with the Great Southern Stand to be completed in time for the 1992 AFL season. During 1990, the roof on the stand was removed giving the MCG a completely different look on Grand Final day. The move was well timed. A perfect spring day, 18 degrees. 'Picture perfect stuff', according to Dixie Marshall viewing the ground from the Channel 7 helicopter. Lucky for the 98, 944 in attendance that day.
One last hurrah for the VFL insignia
For those with the inclination and a big enough screen, check out the players' shorts. Yes, there's the brand spanking new AFL logo just forward of the left leg, but check the sides. There's where you'll the three VFL emblems. Minor oversight or one last victory lap? We'll never know.
The cops
I refer you to the footage shown in 1990: The Final Story of the quarter time brawl. There's a slow-motion sequence where, if you look past the players you can see the cops just over the fence. You'd think maybe they might want to intervene and try and break up the fight 'lest things get too serious'. After all, they were happy to get involved at Windy Hill. Not on your life. There's a pair just as happy as Larry cheering them on like it's all part of the fun.
'The Champions of all ages'
This cavalcade of past players is one for the books. A select few chosen to represent decades past. They go past alright! It's easy to forget sometimes that this was thirty and not twenty years ago. Counting from the present and back, you'd not be alone in thinking it's about to wrap up with Dick Reynolds and Bob Pratt representing the 30s doing their lap of honour. Only then does the announcer say, "From the 20s." The 20s! Even in 1990 that's still a pretty tall order but, seated in the final convertible, were Footscray's Alan Hopkins and Collingwood's Harry Collier. Cor blimey!
All this while a re-enactment of the 1915 VFL Grand Final between Carlton and Collingwood plays out. Not with the original participants, mind. The ring-ins all looked to be about ten. The Blues leave the field victorious by 23 points. More on 1915 in a moment.
Bound for Glory…with no batmobile
You think of 'Bound for Glory' and the first thing that crosses your mind is Angry Anderson and the batmobile at the 1991 Grand Final. On this day, Angry was nowhere to be seen. Out leafletting one can only assume. 1990 was the year this tune made its first appearance at an AFL Grand Final. During the aforementioned cavalcade no less. For those watching at home though, they were treated to a double dose while it played over season highlights of Essendon and Collingwood having been introduced by Bruce McAvaney with a delightful segue. Not a single rhetorical question was asked.
The Gallipoli veterans
Again, one of those instances where you forget it's been thirty and not twenty years since this took place. This was the year in which we  commemorated the 75th anniversary of the Gallipoli landing. Earlier that year seventy-five made the journey back to the peninsula to mark the occasion. Fifty-eight veterans, nine widows and eight junior legatees. On Grand Final day twelve veterans (Bill Cooper, Robert Barclay, Roy Kyle, Jim Lees, Walter Parker, Bob Ponsford, Tom Meagher, Roy Longmore, Claude Fankhauser, Stan Quinn, Jim Kibble and Ted Thompson) were given a lap of honour whilst 'Pack Up Your Troubles' piped from the PA. This would never happen again.
The second verse (better than the first)
Normie Rowe had had his turn earlier in the day but now it was time for Julie Anthony to belt it out. From the announcer we hear, "As a tribute to the Anzacs and all they represent, please stand for our national anthem." It's comforting to know that "all they represent" meant that the second verse of Advance Australia Fair would be sung. You know, the one with "For those who come across the seas, we've boundless plains to share." I was eleven that year and remember quite vividly all the kids at our school singing both verses during school assembly. I thought it was great. The second verse seemed to sum up a bit more of what we were meant to be about (especially *that* line). This was a time before we elected an ideologue intent on reigniting the culture wars and that line, let alone the verse, wasn't really in line with the Howard government's agenda.  With that in mind, it really caught me by surprise.
Not so 'Smooth' Booth
Peter Booth was well deserving of his moniker. One half of the Rex Hunt-dubbed "Tobin Brothers" alongside Tim Lane, Booth was a masterful caller for ABC-3LO. He was also a Collingwood supporter. He saw them win in 1958 and was present for all the heartbreak in the years to follow. Come late in the last quarter of the 1990 Grand Final though, when ex-Fitzroy flanker Doug Barwick put the result beyond doubt, the man known as "Smooth" let his guard down. He abdicated all responsibilities to Tim Lane as he declared he was unable to continue calling the match. He did give it one last crack, uttering 'half-back flank Collingwood' before the siren sounded. Bless him.
The date
That last Saturday in September. That's the term we so often use for Grand Finals. So much so that one may almost think there's a certain lack of legitimacy in claiming the premiership at any other point on the sporting calendar. Well, if that's the case, here's something to bring comfort. Collingwood's drought-breaker in 1990 took place in October, as did 2010. Furthermore, their upset victory over Melbourne in 1958 was played on 20th September. In other words, Collingwood has not won on that last Saturday in September since 1953.
Burnouts
This list would be incomplete without a Don Scott story. Don would be in the Channel 7 commentary box that day. With a cantankerousness that was almost charming, you'd have to wonder how he'd see the day out without his favourite bug-bears to berate – they being Andrew Bews and Garry Hocking. Anyways, this was prior to the game. I'll leave Damian Monkhorst to tell the rest from when he was interviewed on ABC Grandstand.
"It was an interesting drive in . Don Scott was out where I live and I uh…had the 350 Chev Statesman on the way in and uh…he was in a taxi and I was doin' burnouts on the way in to the game and he was laughin' and wavin' to me on the way in."
The Tigers (Covid) Almanac 2020 will be published in 2021. It will have all the usual features – a game by game account of the Tigers season – and will also include some of the best Almanac writing from the Covid winter.  Pre-order HERE
To return to our Footy Almanac home page click HERE.
Our writers are independent contributors. The opinions expressed in their articles are their own. They are not the views, nor do they reflect the views, of Malarkey Publications.
Do you enjoy the Almanac concept?
And want to ensure it continues in its current form, and better? To help things keep ticking over please consider making your own contribution.
Become an Almanac (annual) member – CLICK HERE.
One-off financial contribution – CLICK HERE.
Regular financial contribution (monthly EFT) – CLICK HERE.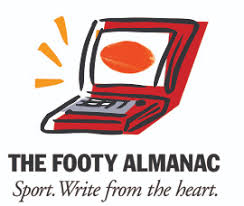 Perth-based DJ, radio presenter (hosting and coordinating Soulsides on RTR-FM 92.1), writer, serial procrastinator, plate-licker, leftist, Geelong supporter with a very soft spot for Fitzroy and Richmond. I play late '50s to early '70s r&b/soul/mod 45s both on air and about town. I completed my BA Honours by submitting a thesis on Frank Zappa. I love the history of the VFL/AFL, especially the old suburban grounds and am obsessed with the 1989 Grand Final (especially the ABC-3LO call). My passions are footy, 45s, my cats (RIP Althea & Cliodhna), my wife and young son Matteo and the city of Melbourne which I visit as often as possible. I also like long walks on the beach and long necks of Melbourne Bitter.