After 868 games over 6 continents and featuring 209 countries for 31 spots at the 2018 FIFA World Cup we now finally have our final 32 teams. The final round of play offs had more nils than a Swedish phonebook.  
ASIA (AFC)/CONCACAF (North and Central America) PLAYOFF 
The Socceroos will be heading to their fourth straight World Cup after eventually doing it easy over Honduras over two legs.
There was a lot of angst and uncertainty for the Socceroos heading in to this play off with the third placed CONCACAF team. The Central Americans finished ahead of the US, had been to the past two World Cups along with having passionate support and some decent players. Although there was still some mystery about lesser lights in the team. It really was a trip in to the unknown for Ange Postecoglou and his players as well as us.
Speaking of Ange, he was facing continuing pressure over his future quickly unravelling his reputation and ensuring that his petulance and doggedness to do it his way would maybe overshadow his triumph of the 2015 Asian Cup. These were dark times for the Socceroos and never had they been under this much pressure in recent times. It was a stark reminder or the dark days before 2005.
Australians woke in the early morning for the play off. The atmosphere in San Pedro Sula was vibrant and loud but not hostile in a way Uruguay was. There was a running track and not a moat around the pitch too. The first 10 minutes was looking ominous for the Socceroos but then the visitors dominated. Massimo Luongo (playing his best game since the 2015 Asian Cup Final) had a chance, as did Jackson Irvine and Tomi Juric who screwed an easy chance wide. Australia was transitioning the ball well despite the pitch looking like it had just had polo played on it. Mooy's one touch passing was on and the full backs were up and about.
In the second half Australia again dominated finally playing the 'Ange way' but Juric headed straight at the keeper after great work by Risdon down the right and then with two players waiting at the far post a pass from the right managed to get past both of them. A 0-0 draw and the best Socceroos performance in a very long time and especially away from home.
Honduras in this game seem to come with a performance that didn't match the hype. Mystery solved. The team travelled to Sydney in what looked like something from the Starship Enterprise inside while Honduras did it cattle class. All signs were looking positive but those of us who had seen many of those moments that make you wonder why you bother and knew it would be tight.
"Make it so, Number One."
Ange swung the changes for the Second Leg bringing in Cahill, Millgan and Leckie after they all missed out due to injury or suspension. Honduras were more than up for this game at a sold out Olympic Park. Jurman was booked after only a minute or two and the visitors harangued and pressured the Australians as they passed out from the back forcing them out of shape and making rash tackles or mistimed passes. The normally zen like central defender Trent Sainsbury was particularly worrying while Leckie and Behich on the wings were kept very quiet. Chances came though with a free kick batted away by the Honduran keeper.
In the second half Tommi Rogic found some space and was turning his large frame on to his left foot to get away one of his cannon like shots towards goal before he was hacked down on the edge of the area. Mooy or Rogic could have taken the free kick but up stepped fit again captain Mile Jedinak who saw his powerful shot deflect off a Honduran defender that wrongfooted the keeper and went in for a goal. 1-0 and relief for the Aussies. Minutes later Cahill also had an extraordinary header off the back of his head hit the crossbar.
The goal forced Honduras to now come out of their shell and attack more which meant Australia could nab them on the counter attack. Rogic again found some space and started a move that resulted in the next goal. A cross from the left was handballed and a penalty given. Again up stepped Jedinak. The big man from Camperdown with the hipster beard that makes him look like he should be making craft beer at Prickly Moses rather than captaining his country made no mistake a low hard penalty. 2-0 and you could almost say Australia were on their way.
Honduras were coming apart at the seams now. One of their best and most experienced players in former Celtic left back Emilio Izzaguire had gone off injured and they made changes to try and go all out and get the two goals now needed. Ange played his cards bringing off Rogic for Kruse who was in on the action within minutes being put through on goal using his pace before he was clumsily brought down for another penalty. Up stepped Mile again and it was 3-0 from the spot. A hattrick from the captain who has played more minutes for Australia than he has for Aston Villa this season and even the most scarred of Socceroos fans could now start to celebrate. Juric (on for Cahill) missed his usual sitter and a sloppy goal was conceded after a Ryan mistake right on full time but in the end it was qualification that actually seemed quite easy over the two legs. A performance not as great as the first leg with the Socceroos a lot more rigid in this game and sloppy much like they had been during the campaign.
Weary celebrations for a side that had:
-Played 22 games.
-Played in 16 different cities from Tehran and  through to Bangkok and Pedro whatever.
-Travelled some 270,000 kms.
All of those are records for qualification.
All but one player in the squad had also played in the A-League at one time or the other and Australia has never missed a World Cup since the creation of the A-League.
Now the speculation mounts over what will happen with Ange as coach. Does he take this mystery deal? Sees it through to the end in Russia? I'm sure it will be played out in a very public and cringeworthy way knowing the FFA. Cahill has also piped up saying he needs more playing time at club level, a passive crack at his new coach Warren Joyce if ever there was one.
We took the longest road possible and there have been some casualties on the way but we're there and cannot wait for next June.
OCEANIA (OFA)/SOUTH AMERICA (COMNEBOL) PLAYOFF 
Peru are finally on their way to another World Cup after sneaking past a gallant and well organised New Zealand in Lima 2-0 on aggregate.
Many Peruvians on the east coast of Australia and in New Zealand traveled to Wellington to not only watch their heroes play but welcome them at the Airport with shades of Argentinians in Sydney in 1993.
Fans packed in to the Cake Tin in Wellington decked out in white that looked stunning. The Peruvians with their iconic colours and strip in large sections dotted around the stadium. The national anthems were sung with much pride and passion, God Defend New Zealand is still my favourite national anthem bar none.
The game had its moments but New Zealand were largely on the back foot and a level below Peru yet didn't concede led strongly by Boxall and Reid at the back. Burnley star Chris Wood was only fit enough for the bench but made a late appearance. The All Whites having one big chance near full time but it was 0-0. No goals but a wonderful atmosphere and great effort from the home side.
The 'Cake Tin' decked out in a sea of white.
The Kiwis were always going to be up against it in the second leg. Wood still wasn't right to start and star winger and former Victory player Marco Rojas was surprisingly on the bench. Peru had everything to play for being out of the big dance since 1982 with a strip and players that were more loved in a cult kind of way rather than for being superstars.
In the cauldron that is the Stadio Nacional in Lima the Kiwis (in their all black away strip) defended stoutly and could have had an early penalty but were untimately hanging on like grim death. Their defence fell apart after 29 minutes when the Peruvian veteran Jefferson Farfan scored easily. West Ham's Winston Reid caught out on a very rare occasion.
Despite lasers being pointed in to eyes, a piercing whistle every time they had the ball and inability to keep possession the Kiwis kept holding on looking for that goal to make it 1-1 and get up on away goals. Chris Wood came on at half time to try and find something up front with Rojas also coming on but the inevitability of a second game killing goal was sinking in.
On 65 minutes Ramos scored a spectacular goal for 2-0 and send Peru through. Kiwi heads dropped as Peruvians rocked the stadium and celebrated around the country knowing they were back. The trumpet playing ex Newcastle United winger Nobby Solano was on the bech as an assistant beaming with pride that his country had done it. A tremendous effort from the All Whites but the gulf in class was too much and now look on to Qatar 2022.
AFRICA (CAF) 
All 5 countries from Africa are now confirmed with three more joining Egypt and Nigeria in Russia.
In Group A Tunisia will be heading to their first cup since 2006 after yet another 0-0 draw. A point was all The Eagles of Carthege needed to top the group so parked the bus, entertainment be damned. The 60,000 or so in the stadium in Rades didn't seem to care though. The team chasing them, The Democratic Republic of Congo, did their bit winning 3-1 at home but it wasn't enough.
In Group C the Ivory Coast hosted Morocco needing to win to overtake the North Africans and head to their fourth straight World Cup. While not the golden team that they have been in the past 10-15 years they did fancy themselves but were blown away in the first half with Morocco scoring twice in the opening half hour. That was all that was needed and Morocco head to their first World Cup since France 98.
Another side finally heading back to the World Cup is Senegal. In their only other appearance in 2002 Senegal defeated the World Champs and made it all the way to extra time in the quarter finals with a team of relative unknowns all playing in the top divisions in France. After many Socceroos-like qualification disasters in the past three campaigns and the Senegalese FA at one time being wound up one of those 2002 heroes Aliou Cisse whipped them in to shape as coach.
A win in South Africa would confirm their qualification with a game to go. Senegal were too good for Bafana Bafana in Polokwane. An early goal to West Ham's Diafra Sakho put the South Africans on the back foot before an own goal in the shadows of half time destroyed the self-confidence of the 2010 hosts. Even with one set of games to go Senegal cannot be caught and a host of players from the top leagues in Europe will be heading to the World Cup. A long overdue return.
EUROPE (UEFA) PLAY OFFS 
Northern Ireland V Switzerland.
Switzerland are heading back to an eleventh World Cup after out lasting a gallant Northern Ireland side. In what was one of more entertaining ties (if 1 goals in two games can be called that) the Swiss again just defended their way to a tournament.
The first leg at a fervent Windsor Park in Belfast saw the Swiss dominated in large sections, the fact that they hadn't won their group with such a strong record and was in the play offs probably fired them up. A penalty was awarded to the Swiss in the second half after a hand ball was said to have occurred when replays showed the ball had clearly hit the Northern Ireland player's shoulder. The very Swss sounding Rodriguez scored from the spot ensuring a 1-0 win.
In the return leg Northern Ireland played much better looking for a way through a tight Swiss defence but apart from a late Johnny Evans header being headed off the line the Swiss held firm and snuck through in controversial circumstances. A shame for Northern Ireland after a strong campaign where they had pushed Germany all the way in their qualifying group only to really put in an awful performance in Belfast in the first leg. With coach Michael O'Neill being chased by some big clubs and many of the older long term players of the club probably calling time it seems it may the end of an era.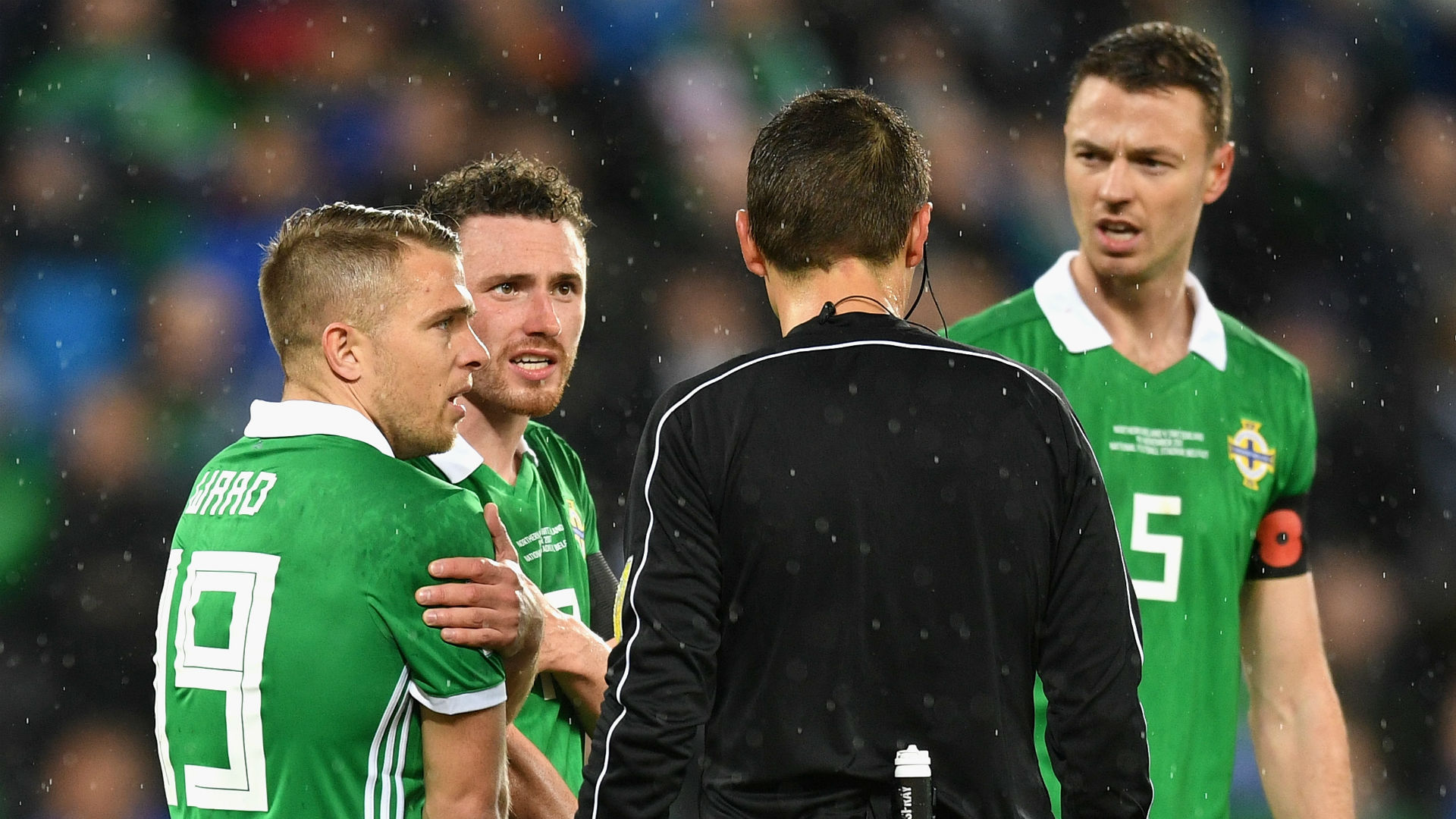 And here was where Northern Ireland lost the tie.
Croatia v Greece.
Croatia are through to their fifth World Cup after easily doing away with Greece over two legs. The play off was pretty much done at half time in the first leg with Croatia's scintillating first half having them 3-1 up in Zagreb. Real Madrid's Luca Modric was the string puller of this Croatian side scoring from the spot to open the scoring. A horrible defensive error in the second half finished the job for Croatia and they ran out 4-1 winners in only new coach Zlatko Dalic's second game in charge. Some would say he passed the audition.
The return leg trotted out another rubbish 0-0 scoreline in Piraeus with the game killed off in the first leg. Croatia through but with no fans to celebrate with after FIFA banned away supporters just in case of any issues. Great to see such an exciting team and wonderful fans heading to Russia. This is also the tenth time in twelve World Cups in Euros that Croatia have also qualified for since they gained independence in the 90s.
The 'Blood Stained Chessboards' are coming to Russia.
Sweden V Italy.
In the biggest shock of the qualifying four time champions Italy will miss the World Cup for the first time in 60 years. Under the half arsed tutelage of Gian Ventura playing a team like Sweden was one they didn't want to have to face in the play offs. While Italy had finished runner up to Spain in the group stage of qualifying Sweden had got there finishing above the Dutch and eyed off another European footballing royalty scalp.
In Stockholm, Sweden were very physical with the Italians with their in-form striker Marcus Berg booked within a minute of the opening whistle. Italian defender Leonardo Bonucci had his nose broken by an unpunished Swedish elbow and was then booed every time he touched the ball by the Swedish crowd who thought he had actually faked the injury.
Sweden's persistence and bullying paid off when on the hour from a thrown in the substitute Johanssen received a pass and saw his hopeful shot deflect of an Italian player and going in to the goal past a fooled Buffon caught flat footed by the deflection. A 1-0 win for Sweden with Italy hardly putting up any resistance.
In the lead up to the return leg in Milan the usually ultra-critical-anyway press and fans were all over the Italian team's currently frailties. Remember these were fans that have belted fruit at the side returning from England in 1966 after they were eliminated by North Korea. The Gazzetta Dello Sport ran with the headline about an apocalypse if they didn't qualify.  Despite Ventura's tactics that were about as effective as a Damian Drum coached Dockers side and questionable selections playing favourites they needed some kind of spur, some inspiration, some spark. Would captain, keeper and one of Italy's greatest inspire? A lot of the lead up to the game had been about 39 year old Gigi Buffon.
Buffon led his team out on to the sold out San Siro for perhaps his last game in the second leg. There was that iconic player for that iconic team singing that iconic national anthem in that iconic stadium. The tears you could see welling in his eyes with the players matching his emotion and noise level in the signing. Buffon even gestured during the Swedish national anthem for the fans not to whistle and boo their anthem. A gentleman even in the most high stakes of games.
Italy were all over Sweden during the game but couldn't' break through. Lazio's prolific striker Ciro Immobile was guilty of not taking advantage of some chances culminating in a low shot being cleared off the line in the first half. Still, the home crowd kept behind the team, urging them on from all three massive levels of the dark and volatile San Siro.
The second half continued much as the same but as the half wore on Sweden got more comfortable and Italy more desperate as the crowd began to go from yelling support to worrying conversations between each other and a sense of realisation this might not be ending the way they wanted. It was most definitely scricchiolanti culo tempo all over Italy. Footage after the game showed Ventura telling Roma veteran and midfielder Daniel De Rossi to start warming up. De Rossi shot back the comment "why the fuck are you telling me to warm up. We need a win not a draw" and pointed to criminally overlooked Napoli creator Lorenzo Insigne who was one of the in form players never picked by Ventura.
In a final few minutes of desperation, Folrenzi had an athletic strike go just wide with Olsen making another save to deny Jorginho. Boos and jeers started to replace encouragement before a chorus of boos and whistles greeted the final whistle as the Swedes celebrated their qualification. 0-0 full time and Italy out of the World Cup Finals for the first time since 1958 and only the second time in their history. The only other time they hadn't qualified was because they refused to take part in the first World Cup in Uruguay in 1930. The signs had been there though. After the 2006 win they had gone out in straight sets in both 2010 and 2014. Many of us should be celebrating the schadenfreude of Italy not making it for petty reasons like the 2006 penalty but it'll feel weird without the black hatted Azzuri there.
Following the game Buffon was in a flood of tears (along with other players) but still made sure he shook hands with every Swedish player. In an interview after the game through the burning emotion he said he didn't feel sorry for himself but for Italian football. He also indicated that a World Cup appearance also meant so much at a social level in any country that made it. No record fifth appearance in a World Cup for Buffon who retires from international duty with a remarkable record 175 caps for Italy along with his 2006 World Cup triumph. An Icon and one of the last left from that Italian 2006 triumph.
Farewell to an icon.
Denmark V Ireland.
Denmark were the last European team to qualify for Russia after wiping the floor with Ireland in Dublin.
The first leg was the most forgettable of games, a turgid 90 minutes where Martin O'Neill's anti football achieved its purpose. It seemed they didn't even want an away goal but there is reasons why they have made it this far and not been beaten after changing things around to a 4-3-3 meaning an unbeaten run of five games leading in to these ties.
In the second leg Lansdowne Road was awash with green and national pride with the very small train line end of the pitch full of Danes decked out in red. Ireland made a perfect start when a ball headed on to the area got to an Irish head before Leicester City's Kasper Schmiechel could come off his line and collect making it 1-0 and to set to tie alight after only 6 minutes.
With their tails up Ireland seemed to have worked out their tactic od defend away and attack at home to a tee having two more shots which either hit the side netting or was an inch wide. The home side were made to pay when a very soft own goal on 23 minutes.
From here on Ireland completely lost all self-confidence and conceded another minutes later when Tottenham star Christian Eriksen scored with a curling effort after Burnley's Stephen Ward gave the ball away. The Danes were ruthless on the counter attack and in the second half Eriksen had a second essentially finishing off the tie and then getting a hattrick when Ward (again) miscontrolled on the edge of his own box.
The final insult came when in the final minutes James McClean gave away a penalty. The much derided and mocked former Arsenal striker Niklas Bendter put the penalty away to make it 5-1 to the Danes on the night and on aggregate to send them through to a fifth World Cup appearance and their first since 2010.
Once again for the Irish the knives will again be out for O'Neill and Roy Keane after a shambolic finish to the campaign that means it will be at least a 20 year gap between appearances in the tournament for them.
The Luck of the Irish (for Christian Eriksen)
THE WRAP UP 
So that's it.
The 32 to head to Russia have been decided with two debutants in Iceland and Panama. 12 countries who featured in 2014 will not be there this time which is the biggest turn around of teams in the tournament's history.
The draw for the tournament will be on December 1.
RTR FM Presenter. Glory Guerrillas Producer and Co-Host. Contributer to Football Nation Radio and Football West. Worships at the feet of the mighty Cats, Socceroos, Matildas, West Perth, Glory and Glasgow's Green and White most of the time.