As a kid starting out following football via Scanlen's footy cards in 1976, I quickly embraced the game and everything that it entailed. Of particular interest was history and I couldn't get enough of reading the few bits available to me at the time. The 1970's did not have a lot of published material but what there was fascinated the mind of my childhood.
One thing of particular interest was hearing about Champions Of The Colony, an award that had been handed out in football's infancy of the 1800's. Unfortunately the VFL Yearbooks that were published by the VFL never mentioned it. In fact no publication ever mentioned it. I was fascinated what this award was and who had won it.
In 1982 Graeme Atkinson, a keen football historian who had been at the forefront of football research in the 70's along with the likes of Russell Holmesby, published a book called 'Everything you ever wanted to know about Australian Rules Football but couldn't be bothered asking'. Certainly the strangest title to a book I had come across but it had answers to questions I was asking, namely that it listed the mysterious Champions Of The Colony that I had not been able to locate anywhere else.
http://i1190.photobucket.com/albums/z448/Armin_Richter/ccmullensatkinsonbook_zpsf1cb6d91.jpg
http://i1190.photobucket.com/albums/z448/Armin_Richter/ccmullensatkinsonbook2_zpsd93c2225.jpg
http://i1190.photobucket.com/albums/z448/Armin_Richter/ccmullensatkinsonbook3_zps88d33d9b.jpg
So there it was, this award had been given as a kind of media award by the leading football writers of the time.
By the late 80's I wanted to know more about football history than just the items I had found scattered in books. The Courage Book Of Brownlow Medals and Every Game Ever Played had become dogeared over the years but apart from basic history of the VFL, little else was available. I followed Hawthorn and knew virtually nothing about them pre-1925 and they had formed in 1873 – there were 52 years of history where I knew nothing about my own club.
Just at that time in 1990, the Hawthorn Football Club released their history book – The Hard Way. As brilliant as I found this book, it still covered very little of the pre-1925 era. I decided that I wanted to research in depth the history of not only the Hawthorn Football Club but also the game itself and how it was played in the 1800's. To do this I started to go to the State Library and start going through the old newspapers which were recorded on microfilm. I found that the Hawthorn FC that was famously formed in 1873 actually rather quietly disbanded 10 years later and that the club of today was formed in 1902. It took me quite a few years to convince the club that they were formed in 1902. I still have the letter from then Hawthorn CEO John Lauritz in 1993 where the board and Hawks Forever state that the club rejects my research and they continue to claim 1873 as their formation date – it took me nearly 10 years to eventually convince them – long enough for them to miss their actual centenary – but they now have 1902 as their formation date…but that is a story for another time.
The other thing I found was more in the context of what I didn't find. Going through all the newspapers of the 1880's I found absolutely no mention of Champion Of The Colony ever. Not even once was there a report. How could this be if this was an award given by the media…and in the 1800's the only media was newspapers and an annual book called The Footballer (1875-c1887).
By this stage I knew Graeme Atkinson as he was running some collectibles auctions in the early to mid 90's where I would buy footy memorabilia. He told me that the information had come via C.C.Mullen who had privately published some books in the 1950's. I was intrigued how someone such as Mullen could find such a list of what seemed a prestigious award yet was not even recognised by the VFL in any of their publications. After looking for a while I found 2 of Mullens' books, the 1951 Almanac and the 1958 History Of Australian Rules (he also produced an Almanac in 1950 apparently but I have not found that yet).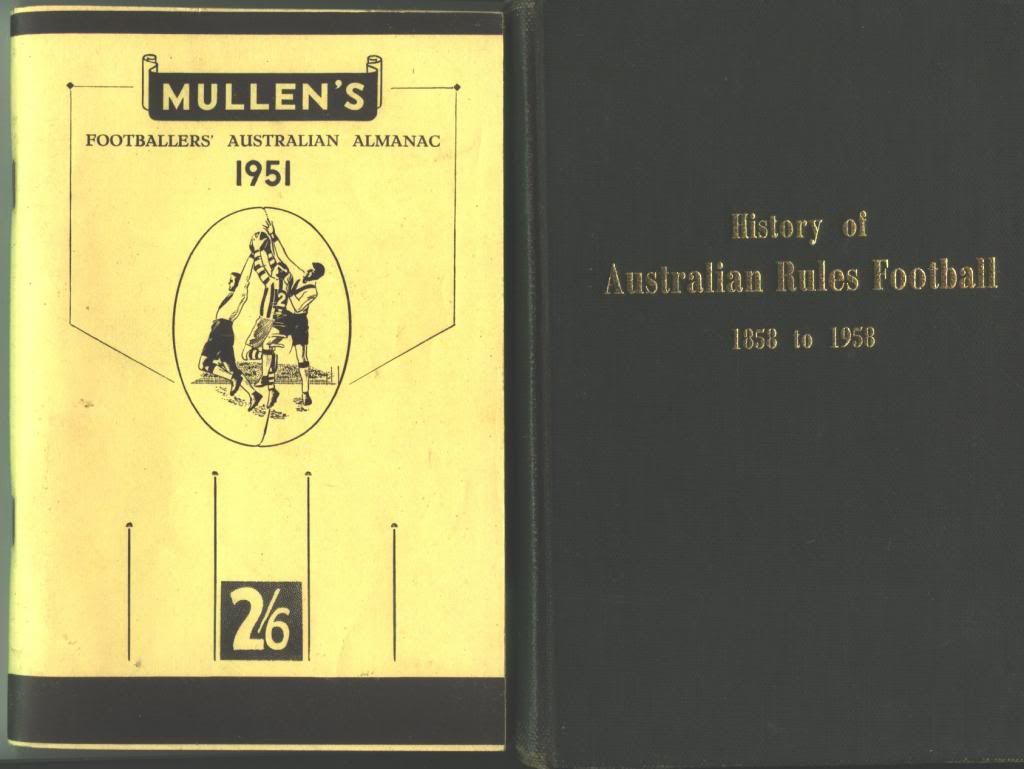 Therein I found the information that Graeme had used but I also found some anomalies (Graeme had the 1941 winner as Ted Cordner (Melb) and 1942 Jack Dyer (Rich) while Mullen had W.J.F.Buttsworth 1941 and E.R.Cordner 1942 respectively). The 1951 Almanac had all the winners listed to 1950 (while Graeme only listed to 1945) and also mentioned that captains met at the end of seasons to vote and later this was done by leading writers. There was no meeting of captains ever recorded for such a purpose that can be found.
http://i1190.photobucket.com/albums/z448/Armin_Richter/ccmullens51almanac1_zps74ceabca.jpg
http://i1190.photobucket.com/albums/z448/Armin_Richter/ccmullens51almanac2_zps4a4be188.jpg
http://i1190.photobucket.com/albums/z448/Armin_Richter/ccmullens51almanac3_zps69b3fc28.jpg
Interestingly in the 1958 book Mullens had dropped any reference to captains meeting and only made mention that it was awarded by football writers from newspapers, in line with Graeme's blurb. Even more interesting was that the list only went to 1940 now (a third different end date to the previous 1945 and 1950) and that newspapers made their own selections since then.
http://i1190.photobucket.com/albums/z448/Armin_Richter/ccmullens51almanac4_zps92bcfce6.jpg
http://i1190.photobucket.com/albums/z448/Armin_Richter/ccmullens51almanac5_zps37de0f53.jpg
That it was an award given by football writers was, for some reason, something that was strangely never actually reported in any newspapers as Champion Of The Colony. Graeme had just used Mullen's information and as Mullen was the only person who seemed to know anything about this award it was necessary to find out more about this football historian.
A great article on C.C.Mullen appeared in the official VFL publication Football Life April 1969. Cecil Clarence Mullen was born in 1895 and started to follow football in 1905. He worked at various newspapers (The Argus, The Australasian) which gave him access to historical newspapers long before microfilm and it was through their files that he did his research. Interestingly, his scrapbooks that he is pictured with below, now reside in the MCC Library. There are no articles contained in these scrapbooks that even once mention an original report of a Champion Of The Colony.
http://i1190.photobucket.com/albums/z448/Armin_Richter/ccmullensfootballlifeapr69_zpsc719ce1b.jpg
So what was this award, this Champion Of The Colony? It appears little more than a combination of unrelated reports in newspapers to create an award that never existed. There NEVER was an Champion Of The Colony. Some individuals named were voted for in newspapers, most were just the results of Mullens' opinion based on what he read. The players named were, on the whole, good players in those seasons but none of them were ever named Champion Of The Colony.
There are a number of anomalies in the actual list, such as the following:
1: Wills could not have won in 1856 as he only arrived in Victoria on Dec 23 after having spent years in England
2: There was no Richmond CCFC in 1858 although a player named Bruce did play cricket for Richmond
3: Hugh Gavin played football in WA in 1903 and could not have possibly won with Essendon that year as he never played a single game with the club all season.
This is where the story should end. Champion Of The Colony was an award created by C.C.Mullen for his own purpose in a private publication.
Fast forward to 2003 and for the first time ever – in the Season Guide – the AFL now mention Champion Of The Colony:
http://i1190.photobucket.com/albums/z448/Armin_Richter/ccmullens2002_zpsa6489237.jpg
The AFL publish a list copied from Mullen for the years 1856-1875 and re-introduce the claim that captains help choose the winner – something that even Mullen abandoned mentioning after 1951 and Graeme never mentioned it.
From 2004-2007 they publish the list to up to 1940 and in 2008 extended it to 1945 (below)
http://i1190.photobucket.com/albums/z448/Armin_Richter/ccmullens2008_zps06858a16.jpg
It is starting to get farcical as the AFL realise that Australian football wasn't invented until 1858 so how could you have a winner before the game even existed. Their blurb at the top is purely fabricated. The AFL now claimed that awards – that were never made – were now for sporting excellence in 1856-57 and transferred to football in 1858 with votes from captains. Absolutely none of that claim is based on any actual facts or evidence.
From 2009 until the present the following has appeared in the Record Season Guide:
http://i1190.photobucket.com/albums/z448/Armin_Richter/ccmullens2009_zpse3f0b3ef.jpg
The AFL continue to mention a "custom" and the "it was eventually abolished". There never was any custom and something that never existed can't be abolished. They do however now credit the list to C.C.Mullen's book of 1958 (even though their list goes to 1945 and the 1958 Mullen book goes to 1940 and the 1941-45 addition is Graeme's version)
I have discussed this topic with a number football historians and they are also aware that there never was any such award. If anyone who studies the history of football in Victoria is aware that there never was and Champion Of The Colony award, it makes it most unusual that the AFL continue to endorse something that never existed.