The Ashes 2021/22 – Fourth Test, Sydney Day 3: England fightback hard
THE PINK TEST DAY 3
ENGLAND FIGHT BACK HARD
Rain again delays the start of the Test match and 2 hours of play where lost
Australia should have had an early wicket when Hameed attentively pushes at Starc, a snick and a drop by Carey diving in front of Warner. Bad miss.  Perhaps it was Warner's take.
What a ripper from Starc!  Hameed (6) goes to drive where he thought the ball was but it wasn't as it cut back and took the middle stump and the bails went flying. Magnificent ball looking at it on the TV!  1/22.
Harris misses  a sharp chance at silly mid-off from Crawley who makes amends with a delightful cover drive next ball.  Cummins is really working up pace today.
Both bowlers are pounding down like a machine and giving the batters plenty of curry. 'Batters with curry' don't know how that would go down!
After the battering/pounding Cummins evokes a double change with our boy Scotty Boland and Cameron Green coming into the attack. Crawley (18) gets a beautiful ball from Boland and is clean bowled and same-old same-old The England 2/36 and Boland 1/0.
Joe Root comes to the wicket to heartfelt applause.  Even the Ozzie crowds are feeling for Joe.  Unfortunately Joe (0), like we said yesterday, has had enough and he plays a meek shot to Boland and Smith takes a fine overhead catch 3/36 and OBS 2/0.
Green has been jabbing at Malan(3) in his short spell and it is no surprise when he tickles one to Khawaja at silly leg for a sharp catch.  England 4/36.
Fortunately for them lunch is taken at that score and Boland has 2/0 from 4 overs. That means in his last 2 spells at the crease he has taken 8 wickets for 7 runs.  Now that is unbelievable in any form of cricket!
Green has offered solid support again and his ability to have the batters jumping in every direction has caused real problems and poor old Dawid Malan was in all sorts of problems while he was at the crease.
How bad can England get?  Not much worse I am afraid and if this keeps up they could go down by and innings again.
I am probably more concerned about the woman who lost her daughter's Teddy.  Has she apologised to her husband yet?
England cannot buy a run and there are 11 maidens in a row.
A strange happening when Stokes lets one go from Cummins , the ball grazes the wicket but the bails do not even move.
Despite some fine bowling from all the quicks Stokes, in considerable pain,  and Bairstow started to show some resistance. Stokes using his power and Bairstow like his namesake Toby starts accumulating.  Gee, Toby knew how to get the ball during his day.
Lyon, whose figures in Sydney tests are very unremarkable, came on and was treated with disdain by both batters. His bowling average is over 40 per wicket.
Runs continued to flow at an even rate with Stokes, because of his back, waiting for the shorter or loose ball to crack for four rather than take short runs.  Bairstow likewise has waited for the right ball at the right time and the rotund sauce bottle has not let his team down.
Let us hope that the younger players in the English team, not that many of them are young, watch and learn.
At tea England are 4/135, a partnership of 99 with Stokes (52) and Bairstow (45).  A fine recovery by the two redheads and they don't want to go out!
The England come out fighting and they attack Lyon in particular with both players hitting him over the fence.  However the attack is short lived as Lyon, after getting a pasting, traps Stokes (66) dead in front. Stokes does not even look up, just walks. A wonderful innings that existed under great pain.  He really showed the Sydney crowd how he can destroy a game. England 5/164 and Lyon has 1/51.
The Buttler (0) does not last long and one pops from Cummins for Khawaja to take.  6/173 and the skipper gets his first wicket of the innings. The Lion is aggressive and both Bairstow and Wood hit sixes as they try to avoid the follow-on.
Always loved the way Bairstow plays his cricket. He might be 'a lad' but he does have fighting spirit which befits his upbringing after his dad David committed suicide when he was a youngster.
An entertaining session from Wood and Bairstow as the scores moves along at a pace.  Don't know what Cummins is doing but he is trying to bounce the batters out no matter what. His tactics succeed in the long term when Wood (39) tries to hook another six,  the ball just grazes his bat onto the helmet and lollies out to Lyon at point. England 7/245 another fine partnership and Cummins has 2 wickets.
Full credit to England they have come back from the dead after the morning session and have more than held their own against the rampaging Australians. A bit of pride back in the "old dart".
Marvellous innings by Jonny Bairstow when he reaches his 7th Test century and his second against Australia.  The hundred came from 138 balls and included 8 fours and 3 sixes
He and jack Leach see out to stumps with England on 7/258. They still have a bit of work today but they look to have staved of defeat for the first time in the series.
End of play Day 3 of the Pink Test:  Australia 8/416 England in reply 7/258  Bairstow 103 n.o., Stokes 66, Wood 39  Cummins 2/68, Boland 2/25 and wickets to Starc, Green and Lyon.
Lifeline  is a free and confidential support service which can be reached on 13 11 14.
Beyond Blue  can be reached on 1300 22 46 36.
To read more from 'Citrus' Bob Utber click here.
To return to our Footy Almanac home page click HERE.
Our writers are independent contributors. The opinions expressed in their articles are their own. They are not the views, nor do they reflect the views, of Malarkey Publications.
Do you enjoy the Almanac concept?
And want to ensure it continues in its current form, and better? To help things keep ticking over please consider making your own contribution.
Become an Almanac (annual) member – CLICK HERE.
One-off financial contribution – CLICK HERE.
Regular financial contribution (monthly EFT) – CLICK HERE.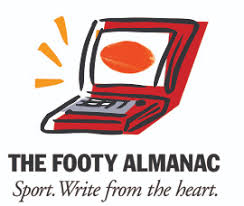 At 80 years of age Citrus Bob is doing what he wanted to do as a 14 year-old living on the farm at Lang Lang. Talking, writing, watching sport. Now into his third book on sports history he lives in Mildura with his very considerate wife (Jenny ) and a groodle named "Chloe On Flinders". How good is that.