The Ashes 2021/22 – First Test Brisbane Day 3: Great fightback by the Poms
DAY 3 AT BRISBANE
Great fight back by England on day 3. English captain Joe Root and Dawid Malan showed great grit and determination to thwart the Australian attack. Seemingly out of the match when the Australians finished their innings the two have put the visitors in a position where anything is likely in the final two days. At stumps England are 58 behind.
Australia continues on its merry way on a pitch that has become very benign and they won't have to bat in a second dig if this keeps going.
Starc, who can bat when he wants too, and Head build on the lead and are not troubled by any of the bowlers who have become trundlers this morning.
They put on 85 for the 8th wicket before Starc (35) hits out at Robinson for Burns to take in the deep.   The last 2 wickets have put on 155 with Head of course leading the way but Starc batted very well this morning.
There is no doubt about the Red Knight he is a fierce competitor and he continually bombards the batsmen with bouncers. The main reason is to stop the flow of runs and if he is not getting wickets he is keeping the Aussies out on the field.
Australia's tactics are obvious too as the bowlers continue their short barrage.  Hit out or get out.  Lyon (15) does  and mishits Wood straight to Robinson.
Head reaches a magnificent 150 with 14 fours and 4 sixes and then hits out and gets out as he moves ousted a ball from Wood and is bowled.  Australia all out 425.
Robinson the best of the bowlers 3/58, Wood 3/85, Woakes 2/76, Leach and Root 1 apiece.
In the 40 minutes before lunch the two batsmen do it comfortably although Burns was nearly out for a second duck in the first over.  England 0/23
As is the usual happening in Test cricket a wicket falls soon after an interval and Burns (13) plays a non-shot to Cummins  and Carey takes it overhead.  1/24  and I would love to know how many times a wicket falls after a break in play.
Cummins is on the attack and he introduces Lyon into the game.  Will be interesting to see how the spinner performs on a wicket that has not shown much turn ,from Joe Leach's perspective anyway.
Lyon gets turn straight away!
Hameed and Lyon having a great battle with the rangy batsman coming as far forward as possible to every ball. He also bats with a long jumper on – must be a superstition because there is no way you need a jumper out there!
Starc replaces Cummins and the Australian skipper is ensuring that the pace men are not overworked.
Malan, in need of a big score, beautifully cuts him for 4.  If Starc has a problem with the red ball it is the fact that he gives the batsmen too many opportunities to score easy runs.
Well he does give Hameed 2 fours in one over and then one closer to the body sees the batsman glove it through to Carey.  Hameed 27 and England are 2/61
Hazlewood carries on a treat when umpire Pistol says not out for a catch against Malan.  It was close but the review shows it missed the bat by a miniscule distance. Pistol is an exceptionally good umpire and having been a great wicket taker for Australia his decisions are pretty well spot on.  Hazlewood should bite the bullet!
Malan (35) and Root (26) navigate their way safely to tea 2/107 and the heat is taking it out of the Australians.  Cummins continued to use his bowlers in very short spells sometimes only 2 overs in an endeavour to counter the heat.
The final session will be very interesting for the visitors particularly for these two batsmen to keep the hungry Australians from opening the door to expose the lengthy tail.
As usual for cricket lovers it has been a good contest and the colourful crowd have really enjoyed it including Her Majesty.
Malan and Root are playing solid cricket and Root is the first to 50 (81 balls and 8 fours) with Malan on 47,  good fightback by the skipper and his partner who started his first class career in South Africa before returning to England where he has now played 18 test matches.
Malan's 50 comes up from 121 balls with 6 fours in a fighting innings.  The bowlers are certainly struggling now in the conditions.
The two batsmen continue to dominate the play and the  score steadily mounts to over 200.  Cummins tries everything except giving SPD Smith a bowl. Labuschagne is only 'jam' for batsmen of this quality and Smith when he does bowl has a variety that could cause wickets to fall.
Talking of Labuschagne I wish he would stay out of discussions between Cummins, Smith and to a lesser extent Head. They are all experienced players and the latter 2 know a thing or two about captaincy.  Marnus should stick to what he does best – batting.
The pair have put on the first innings score by themselves (147) when Root goes down with the cramp and he takes a while to recover.  They have run hard throughout the afternoon and like the fielding team the batsmen are finding the conditions most trying despite the vigour they are putting into the game. A great partnership indeed.
The auburn-haired tyro Cameron Green is an interesting bowler and he gives very little away during his spells and his bouncer, launched from a great height can be difficult to play. He is making the batsmen jump to play some of their shots. I like what I am seeing and given the right conditions he could prove a troublesome bowler in the future.
Must compliment the curator and staff on this wicket. It has turned out to be excellent giving both batsmen and bowlers a chance.  That is how a wicket should be.
With less than 10 minutes to play Malan in particular is looking very tired and has played a couple of rash strokes to both Green and Lyon.
Both batsmen flash but luckily they see out play and are only 58 behind with 8 wickets in hand.
Day 3:  Australia all out 420   Head 151, Starc 35  Robinson 3/58, Wood 3/85, Woakes 2/76 Leach 1/108, Root 1/29    England 2/220   Root 86 n.o. Malan 80 n.o  Cummins 1/43 Starc 1/60
Read more from Bob Utber Here.
To return to our Footy Almanac home page click HERE.
Our writers are independent contributors. The opinions expressed in their articles are their own. They are not the views, nor do they reflect the views, of Malarkey Publications.
Do you enjoy the Almanac concept?
And want to ensure it continues in its current form, and better? To help things keep ticking over please consider making your own contribution.
Become an Almanac (annual) member – CLICK HERE.
One-off financial contribution – CLICK HERE.
Regular financial contribution (monthly EFT) – CLICK HERE.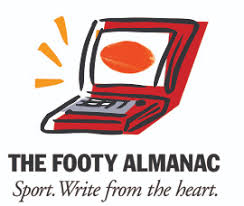 At 80 years of age Citrus Bob is doing what he wanted to do as a 14 year-old living on the farm at Lang Lang. Talking, writing, watching sport. Now into his third book on sports history he lives in Mildura with his very considerate wife (Jenny ) and a groodle named "Chloe On Flinders". How good is that.