The 2021 AFL Grand Final Haiku Kukai
Dear Knackery,
You are all cordially (and otherwise) invited to attend this year's AFL Grand Final Kukai – just about the only thing this year that has not been cancelled, postponed, restricted, quarantined or protested against.
The kukai, which celebrates its 10th anniversary this year, is the annual 'Haiku Call of the Game', with haiku poets and non-haiku poets alike, writing haiku in real-time while watching the Grand Final.
To get a feel for how we roll, you can read the highlights of last year's call here. As far as rules are concerned, all styles of haiku are fair game (5-7-5 if you must) as long as it does not promote sexist, racist, homophobic or any other bigoted or ignorant views. I will be the judge of that and no correspondence will be entered into.
As in previous years, this is a Facebook only event – you can join here – but if you don't have FB and are interested in getting involved, feel free to write some haiku in the comments section below. Get involved!
For the second year running, the game will be held in a foreign land – this time Perth. Thanks again to Covid, most of us will be watching on from our isolation hubs. But don't use this as an excuse to be alone. Wherever you are, whatever you're doing, whoever you barrack for, send us some haiku of your experience of watching the game. Or just send us a haiku.
Trust me, this is one of the best ways of experiencing Grand Final Day. See you at the game!
Haiku Bob (aka Rob Scott)
The Tigers (Covid) Almanac 2020 will be published in 2021. It will have all the usual features – a game by game account of the Tigers season – and will also include some of the best Almanac writing from the Covid winter.  Pre-order HERE.
To return to our Footy Almanac home page click HERE.
Our writers are independent contributors. The opinions expressed in their articles are their own. They are not the views, nor do they reflect the views, of Malarkey Publications.
Do you enjoy the Almanac concept?
And want to ensure it continues in its current form, and better? To help things keep ticking over please consider making your own contribution.
Become an Almanac (annual) member – CLICK HERE.
One-off financial contribution – CLICK HERE.
Regular financial contribution (monthly EFT) – CLICK HERE.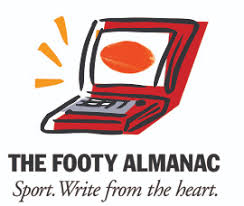 Rob Scott (aka Haiku Bob) is a peripatetic haiku poet who calls Victoria Park home. He writes haiku in between teaching whisky and drinking English, or something like that.