Round 6 – Essendon v Collingwood (Floreat Pica Society): ANZAC Day 2019
At three-quarter-time I turned to my 25-year-old son Bill and pointed out we had kicked four goals, three goals and two goals in each of the quarters. "We are going to kick one goal in the last quarter". I didn't want that to be true. It was. If I had known it was going to be an accurate prediction, I would have expected that we'd lose. We kicked only one goal in the last quarter. We kicked only three goals in the second half. We still won the game.
After a couple of pre-game beers in the Robbie Flower Terrace, we took our seats on Level 4 on the MCC wing in time to catch a couple of songs from Birds of Tokyo. I had been unmoved by the decision to have them play – they aren't one of my bands – and it was a bit of entertainment for the growing crowd who were in place much earlier than for a regular game. People understand the solemnity of the occasion and make their pre-game arrangements in accordance. Earlier the MCC had tweeted and emailed that the numbers of walk-ups meant that they would not be releasing any tickets to provisional members nor to the general public. The number of people already sitting in the top corners of the enclosure seemed to be a vindication of that decision.
The umpires and players entered the arena early. After the now-traditional shared banner, players and officials formed the guard for the ANZAC ceremony. Over the years since 1995 the formalities have struck the right tone. Gone are the channel 7 helicopters hovering overhead. The MCG even had the foresight to ensure there was no interruption to the silence from the sound of artificial seagull scarers on top of the southern stand. Craig Willis is missed. The bi-lingual New Zealand national anthem was evidence that it wasn't just their Prime Minister who was superior version compared to our own.
Anyone who says that Collingwood refuse to wear an away jumper had not seen what we were wearing this day. Just two narrow-ish black stripes on a predominantly white guernsey. As the players finalised their paying formation, Langdon rushed back to the defensive goal square. No umpire warning for set-up infringement and the ball was bounced.
The early going was tight and contested. A Moore mark and then fifty metre penalty brought the first of what would be a multitude of Collingwood missed set-shots. Eventually a Varcoe intercept mark ended with a goal to Mihocek in what would be his last significant contribution to the day. Essendon's first goal came at the 14-minute mark – to Stringer from the boundary – set the standard of their goal kicking which continued throughout. Collingwood's forward pressure was excellent, and a De Goey goal eventuated. Goals to Adams (checkside on the run) and Hoskin-Elliott (welcome back) meant we went into quarter time with a 29 to 6 lead. It didn't feel that uneven. Although Essendon had only one shot on goal compared to Collingwood's six scoring shot, it was a contested game.
Essendon opened the goal scoring of the second quarter with a free-kick against Grundy to Guelfi (who I think before his football career, played Liesel's boyfriend Rolfe in Sound of Music). Collingwood answered when Pendlebury found a marking Cox. Then De Goey to Thomas for our second on-the-run-checkside. Our third for the quarter was another from a Cox mark; this time he played on and kicked from inside the square. It was to be the biggest margin for the game. Essendon kicked the last three of the quarter including an after-the-siren 60-metre effort from Daniher. We went onto half time with just a 15-point margin.
Daniher kicked the first of the second half from a contested mark over Moore. Cox received a questionable free (am I allowed to say that?) but missed the gettable. A passage of play started from a strong De Goey mark in the back line ended with a brilliant Sidebottom curved right foot goal from 40 to end Essendon's run of four. Stringer missed a set-shot (possibly their only set shot miss for the day) but Collingwood was struggling to clear from the back line. In an effort to break out, Grundy unwisely played on from a mark and the resulting turnover finished with an opposition goal. Stevenson's set shot from 45 metres is just touched on the line, but redemption comes soon after when he is on the end of good efforts from Maynard and Varcoe. A Hoskin-Elliott set shot miss (the "legal" block Cox executed on two Essendon defenders to enable H-E to get to this mark was brilliant) led to an end-to-end goal to Essendon. We went onto three quarter time with a 63 to 54 lead.
8 minutes into the final quarter and the sum of the scoring was two behinds apiece. It was a very hard-fought contest from both teams. Howe could have been penalised for a dangerous tackle. Compensation came to Essendon in the form of a questionable forward free to Baguley and he kicked his third. Moore's defensive mark eventually ended with De Goey running forward from the forward flank fifty. He correctly chose to kick for goal himself and our margin was temporarily restored. Only briefly. Daniher kicked his fourth, which was fortunately his and the game's last. Without the benefit of a count-down clock, the last few minutes were extraordinarily tense. They probably would have been tense even with one. Brown had a set-shot from on the fifty and burnt plenty of seconds lining up. Not sure his intention was to ever kick for goal as he set it up to the top of the square. He had another and much more gettable opportunity soon after from 35 metres out directly in front. Again he burned the clock. The miss was disappointing but fortunately non-fatal. The siren sounded with Collingwood 4 points in front. Celebrations ensued on and off the field.
Not going to mention the booing other than to say it was particularly ungracious.
To my votes.
For the three I was in complete accordance with the ANZAC medal vote-givers. Pendlebury was a stand-out and would have been a worthy medal winner even if the game result had gone the other way. I had noted at three quarter time how important he had been. His last quarter efforts were further vindication.
Two votes to Moore. His direct opponent was Joe Daniher who kicked four and may have even got the medal if Essendon won. But Moore's defensive efforts, marking and spring-boarding into attack were vital to the Collingwood win.
One vote to De Goey. Others had more of the ball, but his two goals and other contributions got him over the line for me.
Do you really enjoy the Almanac concept?
And want to ensure it continues in its current form, and better? To help keep things ticking over please consider making your own contribution.
Become an Almanac (annual) member – CLICK HERE
One off financial contribution – CLICK HERE
Regular financial contribution (monthly EFT) – CLICK HERE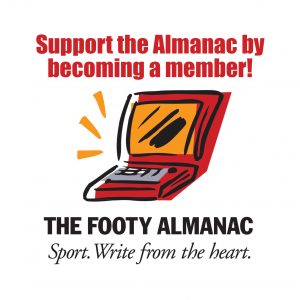 Probably the most rational, level-headed Collingwood supporter in existence. Not a lot of competition mind you.