Round 5 – The Neverending Weekend
Does Stephen Silvagni bleed orange? Did he, perhaps while purchasing socks and jocks at the Target in Parramatta Westfield, or dining at the Hungry Jacks on Woodville Rd amid the factories and warehouses and the clank of machinery and the stink of diesel, or strolling the green sward amid the amateurish concrete brutalism of Macquarie Uni, or stuck on a train a quarter mile south of Cabramatta station due to a signal failure at Mulgrave, fall hopelessly and head over heels in love with that vast suburb rolling across the Cumberland Plain known to the 'AFL' as Greater Western Sydney? His record at Carlton would seem to suggest that he did.
The draft wouldn't have been that difficult, just read Emma Quayles column – the Monaros cancelled the Age subscription and gave her a job – but they made some canny trades under his watch. The Blues have traded in a dozen honest, workmanlike toilers from those shimmering fields of Cumberland, the Bombers and Pies four players better than every one of 'em.
Is Cripps gonna be the new Chris Judd? Will he cop a dash of Hannebery? Blues do need hardworking toilers, but they need the 150 game types who can make space for the kids to do their thing.
Meanwhile, Steve's hosting meetings and clicking through his Powerpoint show and thinking how he got the font from a menu in a Syrian restaurant in Granville.
Bloody hell, should've writ all'a that Friday, those goddamn kids won a game yesterday. Well, it's been an odd weekend all 'round, especially if you tipped home teams, and I aint gonna waste a good lead.
It's been a weekend of thrashings, so much so that I checked the match percentage for the losers. Sydney teams aside, 38.7 to 56.4 so far this Monday arvo. This must be the "any given Sunday" ideal writ large except that it's any given Thursday, Fri…(you know the drill.) When a team I kinda like is getting destroyed by a team I kinda don't like I'll change the channel, so I got to watch a lotta cartoons this weekend, I enjoyed 'Tinkerbelle and the Neverbeast' but if you have daughters of a certain age you probably hate it.
'Love Story' was in the telly guide but tennis was on the screen, that was a bit disappointing. 'Stripes' is terrible, 'Push' looks like a cartoon, 'The Ten Commandments' is every movie ever made mashed together into a technicolour explosion and Jesus von Sydow is on now, up against the Mark Yates Cup, but I was disappointed that I slept thru 'Jesus Christ Superstar' on Friarvo.
We need the mute button when those creepy AAMI ads appear and the horror, the unspeakably Lovecraftian horror of two idiotically grinning dickheads blowing smoke up their own arses and claiming to be our most worthy leader (think yrselves lucky, rest of Australia, it's been near continuous ads for months here) and I was wondering how many sparkies and handymen in the pre-remote days rigged up a switch from the telly to their favourite chair so they could flick the sound off when it suited them.
Saturday, spent several hours in the forecourt of a post-apocalyptic abandoned drive-thru bottleshop in the distant suburbs fixing rust on the van with Sean, got home midway thru the third and there was buggerall in it down in Canberra, Monaros and Wharfies within a point, we got a bit of a lead just before the last break and of course we'll crack it open and run all over them in the last, except that the Wharfies did it, kicking four or five straight. Ross Lyon has been foxing for thirteen years, his masterplan is about to bear fruit.
Few hours later, Tigers had doubled Swans score midway thru the second and it was looking like another walkover so I flicked around the channels and played Mitch Ryder's 1971 solo album, decided that Bob Ezrin was still learning his craft when he produced it, kept checking the footy, whether Swans hung on or Tigers slacked off, the margin didn't change overmuch.
Much like the match just done, tho today's was of higher quality and the closest of the Neverending Weekend, Hawks held a match percentage of 79.6, Monaros 77.4, Swans 75.3. Then the aforementioned hideosoities.
Do these random scattershot results make life tough for betting shops? Maybe it would have forty or more years ago when they were little independent operations but in these days of global betting conglomerates I am confident they have all their bets properly covered.
Have you ever read Frank Hardy's 'Power Without Glory' all the way to the end? No, me neither. But that den of iniquity, the local betting shop, has been crushed by the heel of teevee and…
I've run out of metaphors.
For more of Earl's musings, CLICK HERE:
Do you really enjoy the Almanac concept?
And want to ensure it continues in its current form, and better? To help keep things ticking over please consider making your own contribution.
Become an Almanac (annual) member – CLICK HERE
One off financial contribution – CLICK HERE
Regular financial contribution (monthly EFT) – CLICK HERE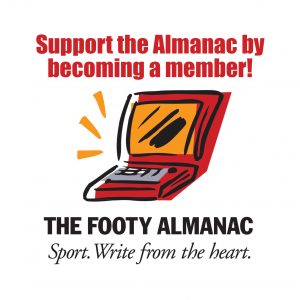 Freelance gardener, I've thousands of books, thousands of records, one fast motorcycle and one gorgeous smart funny sexy woman. Life's pretty darn neat.