Round 5 – Melbourne v St Kilda: Great win for underrated Saints
Melbourne versus St Kilda
Saturday 20 April 2019
4:35 pm
Melbourne Cricket Ground
Two days prior to the game of hell versus heaven, I started wondering if hardworking rewarded people well or not.
Even Saints' good performances in the previous matches, many people had tipped Demons, including footy experts at The Age newspaper and Titus O'Reily.
I had accepted roster changes including premises to work seven to eight times with short notices in the last two weeks, but I faced huge criticism at work. Even my communication skills were criticised by a young supervisor. Such an incident upset me a lot (indeed worse than seeing many people tipping Dees) and I felt being like Brendon Goddard and Nick Dal Santo who were unwanted by St Kilda, especially by Scott Watters and Chris Pelchen.
If my surname were Goodwin, I would have to change it to Badloss.
Or was my time working at the restaurant called to the end? I think I am not working in the right career. I have to seek a job where I can MAXIMISE my talents, skills and strengths to avoid misinterpretation.
Before the match, I went to a park for kick to kick with an Aussie mate. He has played footy for several years at younger age.
After kick to kick, we had lunch and beer under the beautiful sun and we enjoyed the afternoon.
Then we went to a Starbucks cafe near Kyoto Station to watch the MCG match.
Chris hadn't watched footy for a while so it was a good opportunity for him to watch the sport we love.
The ball was bounced and the home side dominated quickly. Footy was delivered to their forward pocket. Preuss scores a goal only within a minute.
I had a strong believe the Saints would win after a good win over Hawthorn, so I wondered if majority of tipsters were right with more experiences, or not.
But it was not the reality.
Tim Membrey took a mark just close to the goal line in the sixth minute. An easy shot was booted by the forward.
The clock was clicking nearly as 22 minutes. Newnes took a mark inside 50 on the right. He could have kicked a goal there, but instead ran in the open right wing and hanballed towards Kent who was waiting by the goal post. The new Saint scored a goal against his old side.
Newnes was selfless and I would love to have him as my boss.
Tim Membrey took a mark inside 50 at nearly 28-minute and scored a goal nicely. Before the first break, Preuss answered with a long kick and Saints led by four points at the Quarter Time.
I was not relaxed at this stage and not sure if we would win or not.
At 4:35 in second quarter, Petracca scored a goal after running and taking a mark. His goal put his Demons back in front. My worry started again.
Steele kicked inside 50 towards hot spot. A two on two marking contest was competed, but footy was dropped and picked by Jack Lonie. He ran and kicked a goal. Brilliant. Hardworking Saints!
Membrey's goal from 30 metres out followed. And Kent's soccer kick in the hot spot was picked by Billings' foot. Billings was in front of the running competition against three Demons and scored a goal with a soccer kick. Another hardworking for the Saints.
No points after Billings' goal at second quarter. Saints led by 15 points at the main break.
At six minutes after boys had come back on field, Josh Bruce ran hard and took a mark closely to the boundary line inside 50. Bruce finished his job nicely thanks to be a left footer.
Three minutes later, Steele kicked in the right wing towards Ben Long. The young forward took a mark and scored a goal with a long kick from the right wing.
In the twelfth minute, Kent ran into the footy kicked from behind and picked footy. He kept running to the right spot and shot close by the post.
Bruce took a mark 38 metres out and scored a goal. His goal was eight in a row for the Saints.
Third quarter ended as a goalless one for Demons while Saints kicked seven goals. The margin widened to 45 points.
Melksham climbed up on Battle's shoulder to take a big mark in their inside 50. He ended the nearly 60 goalless minutes for his side.
Dropping off footy at a marking contest, Sinclair ran hard. He picked footy and handpassed towards Parker. The matured aged rookie, Matty Parker scored a goal.
Both Sinclair and Parker went hard on ball.
Later Petracca took a mark inside 50 and found Melksham who was close to goal line. The former kicked towards the latter and Melksham scored a goal.
Then Membrey took a mark in the pack winning over Gawn. His mark was paid in the left wing in the goal square. He has done the top job.
The party time was held on for a while as Billing took a mark inside 50 just before the siren. He scored a goal putting us to win by 40 points.
Hardworking rewards the mighty Saints, counting more than being underrated. Kick to kick with Chris and the Saints' win cheered me up much.
I should reward myself being patient on supporting the Saints too? Then the time for me to blossom comes soon??
How good footy is! Four wins and a loss for the Saints. Currently Saints are on the top of the ladder.
Saints go marching in more and more this year.
MELBOURNE 3.3 4.5 4.8 7.13 (55)
ST KILDA 4.1 7.2 12.5 15.5 (95)
GOALS
Melbourne: Preuss 2, Melksham 2, Petracca, Brayshaw, Harmes
St Kilda: Membrey 4, Kent 3, Bruce 2, Billings 2, Acres, Lonie, Long, Parker
BEST
Melbourne: Brayshaw, Oliver, Gawn, Harmes, Salem
St Kilda: Billings, Kent, Membrey, Newnes, Acres, Steele, Geary
OUR VOTES
3. Membrey (STK); 2. Billings (STK); 1. Newnes (STK)
Umpires: Chamberlain, Whetton, Harris
Official crowd: 35,558
For more of Yoshi's work, CLICK HERE:
Do you really enjoy the Almanac concept?
And want to ensure it continues in its current form, and better? To help keep things ticking over please consider making your own contribution.
Become an Almanac (annual) member – CLICK HERE
One off financial contribution – CLICK HERE
Regular financial contribution (monthly EFT) – CLICK HERE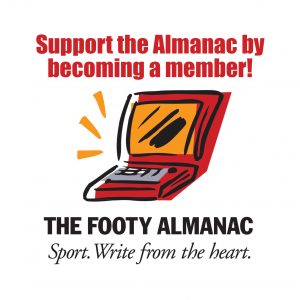 Love, passion and pride are seen on the footy that is the biggest part of my life. 1. St Kilda Club member: I am a passionate and crazy Sainter. Just hope we will win the second flag soon, especially after Dogs and Tigers having ended long premiership draughts. 2. The Osaka Dingoes Player and Public Relations Officer: Player number 44 that I chose to honour Stephen Milne with my wish being like a small forward like him. Lenny Hayes' hardworking attitudes are adopted on my trainings and practices. Nick Riewoldt's great plays are in my player audiobook too. 3. Writing: Here on the Almanac and also on the World Footy News. My skills utilise on great footy websites.