Round 4 – St Kilda v Hawthorn: Winning a congested and contested game
St Kilda versus Hawthorn
Sunday 14 April 2019
4:20 pm
Marvel Stadium, Melbourne
Despite the poor quality of wifi at workplace, being interrupted listening to 3AW live coverage and having had to go to Starbucks at my break, I managed to follow the game live in the first half, and found it was a close game. But I admit I throw my earphones at the cafe when seeing Hawks scoring goals at second quarter (seeing Saints wasting opportunities made me unhappy and worried).
But later at work, I managed to check score when I had to get something for work at the storage room and we won at last. It was more than relief as we are three wins and one loss and at the fifth on the ladder.
Watching the replay again (started from the beginning), the game was tight with too congested and many contests. No fast exits available.
The first dominate was done by Hawthorn thanks to former Saint McEvoy who took a mark inside 50. He kicked towards Scully and the new Hawk scored a goal.
Newnes was wrapped and Membrey kicked awkwardly. But Lonie picked footy handpassed by Marshall and scored a goal.
Then Kent's missing to take a mark was not good. The new Saint should have taken a mark. Such mistakes could cost close games.
Scrappy handballs and Hawthorn putting a lot of pressures into our handpasses created difficulty in breaking the defense line.
But Long running and picking footy to score a goal was commented positively by Hamish McLachlan. Initiative clever was the word what Game Day host said.
My player's note was added – in many contests and tackles, pick footy and act first. It's important to get out the congestion and score goals eventually.
The first break was on the score level – 3.2 each team.
From Long and Ross kicking goals at second quarter, I learnt that someone needed to back up (collecting footy) in contests where multiple players involved in. For example, one player needs to pick footy and run for open space to score a goal in three on two.
Intense footy continued and Saints kicked 2.3 while the opponents kicked 3.3 at second quarter. Saints we're behind by six points at the main break.
Hawthorn demonstrated more experiences and better skills at first half of third quarter. Their lead widened to 26 when Roughead won two on one contested mark and scored a goal. He ran in between two St Kilda defenders to take a mark.
I would be frustrated and worried much if I kept watching the game live.
Sinclair punching the footy created some space for us and handpasses and kicks were done continuously. Newnes has done the job that narrowed the margin into 18.
Bruce's decision kicking backwards inside 50 was not wrong. Lonie took a mark and kicked a goal in a good angle.
Then the time to score a goal himself arrived for Bruce. He took a mark 35 metres out directly in front. Bruce finished his job easily.
Wilkie was hardworking on field at the late third quarter and last quarter. He contested Roughead that ended up ball up.
Saints trailled by 11 points at the last break.
After our new ruckman Marshall missed an opportunity, he led up and took a mark. At the second attempt, he finished his job bringing us six points.
Wilkie jumping and punching footy was impressive as well as his tackle. I'm happy him wearing my favourite number 44.
Lonie was pushed and awarded a free kick in the goal square later in last quarter. He scored the winning goal putting us in front.
We worked hard to make Hawks the scoreless quarter and the final siren sounded. The mighty Saints won by five points.
I think we would lose such tough games in the previous several years. This win shows that my boys have improved.
At the Dingoes training on the previous day, I was told I improved footy skills. It was a good weekend for the Saints and myself.
I do the best to play footy in the IMPACT Anzac Day Cup Tournament on Saturday 27 April and cheer up the mighty Saints.
ST KILDA 3.2 5.5 8.9 10.14 (74)
HAWTHORN 3.2 6.5 10.8 10.9 (69)
GOALS
St Kilda: Lonie 3, Long 2, Bruce, Marshall, Acres, Newnes, Ross
Hawthorn: Roughead 2, Henderson 2, Scully 2, Nash, Wingard, Puopolo, Breust
BEST
St Kilda: Ross, Marshall, Billings, Lonie, Steele, Gresham, Acres
Hawthorn: Worpel, Scrimshaw, Scully, Sicily, Roughead, Henderson
OUR VOTES
3. Lonie (STK); 2. Ross (STK); 1. Roughead (HAW)
Umpires: Findlay, Dalgleish, Haussen
Official crowd: 35,883
For more of Yoshi's many Almanac contributions, CLICK HERE:
Do you really enjoy the Almanac concept?
And want to ensure it continues in its current form, and better? To help keep things ticking over please consider making your own contribution.
Become an Almanac (annual) member – CLICK HERE
One off financial contribution – CLICK HERE
Regular financial contribution (monthly EFT) – CLICK HERE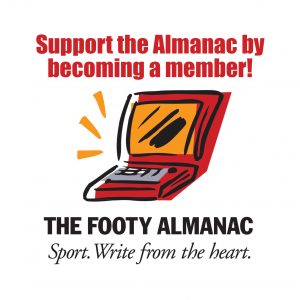 Love, passion and pride are seen on the footy that is the biggest part of my life. 1. St Kilda Club member: I am a passionate and crazy Sainter. Just hope we will win the second flag soon, especially after Dogs and Tigers having ended long premiership draughts. 2. The Osaka Dingoes Player and Public Relations Officer: Player number 44 that I chose to honour Stephen Milne with my wish being like a small forward like him. Lenny Hayes' hardworking attitudes are adopted on my trainings and practices. Nick Riewoldt's great plays are in my player audiobook too. 3. Writing: Here on the Almanac and also on the World Footy News. My skills utilise on great footy websites.