Essendon versus St Kilda
Saturday 30 March 2019
4:35 pm
Marvel Stadium, Melbourne
Many Round One matches were unpredictable. Like rains while meteorologist say the chance of rain will be 20 per cent.
Unpredictability (unexpected circumstances) happened at my work last week too. On Thursday one of our senior staffers was sent to another premise in the same chain to fill in staff shortage.
On Friday morning, my thoughts came up suddenly that I could end up going there too. Chance of filling in would be 50 per cents, I reckoned. Then it happened as I was asked to go there in the evening after working during the day at my base workplace.
I was wondering my position over there. Set the chance of cooking deep fried beef at 80 per cent. When turning up there, I was straight asked to be at the frier. Another ticking!
These predictions were opposed to my footy tipping for Round One.
On the game day, it started raining around 11.30 am in Kyoto. Chance of rain had been low, so it was unexpected. I checked the weather forecast as was heading to the Dingoes training that would be held while the professional match was going on.
The rain eased and sun has come back. It was time to go.
Having got off the train near our home ground and bought coffee and snacks, it started raining again. I reckon chance of rain had been below 50 per cents at the time (over 1.15 pm). I hoped it would not rain badly.
It stopped once but started raining again when I got to the footy field. Put my footy gear under the tree and got changed to get ready to hit the field.
I grabbed footy and ran and kick around 2 pm even it was drizzling. 10 minutes later, it was getting worse so I hid under the tree again.
With many attempts to do drills again, I had difficulty in finding chance of hitting footy field.
Then the Saints' match started, so I picked my phone and tuned in the radio coverage.
From previous week, I was not confident Saints would win the game. But Bombers weren't good either. It would be fifty fifty, but I support my boys passionately.
The opponents dominated first. Two behinds were scored by the home side first.
Then Membrey missed an opportunity at 40 metres out and 30-degree angle.
Bruce picked footy at a pack of five players each side and ran swiftly to find the best spot by the goal posts. He kicked the first goal of the twilight game.
Saints kept scoring at the rest of first quarter that made me happy while waiting teammates and hoping rain stopping.
Chance of Saints' win got bigger. But the sky at our home ground was grey and chance of training got lower.
Matt arrived and we waited patiently for better weather and other teammate(s) turning up.
There was no clear sign any chance of rain stopping so we started seeking alternative activity.
Chance of rain between 3 pm and 5 pm was around 70 to 80 per cent.
Once Jay turned up, it stopped raining and we all tried to hit the footy field. Having us got changed, the rain got rather heavier. We decided to call off the training and go to our home ground of off field (a nearby ramen izakaya) to have beer and watch footy. As the margin was big, Matt preferred to watch Port Adelaide versus Carlton.
It was closed in between lunch and dinner, so we kept walking to Matt's local supermarket where we can relax on the upstairs.
We watched the end of third quarter and the last quarter with Matt's iPad.
Saints leading by 10 points at the last break cutting down from 33 split us our predictions who would win. Matt reckoned the Bombers would bounce back and the rest of us thought the Saints would keep the lead.
Both teams pushed hard to shoot goals, but none of their opportunities brought six points. Even Sinclair's kick from right 43 metres out hit the goal post.
However he won a contested mark shortly after and snatched a goal from left.
Later in the quarter, Gresham picked footy at the congested hot spot and kicked like soccer. His putting the Saints 23 points lead let us all from watching the match and head towards the pizza izakaya.
Chance of the Saints' win was 100 per cent at the stage.
But I wanted to see the end with the win. Even I witnessed Heppell's last minute goal.
His goal narrowed the margin to eleven, but only seconds left. Final siren sounded and the Saints did go marching in.
Jay showed us the then ladder and St Kilda were on the top!
My thoughts on the Hawks versus Bulldogs following day had been 20 per cent in chance of Doggies' win. Even I followed the part of the game during my work break. Bulldogs led at once and Hawks bounced back. I thought Hawks would win as having predicted, but the visitor won. Amazing!
Low percentage of chance of Freo losing to Gold Coast didn't match the actual score. I have a big hope Saints winning against Fremantle next weekend.
Chance of the Saints' win over Freo is 100 per cent. Go the mighty Saints!!
ESSENDON 0.2 4.5 7.8 9.11 (65)
ST KILDA 2.7 7.9 8.12 10.16 (76)
GOALS
Essendon: Heppell 2, Baguley, Bellchambers, Myers, Brown, Smith, Stringer, McKernan
St Kilda: Membrey 2, Bruce 2, Gresham 2, Dunstan, Kent, Parker, Sinclair
BEST
Essendon: Stringer, McGrath, Hurley, Francis, Heppell
St Kilda: Gresham, Steele, Bruce, Ross, Sinclair, Newnes
OUR VOTES
3. Gresham (STK); 2. Bruce (STK); 1. Heppell (ESS)
Umpires: Rosebury, Stephens, Hosking
Official crowd: 44,252
==
To find out more about Almanac memberships CLICK HERE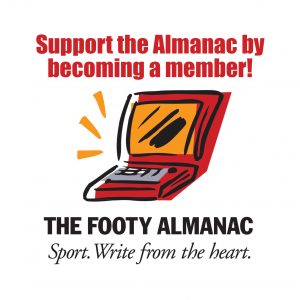 Love, passion and pride are seen on the footy that is the biggest part of my life. 1. St Kilda Club member: I am a passionate and crazy Sainter. Just hope we will win the second flag soon, especially after Dogs and Tigers having ended long premiership draughts. 2. The Osaka Dingoes Player and Public Relations Officer: Player number 44 that I chose to honour Stephen Milne with my wish being like a small forward like him. Lenny Hayes' hardworking attitudes are adopted on my trainings and practices. Nick Riewoldt's great plays are in my player audiobook too. 3. Writing: Here on the Almanac and also on the World Footy News. My skills utilise on great footy websites.