Round 11 – GWS v Essendon: A Giant Ascension
Now in just their sixth AFL season, the GWS Giants have now assumed top position on the ladder. No one is expecting this to be a once-off occurrence. Last year they were in all likelihood a solitary straight kick away from winning the premiership. There's a distinct possibility they could be premiers come September 30th. It's clear not everyone is thrilled at this prospect.
In spite of its occasional international aspirations, it should never be overlooked how essentially parochial the roots of the Australian Football League are. Born of the original Victorian Football League, itself born very specifically from Melbourne's inner suburbs – with Geelong as its exotic outlier – the whole notion of a national league only really took hold as a way for Victorian clubs to avoid bankruptcy. Though the modern AFL now likes to style itself along lines similar to the largest international codes, many interstaters still regard it as a barely disguised Victorian power grab. The AFL's expansion into western Sydney has brought much which is confronting to these old tribal instincts.
As long and painful as the march of the AFL in Queensland has been, at least the code had some historical precedence there. As Bears transformed into Lions, the history of the late, lamented Fitzroy could be invoked, however tenuously. The Gold Coast Suns were to learn, at least notionally, from the Bears' early Carrara stumbles. But Sydney's vast west was a genuine Ground Zero for the Australian code. No groundswell demanded an AFL presence in the region. This exercise was predicated on accessing the maximum untapped potential television audience.
So the Giants are very much an "if you build it they will come" project. Given past misadventures in football colonisation , the AFL was never going to skimp on the build. The Giants may have started with humble facilities at Blacktown, but they had a gold pass when it came to assembling their playing list. They have used it to build one of the most talented squads in the history of the game. With access to the cream of several years' drafts, GWS have shown their expansion counterparts on the Gold Coast how it should have been done.  Absorbing the pain of those early seasons now looks well worth it.
The AFL's opinion of the Giants' progress was confirmed by this season's Friday night football schedule. Though their supporter base hardly screams ratings bonanza, their quality could no longer be denied football's prestige timeslot. When they made their Friday debut in round 6 against the Western Bulldogs, it was recognition of what may become the defining rivalry of the next few seasons.
But if this proves to be so, the AFL world will need to reassess what is has come to expect of a blockbuster. As compelling as that round 6 cliff-hanger was, it was played in front of a Canberra crowd of 14,000. Whilst that was capacity for the small Manuka Oval, it has been a long time since big AFL games were played at small grounds. When the Giants came to Etihad Stadium to play the Saints the following Friday, their fans contributed little to the modest 21,160 attendance.
This confirms that whilst the team has been built, it remains to be seen how many are persuaded to come. Current evidence of progress is mixed. The club has just passed the 20,000 member milestone. That constitutes a healthy 33% jump on last year, with more to follow before season's end. But average crowd attendances for their six home games this season have actually declined slightly from the previous year. Should they make it to grand final day, their 753 Victorian members should at least be right for a ticket.
Victoria's reluctance hardly ends there. Many haven't waited for them to succeed before complaining. We have become familiar with the jibes: "Harlem Globetrotters", "not a real footy club", and such like. They are resented as the AFL's own horse in the race. There is truth to this notion, but also much hypocrisy involved. Victorian clubs have happily spent the additional broadcast dollars that a televised game every week in Sydney has meant. And they have shown little reluctance to plunder where possible the abundant talent on the GWS list.
Of course, that raiding hasn't all been one way. GWS have shown themselves canny operators. There's a certain perversity involved in blaming a club for playing its hand too well. But logic and self-interest are only incidentally reconciled at AFL clubs. That's why there's a Commission in the first place.
This discontent is a symptom of anxiety. As the big, traditional Melbourne clubs flounder in their various ways through the 21st century, GWS loom as a substantial roadblock on the premiership path for years to come. To point out that they voted the Giants into existence is hardly likely to assuage them now.
But there could yet be a tantalising twist in this tale. It was a young team from Melbourne's west who proved the ultimate undoing of the Giants last September, adding much to the legend that will linger of that Bulldog Spring. With the balance of influence in all things traditionally lying to the east in both Melbourne and Sydney, a rise of the west would be further disruptive. If the next great football rivalry proves to be the AFL's test tube baby versus the working class battlers of old Footscray, we really will have moved a long way.
Whatever offence to old orders they represent, GWS are a football reality to contend with. Whilst revealing their potential last season, they also learnt what it felt like to lose a big final. This year they are grinding their way through a succession of wins. They are finding a way, even when play isn't on their own terms. With up to ten first choice players to return their line-up, one of the few certainties in this tantalising season is that orange and charcoal are about to become a regular part of September's colour palette.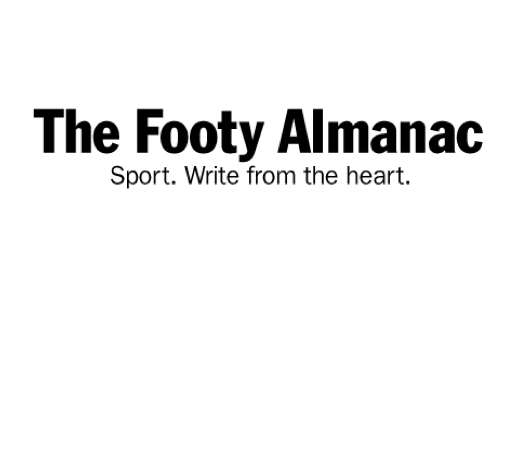 John Butler has fled the World's Most Liveable Car Park and now breathes the rarefied air of the Ballarat Plateau. For his sins, he has passed his 40th year as a Carlton member.