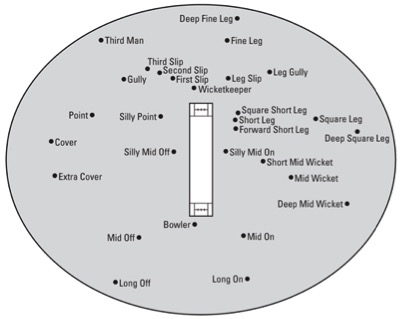 The Footy Almanac has called for Cricket writers to follow the Tests. How can I put my hand up to write when I haven't a clue about any of these positions or half of the technicalities that are the intricacies of cricket? I am a watcher and not a player. So I Googled it and will have this diagram from Cricket for Dummies by my side next time I listen.
I will write about what I do know about. I have pre-recorded the cricket today because I will be painting at art class, and I will listen on radio as is my want during the summer months; listen to Grandstand talk about the players, the game and life. Today will be unbelievable listening and watching for those who go, watch and listen. Our hearts and minds will be with every player, and especially our Captain, Michael Clarke who has proven himself to be a Captain for us all.
Each ball bowled will have extra meaning, each run taken, each catch, each fielding endeavour will today have a deepened significance.  We are all battered and bruised from the loss of a young man doing what he loved, but unlike his family and close friends and team mates, our experience will be distracted by the game Phillip loved.
The beginning of the First Test will be but a step for all, and I wish all the players from all teams everywhere, nothing but health and success in the games they pursue and we love.
Yvette Wroby
9th December 2014
Yvette Wroby writes, cartoons, paints through life and gets most pleasure when it's about football, and more specifically the Saints. Believes in following dreams and having a go.