2009 Round 4 – Brisbane v Collingwood: Magic Medhurst beats flood by surfing it
Aqueous – a. Of water; containing water; produced by water. A wet mixture.
Watery place, Brisbane. Where rain is rain. Soaking everything it hits. Even the things it doesn't. Like today. Like my socks. Wet through.
Often it doesn't rain in Brisbane, of course. Clear, hot, dry days. These days are the wettest. On these days, when you're not diving into pools, rivers or a two-metre swell, you're soaking in your own sweat. Like today. Like my footy jumper. Wet through. Sticky. Clinging to me like it was coated in a jar of fig jam.
Driving to the pre-match watering hole under a blaze of sun, rain was the furthest thing from my mind, until my driver, my brother, a 30-year local said: "Don't like the look of that."
"The look of what," I said, my eyes crawling through the skin of blue sky above.
"Cumulus," he said, pointing the way with a barely perceptible nod of his head.
Squinting my eyes almost shut, I made out the source of his mild consternation. Faint traces of puffy, harmless looking clouds, lurching themselves onto the horizon. Not one forecaster had predicted rain in these parts tonight. Pre-match nerves, I thought.
Seven hours later, as we spilt from the pub, the heavens opened. Beer, sweat and rain. I was 90 per cent water. The newfound respect for my brother was met with quickening unease when I saw Rocca and co. stooping and paddling the ball like it was a cake of soap in the warm-up. We were playing tall in conditions more suited to trout farming.
Appropriately, in this inland sea, the Lions, intent on sending us to a watery grave, adopted an extreme defensive flood. Our forward line resembled a rip-riddled swell off the coast. All movement involuntary. Cast by the current surrounding them. One false move. Fatal. By the end of the first quarter, the rain had stopped, but the flood was intact. While we treaded water, the Lions, with Thorpe-like fluidity, had freestyled to a four-goal lead.
Ten minutes of resolute dog-paddle to start the second quarter netted us just one goal. Not waving, drowning. We were finding more of it. Brazen attack on the ball matched only by our ability to butcher it. The Lions were slicker. Cleaner. Better. We were no closer to them until Cloke, on the siren, managed to not shank one for a change. Half-time. I had a familiar feeling of far-from-convinced hope.
We kicked the first goal of the second half so fast I missed it. The result of my indecision about chips or coffee, and queuing for both. For the next twenty minutes I watched Medhurst while my coffee went cold. He was finding a way to break the flood. By surfing it. Hanging ten. Floods deny one of time and space. A split second. Whatever position you find yourself in. Make the most of it. Or die. Medhurst's goals were contrived with wild imagination. As they needed to be.
We hit the front just before Medders caught another wave. Knocking himself out. A surfer coming to grief on a rock. So the search began. For someone else. To catch a ride.
We had a run-on. Pendlebury in his own time-space dimension. Action Jaxson doing a grand impersonation of his old man. Approaching the last quarter, I thought we had the legs, but was less convinced about our composure. Mine included. And where were the goals going to come from?
Last quarter. Medhurst. Face the colour of a bad oyster. Snagged a goal from he doesn't know where. Aided by a GPS, he soon found himself back in the dug-out. We were in the lead again and slowly but surely the flood evaporated. We weren't quite high and dry before Presti, like a giant sandbag flung in desperation against marauding waters, laid a crunching tackle on the outer wing. Stemming the flow. Completely.
Votes:
3. Pendlebury – caught Black on a rare off night and made the absolute most of it.
2. O'Brien – Great return to form. He and Presti smoothed over some gaping cracks last night.
1. Medhurst – he had me at hello, or goodbye, in the case of Tarrant. Was probably the difference in the wash-up.
This was Haiku Bob's first ever Almanac match report. He has made numerous contributions since, which you can read if you CLICK HERE:
Do you really enjoy the Almanac concept?
And want to ensure it continues in its current form, and better? To help keep things ticking over please consider making your own contribution.
Become an Almanac (annual) member – CLICK HERE
One off financial contribution – CLICK HERE
Regular financial contribution (monthly EFT) – CLICK HERE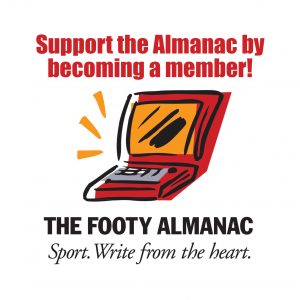 Rob Scott (aka Haiku Bob) is a peripatetic haiku poet who calls Victoria Park home. He writes haiku in between teaching whisky and drinking English, or something like that.