Junior Footy: Sport in its purist form – The Macleod JFC Under 8s
As a general rule I don't appreciate being woken up by the sound of my 7 year old son Jack knocking on my bedroom door at 5.58am on a Sunday morning. When I peer out from my Doona ready to unleash a verbal tirade, I am presented with the sight of him fully dressed in his football uniform – socks hoisted high above the knees, shorts baggier than Eddy Betts and mouthguard in. 'Are you ready to go to football Dad?', says my little 4 foot warrior. I can't help but smile through my tiresome eyes. Welcome to game day at the Macleod JFC under 8s football team.
Every Sunday I am lucky enough to see a concrete example of what the pure joy of participating in sport looks like. In a world where we are saturated with professional sport and the associated talk of commercialisation, free agency, drafts, structures, meetings, rebuilds, sackings, processes, brands etc, it is easy to forget what drives most sportspeople (good and bad) to first grace a sporting field.
I've taken on the gig of coaching the Macleod JFC Under 8s Football team this year. 9 weeks in and I already have a lifetime of memories.
It is fair to say my coaching philosophy is shaped from the mid 1980s and what I learnt as a kid. Socks up, kick it long, man up in defence and do all your training with a football in hand. I got about 17 pages into a modern AFL kids coaching manual and was still waiting to see a drill with a footy! Perhaps I am a Dinosaur, but the kids seem to enjoy the simplicity of what I bring to the table. Not quite sure the kids appreciate my wool footy jumper, or have a comprehension of why my boots are plain black though. Mrs D says I'm permanently stuck in the 1980s, as referenced by my total disregard for any beer other that Carlton Draught (those wanky craft beers just try too hard).
Jack proudly proclaimed the other night at training to the group that I was in fact an old bloke and bald under my weathered Swans cap. Some of those kids (and parents) are still laughing at that one.
On game day, we leave Dodson HQ early at 8am for the trip to Macleod Park for the 'local derby' against our other Macleod team. Not quite a Collingwood versus Carlton rivalry, however, the kids have been talking about it all week.
I'm out helping to set up the ground as the kids filter in. It is a mad rush of smiles and untied bootlaces. A number of kids are still protesting that mum has made them wear a long sleeve t-shirt under their sleeveless jumpers – 98% of Mum's enforce this rule with an iron fist from late May onward.
There is a late out. Poor little Tristan has gastro. I confer with my master tactician and assistant coach (my other son – 4 year old Harry) and we spin the magnets. I'm pretty sure Harry is having chats with the committee behind my back to try and oust me already. Perhaps we need to sit down over Coco Pops one morning and work out a 'Kirribilli Agreement' to manage his transition to head coach by seasons end.
Very wet and dewy this morning. I start the day by making a tactical error when I ask my players in defence to look at their opposition's number and stay on that player for the quarter. Young Jed quite rightfully pointed out that given the other Macleod team (as the away team) had turned their jumpers inside out it was impossible to decipher a number. Not sure Alastair Clarkson would make such a mistake!
With the confusion cleared up the kids set about the game with much gusto. The first quarter was a blur of smiles, scrapped knees, tackles, boots flying off feet and some quality football to boot.
I asked Hayden how many goals he would like to kick pre-game and he said 8 would be a 'pretty good' effort. This wasn't said with a Wayne Carey like arrogance, just a happy go lucky kid who has worked out he is pretty handy and likes booting the ball between the big sticks. By quarter time he had gone a long way in getting to the target.
My son Jack has turned himself into a creative half back type. He seems to have inherited Dad's lack of appetite for the hard ball, yet thankfully he has Mrs D's vision, creativity and dash. I can't help but smile as he tucks the pill under an arm and sets off as fast as his little legs will carry him, before unleashing a perfect 17m drop punt into the midfield.
As a coach of the under 8s my job description is to be on the field to instruct. Early in the season I come to the conclusion that running for 40 minutes is not as easy as it was back in 2009. After 3 weeks of trying to do this and maintain eye contact with 4 foot kids (as a bloke whose hamstrings stretch only 7.438%) I ended up at the physio.
'How did you hurt your back?', the courteous young physio asked. Football, I replied.
'You are a bit old for footy aren't you?', the physio enquired. I did it coaching, came my meek response.
Cue silence for 15 minutes as the physio pondered what sort of bloke she had on the table.
The sun was shining and it was all starting to come together for our little crew as the game went on. It was great to watch a number of connected pieces of play and it is a credit to the kids that the hard work they are putting in at training is starting to translate onto the field.
We have all sorts of players in the Macleod B under 8s. Serious kids, free spirits, mavericks, left footers, non-vegemite eaters and so on. An eclectic mix. Some poor little souls have been forced by parents (spoil by the success of the 1980s) to barrack for Carlton.
What binds the kids together is that each and every one of them just loves playing football. The joy of chasing, tackling, getting a kick and spending a Sunday morning out in the cold with their mates. I hear stories from parents of kids repeatedly asking how many sleeps till Sunday, and one of the little tackers even sleeps with his footy shorts on.
The most pleasing aspect of the day was the sense of fun and friendship that was on display amongst both Macleod teams throughout the match. There was excitement and encouragement as both teams kicked goals and the kids seemed to really enjoy sharing a football field together. Both teams locked arms after the siren and belted out the Macleod theme song in what was a highlight of the season to date.
Just when the kids thought the day couldn't get any better each player was gifted a pack of footy cards. It was hard to drag the kids out of the sheds as cards were flying everywhere as kids tried to engineer deals to swap cards for their favourite players… I mean who wants a GWS GIANTS card! A pack of footy cards and grabbing a canteen hot dog on the way out. A great way to end the day.
Anyone who wants to see football in its purest form should make their way down to Macleod Park at 8.45am on a Sunday morning. I am privileged to get this opportunity each and every week. I just hope this week my wake-up call from Jack comes after 6am!
For more from Craig, CLICK HERE:
Do you really enjoy the Almanac concept?
And want to ensure it continues in its current form, and better? To help keep things ticking over please consider making your own contribution.
Become an Almanac (annual) member – CLICK HERE
One off financial contribution – CLICK HERE
Regular financial contribution (monthly EFT) – CLICK HERE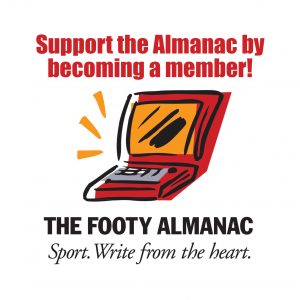 Born in the sporting mecca that is Wagga Wagga and now reside in Melbourne with my lovelly wife Sophie and son's Jack and Harry. Passionate Swans supporter and formally played cricket at a decent level and Aussie Rules at a not so decent level! Spend my days now perfecting my slice on the golf course and the owner of the worlds worst second serve on the tennis course.