JLT Round 2 – Western Bulldogs v St Kilda: Running towards footy
Western Bulldogs versus St Kilda
Sunday 10 March 2019
4:10 pm
Mars Stadium, Ballarat
Rains on and off here in Japan rather than beautiful day it was in Ballarat delayed my early departure towards Osaka Dingoes team training. Finally our training would go ahead so I got on a Keihan train where on board free wifi is available.
I would be able to watch the game live for the first 10 minutes at the end of my train trip. Excitement hit my body.
Talented matured aged draftee Matty Parker won a contested high mark just behind goal posts early at the first quarter. It was a great three on three contest.
But his shot only hit the post. The first score in the game was a behind.
Later Jack Billings kicked long towards the hot spot. Bruce pushed the opponent and ran towards the ball. He took a mark and handballed towards Gresham who kicked a goal in open space.
I was so exited and raised an arm on the train. My craziness for the Saints came back!
In the previous week, I was taught how to pick footy. "Lead at me" was said. Running towards ball and seeing front and back are essential to win the contests. Bruce's act reflected what I had learnt at footy drills.
Then at 13:23, Hind picked footy and kicked towards forward line. Clark ran towards the ball and kicked a goal.
At the time, I got off the train and switched to the live radio broadcast. My favourite Spud was on the AFL Nation Radio.
Paddy McCartin played hard and was hit his shoulder by Celeb Daniel in nearly 17th minute. He was awarded a contested mark and kicked a goal.
In the mid way of second quarter, two one on one contests were in action at Saints' goal square responding to Ben Long's kick. Paddy tried to win but the ball was dropped and picked by Tim Membrey. The former Swan has done his job.
Membrey backed up very well. It's another reminder for my player note.
Another example of running towards ball was shown by Jack Newnes at over 25 minutes of second quarter. He took a mark and kicked straight to bring us six points.
Meanwhile McCartin got into a trouble. He was hit by Ben Long for a contested mark and got sandwiched. Unfortunately he got concussion and was on the bench at the rest of the match. It's a big concern for everyone as well as Roberton's heart issues.
At 6:54, Sam Lloyd picked footy and kicked towards open space for a goal. Finding open space for a kick is always important.
Both important actions were demonstrated by Sinclair at ten minutes of third quarter. He ran towards Parker's handpass and found open space to shoot six points.
Saints' lead was narrowed and finally at the nearly end of third quarter, Bulldogs found open space. Kicking passes on the wing were done from Bontempelli to Gowers to Schache. Schache's goal put his pups in front for the first time on the day.
The score was level at the last break and Saints dominated again in the score board.
It was cold and raining in Osaka and I was the only one at the ground. Matt's wife was not feeling well so he was running late so the training was not going ahead and instead we met at a ramen izakaya and watched the game on his iPad.
I was annoyed by Savage putting hand on Dunkley's eyes after having tackled him. His action was stupid, I call. Then flares were on field. I have watched many Saints versus Doggies games and always see flares.
Are St Kilda and Footscray rivals? Bulldogs get my soft spot, but is rivalry established between two clubs?
At the end of the match, Cordy and Long chased footy kicked long by Phillips. The young Saint was pushed by the Bulldog and ran hard towards and caught up with the ball. No distraction was made for Long and even it was encouragement created by the opponent. Long scored a goal.
Running hard is essential to win such contests.
Big hopes for the mighty Saints were made throughout the JLT Community Series. But unfortunately Roberton is unavailable for the 2019 season due to those o going heart issues. It's sad that he only has such issues while playing and then he is fine afterwards. I'm with Robbie. Get well mate.
Meanwhile the women's side of Sunday's my opponent played footy in the previous day at Docklands.
Daughters of the West lost just by a point against the Demon girls. The premiership team hit the bottom of the Conference A.
I would not write a full story of the AFLW match because of my emotion. I do respect women's sport, but the good win of the Saints men's got the spot for my writing piece.
Having watched the match highlights, I made a player note from girls' actions.
"If I am put pressure on, release the ball either kick or handpass."
The impressive action is Conti turning her body to score a goal when she was about to be tackled at the last quarter.
I am learning both on and off the field to improve my footy skills.
WESTERN BULLDOGS 2.2 5.4 10.6 12.7 (79)
ST KILDA 4.2 7.5 10.6 14.9 (93)
GOALS
Western Bulldogs: Naughton 3, Lloyd 3, Schache 2, Liberatore, Hunter, Bontempelli, Wallis
St Kilda: Membrey 3, Sinclair 2, McCartin 2, Bruce 2, Gresham, Clark, Newnes, Kent, Long
BEST
Western Bulldogs: Hunter, Macrae, Dunkley, Naughton, Wallis, Lloyd
St Kilda: Roberton, Billings, Steele, Newnes, Battle, Marshall
Official crowd: 4384
To find out more about Almanac memberships CLICK HERE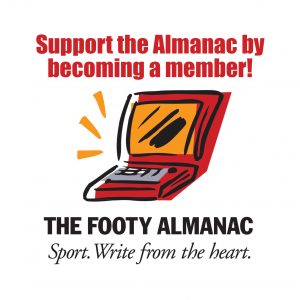 Love, passion and pride are seen on the footy that is the biggest part of my life. 1. St Kilda Club member: I am a passionate and crazy Sainter. Just hope we will win the second flag soon, especially after Dogs and Tigers having ended long premiership draughts. 2. The Osaka Dingoes Player and Public Relations Officer: Player number 44 that I chose to honour Stephen Milne with my wish being like a small forward like him. Lenny Hayes' hardworking attitudes are adopted on my trainings and practices. Nick Riewoldt's great plays are in my player audiobook too. 3. Writing: Here on the Almanac and also on the World Footy News. My skills utilise on great footy websites.