Doing better without Mr McGuire
Eddie McGuire has been president of the Collingwood Football Club for twenty-two years.  In that time, Collingwood has won just one premiership.  In December 2020, he announced he would stand down as president at the end of 2021.
Coincidentally,  in December 2020 the Collingwood board received the much publicised report Do Better – Independent review into Collingwood Football Club's responses to Incidents of Racism and Cultural Safety in the Workplace.  The report was commissioned by the Club's Integrity Commission members.  That report was 'leaked' rather than 'released' last week.
It is my view that the club, and particularly Mr McGuire, handled the report as a package needing media management rather than a firm commitment to really, umm, Do Better.  Mr McGuire initially claimed that it was an 'historic and proud day' for the club when details of the report were leaked.  His viewing lens was completely at odds with the content of the report.
The 35-page report is compelling in its criticism of Collingwood.  While the report notes that it wasn't about addressing the complaints from Heritier Lumumba (because he was not part of the report), it was scathing in its criticism of racism over many years.  If Mr McGuire had bothered to consult with any sensible person – preferably outside of the club – about how he should have responded, this is what they would have told him:
Deep-felt apology should be expressed for the club being so out of step with society's expectations in relation to racial discrimination – overt and covert. The little issue of not complying with Commonwealth and State legislation might have received some attention, too.
Commitment to implementing every single recommendation contained in the report. Indeed, the report includes an implementation plan as well as a time frame.
Acknowledgement that leadership comes from the top. Mr McGuire should have led the team to Do Better, acknowledged that the racism was systemic, and resigned immediately.
Unfortunately, it appears that the response is more about Mr McGuire's legacy than any intention for Collingwood to Do Better.  It was bad enough that he had talked about the historic and proud day for Collingwood, but it got worse:  "I don't think there's any shame or disappointment" he said; adding,  "we're not a racist club."  I wondered whether the report leaked to the public was completely different from the one that drew these comments from Mr McGuire.
Mr McGuire did apologise a day later, at the club's annual general meeting, for the historic and proud comments.  He did not resile from the comments about shame, disappointment or not being a racist club.
Perhaps it's because Mr McGuire was relatively young when he took on the mantle of presidency at Collingwood that he has misunderstood what a leader does, what responsibility looks like and what happens when something as damning as this report appears on his watch.  Or perhaps he's just someone who is incapable of taking responsibility for his actions – of which there are a number cited in the report.  The report includes the example of Mr McGuire suggesting that Adam Goodes be used to promote a King Kong musical.  Yes, he apologised afterwards; but…There are other examples in the report demonstrating that Mr McGuire's leadership was sadly wanting throughout his long tenure.
There is still the enormous issue of Mr Lumumba's complaints that requires addressing.  I believe the current board under the leadership of Mr McGuire is incapable of moving this matter forward.  Remember that Mr Lumumba was removed from the leadership group of Collingwood under the guise of being 'overly sensitive' or 'mentally unstable.'  Yet the Do Better report has effectively given credence to his complaints.
Collingwood has had only twelve presidents in its long and noble history.  One could say that this is a good thing – stability at the top.  I would suggest that there has not been enough turnover to critically consider whether it is a good club that is committed to providing a safe workplace for its players and staff while being the envy of other clubs for how it goes about its business.
It's time for a re-think, Mr McGuire.  You need to go now.  The board needs to look critically at its composition and consider a shake up to bring in fresh blood and clean up this sorry mess.  Clean it up, not just as a window dressing exercise, but as an effort to commit to supporting racial diversity and stamping out racism.
To return to our Footy Almanac home page click HERE.
Our writers are independent contributors. The opinions expressed in their articles are their own. They are not the views, nor do they reflect the views, of Malarkey Publications.
Do you enjoy the Almanac concept?
And want to ensure it continues in its current form, and better? To help things keep ticking over please consider making your own contribution.
Become an Almanac (annual) member – CLICK HERE.
One-off financial contribution – CLICK HERE.
Regular financial contribution (monthly EFT) – CLICK HERE.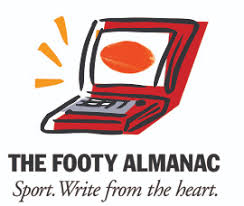 One of the first females to be admitted to membership of the G. Thank you Mr Cain. Nicknamed The Hyphen by Alamanac Editor, despite the fact I don't have one.