Balcony Banter Round 6 – Essendon v Collingwood: Observing (almost) 25 years of ANZAC Day at the 'G
Andrew Fithall reflects on a generation of attending Anzac Day football with his son, Bill. The occasion has lost nothing, especially when the Pies hang on in a thriller.
For Andrew's MCC Balcony Banter piece, CLICK HERE:
For more of Andrew's many Almanac contributions, CLICK HERE:
For more Balcony Banter, CLICK HERE:
Do you really enjoy the Almanac concept?
And want to ensure it continues in its current form, and better? To help keep things ticking over please consider making your own contribution.
Become an Almanac (annual) member – CLICK HERE
One off financial contribution – CLICK HERE
Regular financial contribution (monthly EFT) – CLICK HERE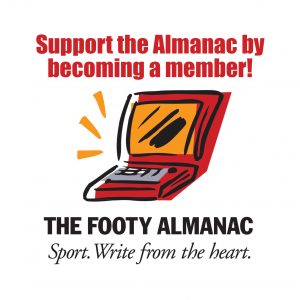 Probably the most rational, level-headed Collingwood supporter in existence. Not a lot of competition mind you.