Almanac Teams: The Brightest Brians
Since Monty Python's 'Life of Brian' there is an attached humour and irreverence to the name Brian: "He's not the messiah, he's a naughty boy !" is a line from the film that has been quoted with much mirth over the last 40 years.
Yes folks, the 'Life of Brian' is now 40 years old.
What better example of a Brian capable of incredible metamorphosis that Brian Harris/Lake?
He was both naughty boy and messiah at Hawthorn. Who would have thought that Brian Lake would have retired as a Norm Smith Medallist and a triple premiership player after he left the Bulldogs at the end of 2012?
Will he be the last Brian to play in the AFL?
No one named Brian has represented Fremantle, GCS, GWS, Port Adelaide, West Coast and University in VFL/AFL history. Shame.
Brian is another one of those names that seemed to be everywhere in the 1960s and 70s. The name still had a solid representation through the 1980s and then fell by the wayside as we reached the 1990s.
I wonder why some are spelled with an 'i' while others have the 'y' ?
Also, why isn't the surname spelled as O'Brian rather than O'Brien ?
Any info would be most welcome.
Among the Brians in this team there are terrific footballers and wonderful characters.
Therefore, Almanackers I encourage you to release your favourite Brians !
B: Brian Pert (Fitz)                       Brian Lake (WB/Haw)                      Brian Gray (Coll)
HB: Brian Cordy (Foot)               Brian Sierakowski (StK)                   Brian Douge (Haw)
C: Bryan Wood (Rich/Ess)            Brian Wilson (Melb)                         Bryan Cousins (Geel)
HF: Brian Quirk (Carl)                   Brian Gilmour (Foot)                      Brian Walsh (StK)
F: Bryan Martyn (NthM)                Brian Taylor (Rich/Coll)                 Brian Sampson (Ess)
Ruck: Brian Roberts (Rich/SthM)      Brian Peake (Geel)                   Brian Royal (Foots)
IC: Brian Leys (Rich)  Bryan Beinke (Adel)    Brian Winton (Ess)   Brian Gleeson (StK)
Coach: Brian Dixon (NthM)
Umpires: Bryan Sheehan      Brian Woodhead                     Brian Hood
Entertainment: " Always Look On The Bright Side Of Life "
For more of Phil's work, CLICK HERE: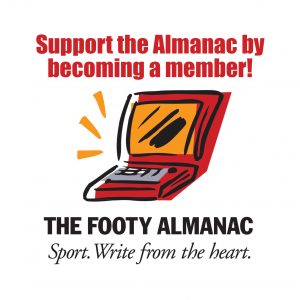 Carer/Teacher/Writer. Author of Fandemic: Travels in Footy Mythology. World view influenced by Johnny Cash, Krishnamurti, Larry David, Toni Morrison and Billy Picken.