Almanac Teams: How good are these Scotts ?
Scott was a popular name in the 1970s, 80s and 90s as this team indicates. It started to die out in the early 2000s and is rarely seen these days.
Now we have a our first PM called Scott. And an annoying catchphrase to boot.
The current Collingwood skipper is a Scott. How good is he ?
Scott Wynd was the last ruckman to win a Brownlow. He may be the last. How good was he?
They are in positions of power. Will they be the last Scotts to reach these dizzy heights ?
Almanackers, here is your chance to nominate your favourite Scotts from Australian Football. Nominations outside the VFL/AFL always welcome and encouraged.
B: Clayton (Fitz)                             Turner (Rich)                            Maginness (Haw)
HB: Selwood (WCE/Geel)          Thompson (NthM)                     McIvor (Fitz/Bris)
C: Thompson (Melb/Adel)           West (Foot)                               Camporeale (Carl/Ess)
HF: Lucas (Ess)                               Welsh (Adel)                               Russell (Coll)
F: Hodges (Adel)                  Cummings (Ess/WCE/Port/Coll)     Gumbleton (Ess)
Ruck: Wynd (Foot)                 Pendlebury (Coll)                        Watters (WCE/Syd/Freo)
Inter: Thornton (Freo)   Chisholm (Freo/Melb)   Direen (Syd)   Crow (Coll)
Coach: Watters (StK)
Umpires: McLaren, Jeffery
Entertainment: Scott Carne and Kids in the Kitchen
For more of Phil's work, CLICK HERE:
Do you really enjoy the Almanac concept?
And want to ensure it continues in its current form, and better? To help keep things ticking over please consider making your own contribution.
Become an Almanac (annual) member – CLICK HERE
One off financial contribution – CLICK HERE
Regular financial contribution (monthly EFT) – CLICK HERE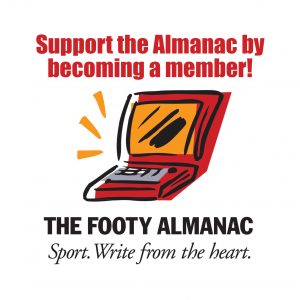 Carer/Teacher/Writer. Author of Fandemic: Travels in Footy Mythology. World view influenced by Johnny Cash, Krishnamurti, Larry David, Toni Morrison and Billy Picken.