Almanac Sporting Names: Beer, Onions and Flowers…something's Amiss…
by Andy Thurlow
I am somewhat fascinated by names, and especially those made famous by sportspeople.
Consider this scenario.
"Skip, there's a kid now batting in the cricket nets who's very good."
"How good?'
"Well our bowlers can't get him out."
"What do you mean? Maybe our D-grade bowlers can't. What about the C-graders?"
"They've tried. He's facing our A-Graders now. They can't either!"
"Tell them to bounce him."
"He's asked them to. Nothing's working. He's a prodigy. They reckon he'll go to the top."
"Rubbish! What's his name?"
"Joe. He might even get to captain England!"
"What's his whole name Dumbo?"
"Joe Root."
"What? Root as in tree roots?"
"Yes."
"That's a laugh. Not a hope. Consider these Captain's names … Cowdrey, Gooch, Atherton, Stewart, Hussein, Vaughan … and … then … Root! Let's go and see if he'll take a name change!"
Or maybe a similar scenario for a youngster with the surname Lillee. Consider the fear batsmen faced with a young tearaway named so florally. The lily often features in funerals because it symbolises transience and death. It is an excellent mourning flower. I wonder if that went through those batsmen's minds as they dodged and weaved his missiles without a helmet. His greatness now makes the name just roll off the tongue.
What was it like to start out on the road to cricketing greatness with monikers like Wilfred Flowers, Graeme Onions, Reggie Duff, Hammy Love, Arthur Dolphin, Wilf Slack or Jack Crapp?
And before they became household names, people might have quietly smirked when the scoreboard put up Michael Beer, Wally Grout, Colin McCool, Tom Moody, Graeme Swann, Tim Paine, Dennis Amiss, Matthew Hoggard or even Geoffrey Boycott. And I've not even delved into names from other cricketing nations.
When a Hawthorn AFL great called DiPierdomenico first came on the scene, I thought his name was Dipier Domenico. It was only many weeks later that I discovered he had a different Christian name -Robert – and even that was extracted from Berto. Do you remember those A4 page sized footy teamsheets with positions inside an oval, which would be posted on the local bulletin board? Can you imagine trying to fit Berto DiPierdomenico in the Forward Pocket space? Dipper normalised his name both through playing exceptional football in a superb team, and by way of an extroverted personality.
And my surname Thurlow can be found in Wisden. Hugh Motley Thurlow (1903-1975) was an Australian cricketer who played in one Test against South Africa in 1932. Hugh opened the bowling twice and finished with 0-86 for the match. He batted once only at number 11 and was run out for a duck. At the other end was Bradman, 299 not out!
And if you cannot find him, just google 'Pud' Thurlow. I wasn't sure what 'Pud' stood for. Was it short for 'Pudding'? Hardly flattering. The urban dictionary defines pud as 'the male penis' or 'a lazy, useless, or very weak person.' I am now hoping that even if Hugh Motley 'Pud' Thurlow wasn't successful as an international cricketer, he was good at eating. Or maybe now when I tackle my second dessert, I can point to 'Pud' and say that this clever capability is simply in our DNA.
My wife is and was a Modra. She would often have to spell her name out…M…O…D…R…A… until a good-looking footballer burst on to the AFL scene and, aerially gifted, made a habit of sitting on opponent's shoulders and kicking bags of goals. Even for those who didn't follow the Adelaide Crows, one was awed at Tony Modra's spectacular skillset. Our children were in Primary School at the time of his dominance, and when some of the shine of their fourth cousin rubbed off on to them, would have changed their surnames from mine if given the choice.
In the end, when we are drawn into the radiance of a sportsperson's skill and career, we just come to accept the name with all of its irony, don't we?
To return to our Footy Almanac home page click HERE.
Our writers are independent contributors. The opinions expressed in their articles are their own. They are not the views, nor do they reflect the views, of Malarkey Publications.
Do you enjoy the Almanac concept?
And want to ensure it continues in its current form, and better? To help things keep ticking over please consider making your own contribution.
Become an Almanac (annual) member – CLICK HERE.
One-off financial contribution – CLICK HERE.
Regular financial contribution (monthly EFT) – CLICK HERE.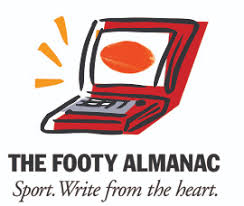 About
Born on Guernsey in the Channel Islands, my parents migrated to this wonderful country when I was 7. As teachers, my wife and I 'worked' in some pretty SA and Queensland tourist locations and ended up in the Barossa Valley, where I enjoy gardening, socialising, reading, writing, sport, travel, handyman projects and wine. Since retiring I've written 3 published biographies about Kieran Modra, Rolph and Marg Mayer and Margaret Ames. I started a Valley social cycling and coffee-ing club called the 'Sprocket Rockets' https://www.facebook.com/cyclingfunbarossa/ After some success at hockey, volleyball, tennis, golf, Church picnic sprints and the 'Henley on Todd' regatta, I've settled down to walking, cycling, Fantasy Football and watching sport, particularly AFL and cricket. A Queenslander described me as an 'Ex-Pommie, ex-Victorian who barracks for Port Adelaide' so it can only be up from there!