Almanac Rugby League – NRL Round 8: Turbulent times and ta-ta to Trent
Before turning to the state of the competition, a word of farewell to Trent Merrin who has announced his retirement. Isn't it refreshing to see a player call time on his career when he knows that the game has moved on beyond him and that he doesn't 'fit' anymore? I have long thought that Merrin has been underrated as a strong, old-fashioned forward who knew only straight ahead, bullocking runs but, to the surprise of many opponents, also possessed of a deft offload. Seven appearances in the green and gold of Australia as well as thirteen games in the sky blue of NSW suggest that those who know something about the game also saw something special in Merrin. A premiership with the 2010 Dragons and captaincy of the Prime Minister's XIII in 2015 were other highlights. Enjoy your retirement, Trent, it's well deserved! To see Trent's career statistics click here.
On to 2021 NRL matters. I'm happy to concede that I'm a reasonably conservative person, but that's not to say that I don't appreciate the odd bit of unpredictability now and then. The changes of fortune for several NRL clubs in recent weeks provides one such source of uncertainty – and I'm loving it!
As recently as a month ago it seemed that we had an all too predictable season unfolding before us. Yes, it still seems that only about four clubs are capable of winning the premiership, but it's what's happening on the ladder from fifth to about 12th that is providing us with renewed, weekly interest.
Go back to last weekend and you see that Manly (in particular) and the Cowboys have found new energy that just might shake things up a bit while the Raiders, Knights and Sharks appear to have lost their way. The Titans lost no friends in a high-scoring clash with the Rabbitohs and the Dragons looked good until a couple silly tackles put them on the back foot against the Roosters. The Bulldogs even had a win! Only the Tigers and Broncos looked bereft of hope.
As for who's hot, Jerome Luai, Turbo Tom, Maika Sivo, Jahrome Hughes and the ageless Benji Marshall were exciting with the ball in their hands and, not surprisingly, their respective teams were entertaining to watch. And it was good to see the much maligned Bryce Cartwright get some good press for a change.
So what does it all mean for this weekend's Round 8? Normally you'd back Canberra to win at home against just about anyone but, on current form, I can't see them holding the Rabbitohs tonight. The Bunnies seem to have plenty of scoring options while the Raiders' defence has been found wanting all too regularly of late. I've admired Ricky Stuart's restraint so far but even he will let fly soon if his charges don't fire.
The Sharks have a habit of getting under the skin of the Storm but I can't see them winning tomorrow evening at AAMI Stadium. The home side has too much talent individually and collectively to lose this one. I don't think it will even be close! Later on, the south-east Queensland derby should have plenty of feeling in it. I'll go for the Titans because, again, they have more try-scoring options than the Broncos. The only question will be how the Broncos try to contain 'the one that got away', David Fifita. Now he is the definition of 'awesome'.
The Panthers v Sea Eagles clash in Bathurst on Saturday afternoon is the match of the round. This will be the real test of Manly's resurgence against the ladder leaders. For the sake of the competition I'd like to see Manly win (I can't believe I said that!!!) and a loss might be a good thing for the Panthers. In reality, however, I can't see it unfolding that way and so I'll stick with the Penrith lads. Although they won last weekend, I can't see the Bulldogs beating the Eels in the early evening game. Another hat-trick for Maika Sivo, perhaps? Then, in the night game, the Knights will find the Roosters too strong. Sam Walker has been a revelation beyond anyone's expectations and you fear how good the Chooks might be with both Walker and Keary on the field. The Roosters by plenty.
On Sunday, the Warriors host the Cowboys on the Central Coast. I admired the way the northerners fought back against the Raiders in a way we haven't seen from them for years. The Warriors, by contrast, were described as 'hapless' against the Storm – but then so are a lot of sides! Recent performances suggest a win for North Queensland but I continue to have a soft spot for the Kiwi outfit so I'll stick with them – just. The final match between the Dragons and Tigers should see an easy win for the Dragons if they can repeat their first 30 minutes from Anzac Day and turn it into an 80 minute effort. A win against the Tigers won't win them any extra kudos but a loss would stall what has been a pretty good run of late. Are the Tigers capable of surprising us? Not this week.
So my winners this week are the Rabbitohs, Storm, Titans, Panthers, Eels, Roosters, Warriors and Dragons.
Thursday April 29
Raiders v Rabbitohs, GIO Stadium, 7.50pm
Friday April 30
Storm v Sharks, AAMI Park, 6.00pm
Broncos v Titans, Suncorp Stadium, 7.55pm
Saturday May 1
Panthers v Sea Eagles, Bathurst, 3.000pm
Bulldogs v Eels, Stadium Australia, 5.30pm
Knights v Roosters, McDonald Jones Stadium, 7.35pm
Sunday May 2
Warriors v Cowboys, Central Coast Stadium, 2.00pm
Dragons v Tigers,WIN Stadium, 4.05pm
Venues and times are current at the time of publication but please check for late changes.
Photo credit: 2gb.com
To return to our Footy Almanac home page click HERE.
Our writers are independent contributors. The opinions expressed in their articles are their own. They are not the views, nor do they reflect the views, of Malarkey Publications.
Do you enjoy the Almanac concept?
And want to ensure it continues in its current form, and better? To help things keep ticking over please consider making your own contribution.
Become an Almanac (annual) member – CLICK HERE.
One-off financial contribution – CLICK HERE.
Regular financial contribution (monthly EFT) – CLICK HERE.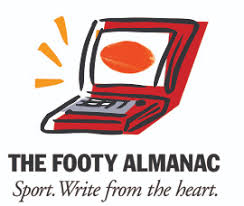 A relaxed, Noosa-based retiree with a (very) modest sporting CV. A Queenslander through and through, especially when it comes to cricket and rugby league. I enjoy travel, good coffee and cake, reading, and have been known to appreciate a glass or three of wine. As well as being one of Footy Almanac's online editors, I moonlight as an editor for hire - check me out at www.writerightediting.com.au