Almanac Rugby League – NRL Round 2: Can your team's season be over in March?
Round 1 of the NRL season has come and gone and, to my way of thinking, it pretty much confirmed most of my pre-season thoughts. Is it rude, or perhaps arrogant, to suggest that we can pick both our finalists and our 'also rans' in March? Or is that risking lashings of 'egg on my face' come September?
Here's my brief take on last weekend's outcomes: Back in the Storm, Panthers and Raiders to be in the top four. The Eels, Souths and Knights look solid for the top eight. Are the Warriors the 'movers' of 2021 after an impressive first up win? The Tigers and Titans were disappointing but I'm willing to cut them a bit of slack for a while yet. I fear that the rest will simply make up the numbers because, for many of them, their form over the weekend looked a bit like 2020 revisited and that's not a pretty sight.
Hold that paragraph; we'll revisit it come September.
Looking ahead to Round 2, the Eels host the Storm in a good test for both sides. The Eels took a while to get going last week and can't give Melbourne such a head start. It's an 80 minute game, lads, so be on time. Melbourne will work on their right side defence this week after it was badly exposed by the Bunnies. Bankwest Stadium is a tad intimidating for visitors but I think the Storm will weather it and come out on top.
The Warriors v Knights match will give us a better idea of where these two teams are at. The Warriors are 'at home' and will be keen to show that their first round win was no fluke. Fonua-Blake showcased his power and there was a lot to like about the zip of their backs. Newcastle were impressive against modest opposition but will be tested by the forward strength and backline pace of the NZ men. They have to win this one to show that they're made of top eight stuff. I'll stick with the Warriors.
The Titans and Broncos will both be looking to avoid being 0-2 by the end of Friday night! It's a frightening prospect for both sides. The Titans were very disappointing first up after a lot of talk about good recruiting and a strong pre-season. They must win for their own self-belief. The Broncos showed glimpses for half a game but lost their way under pressure – there was no on-field leadership when it mattered. Same old, same old! It's already 'perform or perish' for these two teams. Toss of the coin here – the Broncos by 1?
It's hard to see the Bulldogs being anything other than roadkill for the confident and classy Panthers. End of story. Sorry. Similarly, Manly were woeful against the hot Roosters and now run into the Rabbitohs who, somewhat underwhelming in Round 1, will want to get back in Coach Bennett's good books. I don't think Lottoland will be enough to save the Sea Eagles. No 'Turbo', no Manly. Later on Saturday night, the Cowboys and Dragons face off in a game that one fears will, ultimately, be of little consequence. Again, it's a case of both sides staring at 0-2 and the season all but gone. I'll go with the Cowboys but only because they're at home.
Let's face it, the Tigers were very disappointing against the Raiders and I can't see them troubling the hot Chooks. Travelling out to Campbelltown will be a toughest part of the assignment for the Roosters. Finally, the Sharks did ok first up against a lacklustre Dragons outfit but will find the Raiders a step up in class. The Canberra lads did it easily against the Tigers and showed solid defence to go with some lightning strikes in attack. Canberra comfortably.
So my winners are the Storm, Warriors, Broncos, Panthers, Rabbitohs, Cowboys, Roosters and Raiders.
Thursday March 18
Eels v Storm, Bankwest Stadium, 7.05pm
Friday March 19
Warriors v Knights, Central Coast Stadium, 5.00pm
Titans v Broncos, Cbus SuperStadium, 7.05pm
Saturday March 20
Bulldogs v Panthers, Bankwest Stadium, 2.00pm
Sea Eagles v Rabbitohs, Lottoland, 4.30pm
Cowboys v Dragons, Queensland Country Bank Stadium, 6.35pm
Sunday March 21
Wests Tigers v Roosters, Campbelltown Stadium, 3.05pm
Sharks v Raiders, Nestrata Jubilee Stadium, 5.15pm
Check local times due to daylight saving.
To return to our Footy Almanac home page click HERE.
Our writers are independent contributors. The opinions expressed in their articles are their own. They are not the views, nor do they reflect the views, of Malarkey Publications.
Do you enjoy the Almanac concept?
And want to ensure it continues in its current form, and better? To help things keep ticking over please consider making your own contribution.
Become an Almanac (annual) member – CLICK HERE.
One-off financial contribution – CLICK HERE.
Regular financial contribution (monthly EFT) – CLICK HERE.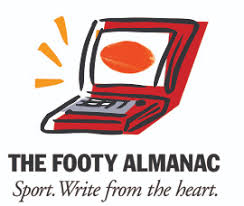 A relaxed, Noosa-based retiree with a (very) modest sporting CV. A Queenslander through and through, especially when it comes to cricket and rugby league. I enjoy travel, good coffee and cake, reading, and have been known to appreciate a glass or three of wine. As well as being one of Footy Almanac's online editors, I moonlight as an editor for hire - check me out at www.writerightediting.com.au