Almanac Rugby League: Controversies that never end
The Bulimba Cup
Cameron Smith's father was interviewed over the weekend on radio in Ipswich in Queensland where the blood of rugby league flows in a deep vein of maroon. His Melbourne Storm subsequently won the National Rugby League Grand Final and opposition supporters inevitably cried foul something about penalty tries. I was also on air over the weekend recalling Ipswich's Grand Final controversies and here are two of the most emotional of all from a century ago.
Talk controversies and, in the past, many thought of the great Ipswich rugby league team of 1926. That year Ipswich was led by a couple of Australian Kangaroo greats – Jimmy Craig and Norm Potter.
Craig had been recruited from Balmain in New South Wales and went on to represent Queensland twenty-three times and play seven Tests for Australia including three as captain.
Norm Potter, captain of Ipswich that year, also played seven Tests for Australia and a whopping forty-four games for Queensland. A few years earlier he'd captained Queensland to the first ever win over New South Wales in the interstate series.
Norm Potter (right) was a giant of the game
In 1926 the most fiercely fought competition was for the Bulimba Cup between the archival cities of Ipswich, Toowoomba and Brisbane.
Unexpectedly, after two full rounds all three teams finished equal top. The rules of the competition allowed for a final if two teams finished equal, but not three teams, so confusion reigned.
The Queensland Rugby League stepped in and deemed that a finals series involving all three teams had to be played.
Ipswich agreed with the QRL – but Cup-holders and league giants Toowoomba refused to play, and as did Brisbane which was in a power struggle with the QRL at the time.
So Ipswich was awarded the Bulimba Cup for the first time without a final being played, Norm Potter was captain for another famous victory, and controversy raged that threatened to tear the game apart in the northern state.
Rugby league in 1926 provided a major talking point in Ipswich for a generation, but so too did the Brisbane Eisteddfod in 1920!
The interest in competitive singing in Queensland was immense. During its heyday between the First and Second World Wars, at least ten large choirs flourished in Brisbane, Ipswich and elsewhere.
The famous Blackstone-Ipswich Cambrian Choir was led by their conductor, the great Leonard Francis. His greatest triumphs had come in 1908 and 1910 when the Cambians twice won the Grand Championship of Australia.
The much-loved conductor Leonard Francis
Right from the start of the 1920 Eisteddfod, the talking point among all the competitors and officials was on the question of adjudications – for the first time there were two adjudicators who judged independently and then averaged their marks. The results as the competition progressed sometimes seemed like a toss of the coin.
Some argued a return to one judge, others thought two was fair, while most said there should be three judges.
Ipswich's big rivals, the Brisbane Australs, performed outstandingly well in the preliminary rounds, but still the champion Ipswich singers were expected to win.
The controversial system eventually went against Leonard Francis and the outcome was that the home Brisbane choir won, and Francis' Blackstone-Ipswich Cambrians had to settle for a minor prize.
The uproar that followed in the media is palpable even today in Ipswich where rugby league is king, but finals controversies also sometimes reign.
Listen to Ipswich's grand final controversies on West Bremer Radio
Photo credits: Bulimba Cup 1926-1972 – National Museum of Australia Norm Potter (right) with fellow Queenslanders Harry Fewin and Harry Sunderland, 1920 – cowboys.com.au Leonard Francis choral legend – Queensland Times, 26 July 1946, page 2
THIS STORY HAS BEEN REPRODUCED FROM THE AUTHOR'S WEBSITE www.historyoutthere.com
To return to our Footy Almanac home page click HERE.
Our writers are independent contributors. The opinions expressed in their articles are their own. They are not the views, nor do they reflect the views, of Malarkey Publications.
Do you enjoy the Almanac concept?
And want to ensure it continues in its current form, and better? To help things keep ticking over please consider making your own contribution.
Become an Almanac (annual) member – CLICK HERE.
One-off financial contribution – CLICK HERE.
Regular financial contribution (monthly EFT) – CLICK HERE.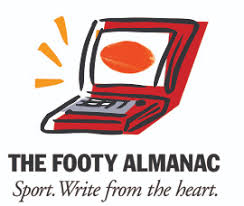 Author | Historian | Detectorist