Almanac Rugby League – Cameron Smith: A legend in his own time

Cameron Smith
Photo Courtesy melbournestorm.com.au
In the lead-up to the NRL Grand Final, I quoted the Carly Simon song and album Anticipation.
Now that that's done and dusted, there's still plenty of anticipation, firstly for State of Origin and secondly for Cameron Smith's decision. Will he retire or play on? If he plays on, will he stay with Melbourne or change clubs?
With the Storm winning the Grand Final, I wondered if we'd quickly hear an announcement from Smith. We did not, in which case there's still plenty of anticipation. Regardless, the second song on the Anticipation album is also applicable to Cameron Smith: 'Legend in your own time'. Every so often there's a sportsperson who sticks in one's mind as an 'all-time great'. In rugby league terms, Cameron Smith is at the top of my list. It's not just his glittering achievements, but also the way he has conducted himself and gone about his business.
Admittedly I was a little too young to see Wally Lewis at his peak. But I have watched every State of Origin match, in chronological order, on DVD. Wally has constantly been rated as 'The Emperor of Lang Park' and 'The King of State of Origin'. It's pointless to compare Cameron Smith and Wally Lewis considering they played in different positions and different eras, while the game was played differently in each era. Having said all that, I have followed rugby league since the early 1990s (including Wally's last year or two) and can rate the greatest player I have seen.
With all due respect to the likes of Wally Lewis, Mal Meninga, Andrew Johns and Johnathan Thurston, the greatest player I have seen is Cameron Smith. I even rate him above Wally Lewis in State of Origin. Yes, I insist that 'The King' (as in, Wally Lewis) has been dethroned. The difference between the two? Wally could control a game and think 4 or 5 sets ahead, whereas Smith could govern a game and think 9 or 10 sets ahead. 'King Cameron' or 'King Smith' doesn't have the same ring to it as 'King Wally', but that's missing the point anyway.
Wally scored some clever tries in Origin football, including in 1983 and 1984 when he darted over the tryline from acting-half due to cleverly reading the play. Smith did likewise in Origin (in a different era), but his try in this year's Grand Final was one that really stood out to me. With half-time just seconds away, he shaped to pass from dummy-half with the try-line only a couple of metres away. A defender knocked the ball out of his hands, and suddenly the ball trickled in front of Smith's feet. This was speculative and completely unplanned. Anything could have happened. But not for Smith. Reacting before anyone could blink their eyes or comprehend what arose in a split-second, Smith followed the ball and touched down for a try to all but put the game out of Penrith's reach. It was as if Smith had the ball on a string. Uncanny.
Smith's skill, direction, leadership and all-round class are simply unparalleled, even at the age of 37. The first four paragraphs of Gilbert Gardiner's article in The Courier-Mail on the day after the Grand Final sum up Smith perfectly (possibly with the exception of the term 'Greatest ever', considering I don't think this term can necessarily be applied to anyone):
"CHAMPION. Legend. Greatest ever.
"All three prefix Cameron Smith appropriately. But none encapsulate the Melbourne Storm captain as neatly as normal, humble and selfless.
"An everyday father, husband and son, who just so happens to be the greatest player, leader and statesman in Australian rugby league history.
"Smith has transcended sport – in Melbourne, Queensland and the rest of Australia."
Gardiner also went on to say: "Smith has done it all. Premierships and personal accolades have landed at a breathtaking consistency."
As the only player to tally 400 NRL games and beyond, not to mention a record 42 State of Origin matches and 56 Tests, Smith has set records that will surely never be broken despite the fact that records are there to be broken (so to speak). Even though Smith has many critics, nobody can deny his phenomenal success over a long period of time. To anyone who bags him, I simply use any of the following expressions: jealousy, tall poppy syndrome, sour grapes.
Yet as Robert Craddock wrote in the Sunday Mail in the lead-up to the Grand Final, Smith is also mysterious considering "after all these years we still haven't got to the bottom of who he is and what he does – as a person and player". Craddock quoted Ben Ikin as saying of Smith: "You think this guy is great but you don't know why. You can tell this guy has rat cunning but you just can't quite prove it…There is not one big moment. With Wally Lewis and Andrew Johns there was noticeable brilliance. But with Smith, you know it's happening but you cannot quite describe it. It becomes frustrating. You know he is beating you but how?"
It is indeed hard to know just how he does it, but Smith is the glue that holds a team together. He is a director and organiser as much as he is a leader, and he has the rare ability to rally his teammates no matter what the situation.
I must draw attention to the 'humble and selfless' aspect of Smith. He has never been one to blow his own trumpet or beat his chest or be boastful. In a successful Grand Final speech, he is always quick to give credit to the opposition. When his beloved Storm lost the 2016 Grand Final, enabling Cronulla to win the competition for the first time ever, Smith was 'class personified' at the presentations as he showed no sign of any disappointment that he must have felt deep down. "You guys have been waiting a very long time for this moment. It's taken a lifetime. Many people that supported the club for a long time didn't see a premiership. Everyone here tonight has. I hope you enjoy it thoroughly. Well done," he said.
Smith's influence and leadership could also not be underestimated considering he captained a sporting club which had to spend five months away from home. That brings me to Carly Simon's lyrics: "If through all the madness, we can stick together, we're safe and sound, the world's just inside out and upside down". Such words have a timeless quality, and are applicable in no small way in 2020.
Smith is certainly a legend in his own time, even if he is a polarising figure. There are plenty of other Carly Simon song titles that can be applied, too. Recently, it emerged that Smith carried rib and shoulder injuries into the Grand Final. In that case, not to mention that he has missed so few games due to injury over the years, Smith is a case of 'Haven't Got Time for the Pain'. If anyone tries to compare Smith to rugby league hookers from the 1960s and 1970s, I say that this is simply a 'Misfit'. Smith's critics may claim he is 'Just a sinner'. But I reckon that most criticism of Smith is 'Just Not True', while 'Legend in your own time' and 'The best thing' are definitely applicable. Will 'One more time' become applicable, given the question of whether or not he plays on next year? Or perhaps 'Share the end'? 'After the Storm', what comes next? No doubt someone will be saying 'I've got to have you'. I trust that whatever he does will be 'The Right thing to do'.
Two Carly Simon song titles that are NOT applicable for Smith are 'You're So Vain' and 'We Have No Secrets'. The latter brings me to my favourite band ever: Electric Light Orchestra. There are also plenty of ELO titles that are applicable to Smith, including 'Secret Messages', '21st Century Man', 'Strange Magic', 'So fine', and 'A New World Record'. Sooner or later, 'Steppin' Out', 'Losing You' and 'It's Over' will be added to the list. It's all a matter of 'Time'.
I'm sure there's plenty more but that will do for now.
Cameron Smith: Legend in your own time.
To return to our Footy Almanac home page click HERE.
Our writers are independent contributors. The opinions expressed in their articles are their own. They are not the views, nor do they reflect the views, of Malarkey Publications.
Do you enjoy the Almanac concept?
And want to ensure it continues in its current form, and better? To help things keep ticking over please consider making your own contribution.
Become an Almanac (annual) member – CLICK HERE.
One-off financial contribution – CLICK HERE.
Regular financial contribution (monthly EFT) – CLICK HERE.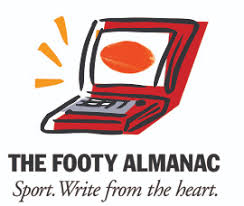 A Queenslander through and through, Liam went out of his comfort zone as he had a thoroughly worthwhile time in Tumut and Gundagai from 2008 to 2016 before enjoying a year in Gunnedah. His strongest sporting interests are State of Origin, Sheffield Shield, Test cricket and the NRL. His sporting CV doesn't have many highlights, although he once top-scored in a warehouse cricket match with 54 not out at number 10, and shared in an unbroken last wicket stand of 83 with the number 11 who scored an undefeated 52. Liam has written books including State of Origin 40 Years, A Century of Cricket Tests, A History of Test Cricket, The Immortals of Australian Cricket, The Immortals of Australian Rugby League, and The Great Grand Finals: Rugby League's Greatest Contests. Also a huge fan of Electric Light Orchestra.