Almanac Rugby – Old Collegians v Barossa Rams: `Appy Birthday
Old Collegians v Barossa Rams
My friend Florian Bousignac, the man with a French name (because he is French), has a birthday today, May 28. I am very envious of him. He is in the prime of his rugby life.
In television commentary it is de rigueur (see what I did there?) to mention a player's age, occupation and home town or home region – "the 31 year old refrigeration mechanic from Taranaki" or the "21 year old medical student from St Lucia." My recent favourite is the All Blacks "30 year old nightclub bouncer from Auckland" but I can't remember who that is (just that he is a prop, as expected). If legendary commentator Gordon Bray were calling South Australian rugby, Florian, having just buried the darty scrum half yet again would be "the 29 year old wine-maker from Tanunda"
**
It's Saturday afternoon in Kensington Gardens, the natural habitat of Adelaide rugby players. Always borderline endangered, they have found a way to ward off the prospect of extinction. The most virile and determined ensure that the Kangaroo shaslicks (with bush tomato jelly) are prepared and there's enough Pimms in the boot to get through the loyal toast and an afternoon on the squirt.
The Barossa Rams have arrived from up country like Visigoths. After some years in the doldrums, they have gathered their forces and are back in town. With president Fraser Vivian ("the 50 year old vaccinator from Krondorf") leading the rampage, the Rams have taken all before. "It's great to be back in our spiritual home," he explains, "in third division." Things are on the up and up. "We used to have seven turning up to training on a Tuesday night, but now we have 27.  The life is back."
Fraser knows what it's like to be at the forefront of things. A lapsed hooker, he has fallen into the trajectory of Darwinian evolution and turned himself into a prop. There is no finer expression of humanity than the prop forward. I recall being on the Gabba Hill when, well into the final session, I found myself drinking XXXX cans with a bloke as wide as he was tall (with no observable neck) who'd had a few himself. He was wearing a T-shirt which said, "God invented beer so that props wouldn't take over the world." It reminded me of the sign I saw one time driving past Bottomley Park, home of Easts, in Brisbane which announced the forthcoming season: "Sign on: Jan 29. All welcome. Even props."
And so the Rams arrive, undefeated, at the home of Collegians, also boasting a clean sheet, for a contest the whole rugby world had been anticipating. Coach Cooper Burns, the 40-something winemaker from Nuriootpa, had instructed his players to trust in themselves, and to follow the simple plan of a couple of crash and bash phases before "giving it to the Fijians". At fly-half, Joey, the 34 year old vege packer from Elizabeth; in the centres Savi, who's come up through the Rams' juniors; and at No. 8, Eli, coincidentally also a vege packer from Elizabeth.
The players had Coops in their ears. "If you win the ball, and there's a chance, play quick. Run the ball," he'd said. "Otherwise re-set."
The Rams start well, following instructions. Florian wins a lineout near the line, his pack force the maul over and the Rams lead early. Fraser is stoked. He's standing with the Collegians' president, who someone says is the 79 year old former don from Oxford (recently nominated for a Nobel Prize in Theoretical Calligraphy perhaps?)
Florian knew it would be an interesting afternoon. "We wear fave-r'ts on pay-pear," he later tells me.  "But we are not taking any-zing for granted. We knoo they has some veery strong play-ezz."
The Rams get on top but Collegians hang in there. "Our scrum, it is veery strong," Florian explains. "Oh yes it is, it is much strong-gair than is u-zhu-al. We score. We always look like scor-eeng. But we, the ball, we turn eet over, and they are so good at runn-eeng away. They make us pay."
Somehow, with five minutes to play, Collegians lead 26-22. Even before the denouement the rugby world is scratching the 1973 Barbarians v All Blacks match from its exalted position and replacing it with this humble Saturday afternoon club fixture.
Fraser Vivian, an inspiration to us all (and the sort of sympathetic doctor you want in a serious wine region), courageous to the last, was still in the company of his opposite number. "It was do-or-die," he says, "Things weren't going to plan and with minutes to go I was a bit forlorn. To be honest, I was looking around for the best escape route."
The Rams surge the pig leather forward. They force a scrum. They win it. Pick and go. Pick and go. Penalty Rams. Go again. Pick and go. Close. Dan Crosby, the 32 year old aircraft engineer from the Barossa, missiles at the wall of defenders. Over! Pandemonium. Much hugging and pumping of fists.
"It was a grey twin," Florian reflects. "We were all `appy. And relieved. Coops was `appy. Fraser was `appy. I was `appy. We have been losing every weekend for three years and winning this strong, `ard game meant so much."
The Rams are a unique club in that they don't have a club song. Instead, when they win, they sing Happy Birthday. "That is `ow we celebrate," Florian says."And this time, when we do the `ip, `ip,  `ip, a kelpie started 'owling."
It was a memorable afternoon in Kensington.
`Appy Birthday Florian.
 Read more from John Harms HERE
To return to our Footy Almanac home page click HERE.
Our writers are independent contributors. The opinions expressed in their articles are their own. They are not the views, nor do they reflect the views, of Malarkey Publications.
Do you enjoy the Almanac concept?
And want to ensure it continues in its current form, and better? To help things keep ticking over please consider making your own contribution.
Become an Almanac (annual) member – CLICK HERE.
One-off financial contribution – CLICK HERE.
Regular financial contribution (monthly EFT) – CLICK HERE.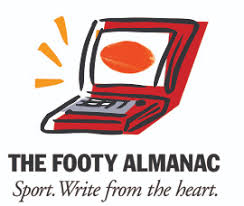 JTH is a writer, publisher, speaker, historian. He is publisher and contributing editor of The Footy Almanac and footyalmanac.com.au. He has written columns and features for numerous publications. His books include Confessions of a Thirteenth Man, Memoirs of a Mug Punter, Loose Men Everywhere, Play On, The Pearl: Steve Renouf's Story and Life As I Know It (with Michelle Payne). He appears (appeared?) on ABCTV's Offsiders. He can be contacted [email protected] He is married to The Handicapper and has three school-age kids - Theo, Anna, Evie. He might not be the worst putter in the world but he's in the worst three. His ambition was to lunch for Australia but it clashed with his other ambition - to shoot his age.