Almanac Rugby – Club Rugby: The Showdown
This week, Old Collegians are out at Elizabeth for mental health awareness round. This is a great initiative that was worthy of our support. However, we are staying closer to home. There is a much bigger game in town this week.  There is another story to be told.
We are off to the 'Showdown'. Adelaide University Thirds v Adelaide University Sharks.
The battle of Fullarton Road.
We know all about the Adelaide Uni Thirds (the Blacks), Old Colls stitched them up a few weeks back. But who are the Sharks?
The Adelaide University Sharks is Adelaide's gay and inclusive rugby union club providing the LGBTIQ community and allies the opportunity to be part of rugby union. Formed in 2020, they South Australia's first gay and inclusive rugby team and the nation's fifth, joining teams in Sydney, Melbourne, Brisbane, and Perth. Adelaide University Rugby Union Football Club is the Sharks' host club and has welcomed them with open arms.
Adelaide has a dark and shameful past when it comes to the treatment of its LGBTIQ community. Three months prior to my birth, Dr George Duncan (a gay law lecturer at the university) and another man were confronted one night on the banks of the River Torrens, just across the road from the university. Both men were thrown into the water, but Dr Duncan could not swim and drowned. It is rumoured that members of the police vice squad were responsible. Unsurprisingly, nobody has been convicted of the crime. Unfortunately, this was not an isolated incident. Growing up in the '70s and '80s I was aware of the mistreatment and abuse suffered by our LGBTIQ community, even after homosexual activity was decriminalised (why was it a crime in the first place?). We should be ashamed. We must do better.
The Sharks are doing their bit to hack away at the stigma surrounding LGBTIQ participation in male sports in Australia.  It may not be as overt as it once was, but it still exists.  Members of the Sharks have spoken of how they did not feel that some other sports provided an inclusive space, and that they did not feel as comfortable in that environment as they do now.  They have found acceptance in the Sharks, and in rugby union.
Inaugural Captain Kane Van Diermen described sport as being a scary place for gay men and provided the following insights (1):
'I wish we lived in a world where it wasn't an issue, and there was no need for this but I suppose the establishment of these special interest clubs is an indicator of us not being there yet.
'It's engaging a whole portion of the population that are currently disengaged in a huge element of our society. Weekend sports are one of the cornerstones of our culture but a significant portion of Australia may not feel that that's an inclusive space.' (1)
What does a gay and inclusive rugby team look like? They look like a bloody rugby team! So, let's get on with it…
The showdown takes places on the idyllic surrounds of Waite Oval, on the edge of Waite Arboretum.  We have the hills as the backdrop.  A row of eucalypts along Fullarton Road will provide shade for spectators on another unseasonably warm Autumn day. All this yet we are only a five minute drive from CBD fringe.  Four snags in bread for $10.  They sell wagon wheels at the canteen.  What a great day out.
The opening half is a war of attrition in middle third of ground. Bragging rights are at stake, so the pressure is on.  Pressure leads to mistakes from both sides. Ground is taken, then taken back. Something has to give.
Out of this stalemate comes the highlight of the game. A Sharks back breaks from inside his own half. Just the fullback to beat. In a dazzling display of footwork, he puts on half a dozen glorious steps this way and that before he gets anywhere near the awaiting 15. In the end he just runs past him to the right. He pins his ears back and off he goes. What a superb individual play! Untouched, he grounds the ball just over the line. The five metre line! That initial look of confusion on his face is priceless. Why are they shouting not cheering?
Things open up after that and the Blacks play some good running rugby to break the deadlock late in half. The entertainment doesn't stop there. The Sharks hooker sells the biggest piece of candy since Willy Wonka was in business and puts his mate over under the posts. The Blacks player is still searching for the ball.
The Blacks look to be travelling comfortably in the second half. Their experience seems to be winning out. The Sharks hooker provides another highlight reel effort with drop goal from 30. Kicking is rare at this level, conversions even rarer, and drop goals almost unheard of.
The Sharks are energised now and out of nowhere run in three long range tries in succession. They take the lead and threaten to break the game wide open. Befitting this great contest, the Blacks come back. They take back the lead with a late try. We witness a desperate final five minutes. Calls to slow down the play go unheeded. Blacks 29 Sharks 27.
All played hard.  After 80 minutes the only difference was two points and the rainbow socks worn by the Sharks.  They helped with the jersey clash anyway.  Applause all round.  Rightly so.
1. Introducing the Adelaide University Sharks, South Australia's first gay and inclusive rugby team.  Rugby in the LGBTQ+ Community.  www.worldrugby.org.  22 July 2020.
The Tigers (Covid) Almanac 2020 will be published in 2021. It will have all the usual features – a game by game account of the Tigers season – and will also include some of the best Almanac writing from the Covid winter.  Pre-order HERE
To return to our Footy Almanac home page click HERE.
Our writers are independent contributors. The opinions expressed in their articles are their own. They are not the views, nor do they reflect the views, of Malarkey Publications.
Do you enjoy the Almanac concept?
And want to ensure it continues in its current form, and better? To help things keep ticking over please consider making your own contribution.
Become an Almanac (annual) member – CLICK HERE.
One-off financial contribution – CLICK HERE.
Regular financial contribution (monthly EFT) – CLICK HERE.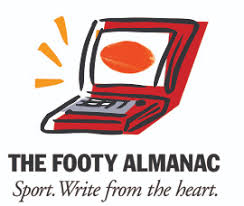 About
Dour opener and close-checking fullback. Peaked early.