Almanac Poetry: Three Photographs from the Early Life of Frances Scott Fitzgerald Lanahan Smith (1922-1986)
Three Photographs from the Early Life of Frances Scott Fitzgerald Lanahan Smith (1921-1986)
There you are,
coyly smiling,
only two years old,
hand in hand
with your father and mother,
high kicking in front of a Christmas tree,
typical expatriate
Americans in Paris
—hardly—
Scott writing Gatsby,
battling with his drinking,
Zelda madly practising,
far too late,
to be a ballerina.
In another photo
taken when you're seven,
the three of you are in the shallows
at a beach on the Côte d'Azur:
Zelda in a stylish one-piece,
Scottie in the middle, paddling,
Scott lounging on the other side,
protectively near his daughter.
Possibly Gerald and Sara Murphy,
that highly glamorous pair,
sat watching from the sand,
the couple who invented sunbathing,
at least in the form
in which it has come down to us
in the Western world.
Fast forward to your Vassar
graduation portrait:
a pretty blonde twenty-one-year-old
with the fine features of her father,
two years dead,
and the darker mystery of her mother,
now locked behind an asylum's walls.
One could be forgiven.
for wondering about the baggage
resulting from such parents
—Scott and Zelda, patron saints
of the decadent Jazz Age—
but instead their daughter wrote
of her childhood as idyllic,
to use her own word, golden.
(Acknowledgements: first published in Orpheus in the Undershirt, Ginninderra Press, 2018.)
Read more from Kevin Densley HERE
Kevin Densley's latest poetry collection, Sacredly Profane, is available HERE
Read more Almanac Poetry HERE
If you would like to receive the Almanac Music and Poetry newsletter we will add you to the list. Please email us: [email protected]
To return to our Footy Almanac home page click HERE.
Our writers are independent contributors. The opinions expressed in their articles are their own. They are not the views, nor do they reflect the views, of Malarkey Publications.
Do you enjoy the Almanac concept?
And want to ensure it continues in its current form, and better? To help things keep ticking over please consider making your own contribution.
Become an Almanac (annual) member – CLICK HERE.
One-off financial contribution – CLICK HERE.
Regular financial contribution (monthly EFT) – CLICK HERE.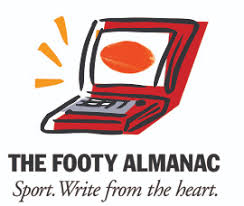 About
Kevin Densley is a poet and writer-in-general. His fourth book-length poetry collection, Sacredly Profane, was published in late 2020 by Ginninderra Press. He is also the co-author of ten play collections for young people, as well as a multi Green Room Award nominated play, Last Chance Gas, which was published by Currency Press. Other writing includes screenplays for educational films.