Almanac Life: Footy Almanac Vernacular

Image: Martin Tighe
When one reads enough responses to posts on The Footy Almanac website, what becomes clear in many instances is a particularly 'Almanacky' way of speaking/writing, a variety of vernacular with a specialised, nuanced meaning for Almanackers themselves.
For example, 'have a crack' means, in a general sense, to have a go. However, less typically, in an Almanac discussion context, this 'having a go' can equally refer to something sporty (examples would include 'I plan to have a crack at a marathon' and 'They really had a crack in the final quarter') – or something outside the sporting arena. For example, an Almanacker could write that they are going to 'have a crack' at a long narrative poem or a string quartet (well, er, maybe, in the latter case). A single word variant of this expression is 'cracker', as in brilliant, or something synonymous. Almanackers will often comment along the lines of 'That piece is a cracker, Slasher!'
Another popular expression in comments connected to Almanac posts is 'Well played!' This means well done in relation to any endeavour but, in an Almanac context again, quite often refers to something beyond a sporting realm. A good piece of writing, for example, can be called 'Well played!'
'Hard on (no, not that meaning!)' means to be very tough, severe in relation to something. The expression is often put in a succinct context. For example, in my recent 'Ten Things I Hate' article, the first thing I mentioned was cauliflower. JTH commented, opening with three words, that I was 'Hard on cauliflower.'
A slightly different issue in connection with Almanac-speak is the Almanac-related reference whereby one would have to know the member of the Almanac community involved – at least in terms of their writing – to understand what is actually being said. If someone replied to 'Smokie' Dawson that 'I'd enjoy having a few Chainsaws with you next time you're in town,' one would have to know that the reference is to one of Mr Dawson's favourite beers, not a machine for cutting down branches and trunks of trees.
Or, if one replied to Mickey Randall that a piece of his writing was a 'Southwark Bitter' of an article, he – and many other readers – would understand that the writer of this remark:
a/ did not consider it to be one of Mickey's better efforts;
b/ thought that the piece would be one to divide opinion;
c/ would only be fully comprehensible to South Australians; or,
d/ all or some of the above.
This is a particularly complex example, concerning which a short thesis could be written.
Other Almanac linguistic features include a propensity for nicknames, often using initials (JTH, KD, PB etc), and sometimes other methods, such as deliberate cliché (Matt 'Old Dog' Zurbo), puns ('Stainless' Steel'*) and the alliterative ('Dips' O'Donnell).
***
These brief notes on Almanac language are only a starting point and are meant to be provisional in nature, rather than definitive. I'm sure there are numerous other examples to be found on the website. Perhaps Almanackers can put forward more of these in their responses to this piece.
(*Further note: yes, 'Stainless" Steel is also alliterative – I quickly realised that after completing the article.)
For more from Kevin, click HERE.
The Tigers (Covid) Almanac 2020 will be published in 2021. It will have all the usual features – a game by game account of the Tigers season – and will also include some of the best Almanac writing from the Covid winter.  Pre-order HERE
To return to our Footy Almanac home page click HERE.
Our writers are independent contributors. The opinions expressed in their articles are their own. They are not the views, nor do they reflect the views, of Malarkey Publications.
Do you enjoy the Almanac concept?
And want to ensure it continues in its current form, and better? To help things keep ticking over please consider making your own contribution.
Become an Almanac (annual) member – CLICK HERE.
One-off financial contribution – CLICK HERE.
Regular financial contribution (monthly EFT) – CLICK HERE.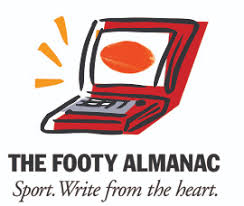 About
Kevin Densley is a poet and writer-in-general. His fourth book-length poetry collection, Sacredly Profane, was published in late 2020 by Ginninderra Press. He is also the co-author of ten play collections for young people, as well as a multi Green Room Award nominated play, Last Chance Gas, which was published by Currency Press. Other writing includes screenplays for educational films.