Almanac (Footy) Poetry: When Tom Papley Beat The Whole World
When Tom Papley beat the whole world
Tom Papley beat the whole world
On Saturday night,
In Sydney,
For Sydney.
Tom Papley,
Who knows
That games of football are for the playing,
And for the winning.
Grandpa Max knew that,
Grandpa Jeff knew that.
Teammates at old South.
…
A famous coach, who went to the Emerald City, a long time ago,
Set challenges:
"If it is to be, it's up to me," he said.
What could Tom do?
Tom, who wants the football
In his hands.
Tom, craving the test,
Like the batsmen who have walked to the middle of this storied ground.
…
You don't often see someone beat the whole world.
I remember a snowy-haired centreman
From the South Australian bush.
Learned his footy at Murray Bridge,
Then played for Walla (as they call Walla Walla in Walla)
Before teaching took him Up North.
He was wearing number seven for Coorparoo one day
In the curtain-raiser to the Bears
At Carrara.
He was old-fashioned.
Should have been wearing high-cut boots with the laces wrapped under and around, like a Menzies-era rover.
Neat.
Skilful.
He was having a blinder
In the late-Autumn sunshine.
He rolled back, to help.
He was about to rove the footy
Under pressure,
Six growling thugs
Bearing down on him
Ready to kill.
He grabbed that footy, and turned onto his left.
He beat every opponent.
He beat his teammates.
He beat the umpire.
He beat the entire crowd.
It was quantum football.
Was he teleported?
However you wish to explain it, he was in the clear
With nothing but well-lit turf in front of him.
Liberated.
Running free.
And still on his left, and staying on his left (why would you think otherwise),
He slippered a darting pass to his forward's timed lead.
The world got him though.
He influenced games so much for a month
That he was hit behind the play.
He drank mashed carrot and broccoli through a straw for all of Term 3.
Gave footy away.
Besides, he'd beaten the world, once,
In front of a handful of spectators,
Some of whom were paying attention.
…
In the dying minutes of this any-old-game between Geelong, perennial contenders, and the (rapidly) emerging Bloods,
Who have been brave,
Tom Papley wants the Sherrin.
He tolerates articles about youngsters who've tried.
But prefers articles about unlikely (or expected) triumph.
The Cats lead.
Desperate game.
Grimaced effort. From all.
Time ticking away.
And Tom Papley is where the footy is.
It pops out to him
At half forward.
Those brainwashed to play the probabilities
Know that chance insists he turns inside
Onto his (preferred) right boot.
But Tom Papley turns onto his left.
He beats six Geelong defenders
Who are in stride, about to lean over and smother.
Like synchronised swimmers.
Tom Papley is in space;
The space of a Coorparoo pivot.
That's only part of the story.
When Tom Papley turns onto his left,
His side trails.
He needs to kick the goal.
He moves with the natural momentum,
A dolphin surfing the SCG.
He snaps with his left
And puts it through.
It's a great victory to the Swans.
…
With seconds to go
Jeremy Cameron, a reluctant footballer,
Was keen enough (in the moment)
To snatch a mark
Just metres out.
The umpire waved play on.
Commentators and analysts piled on.
Calling for rule changes.
That became The Moment.
But it wasn't.
The moment was when Tom Papley
Turned onto his left
And beat the whole world.
Read more by John Harms HERE.
The Tigers (Covid) Almanac 2020 will be published in 2021. It will have all the usual features – a game by game account of the Tigers season – and will also include some of the best Almanac writing from the Covid winter.  Pre-order HERE
To return to our Footy Almanac home page click HERE.
Our writers are independent contributors. The opinions expressed in their articles are their own. They are not the views, nor do they reflect the views, of Malarkey Publications.
Do you enjoy the Almanac concept?
And want to ensure it continues in its current form, and better? To help things keep ticking over please consider making your own contribution.
Become an Almanac (annual) member – CLICK HERE.
One-off financial contribution – CLICK HERE.
Regular financial contribution (monthly EFT) – CLICK HERE.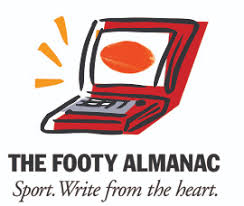 JTH is a writer, publisher, speaker, historian. He is publisher and contributing editor of The Footy Almanac and footyalmanac.com.au. He has written columns and features for numerous publications. His books include Confessions of a Thirteenth Man, Memoirs of a Mug Punter, Loose Men Everywhere, Play On, The Pearl: Steve Renouf's Story and Life As I Know It (with Michelle Payne). He appears (appeared?) on ABCTV's Offsiders. He can be contacted [email protected] He is married to The Handicapper and has three school-age kids - Theo, Anna, Evie. He might not be the worst putter in the world but he's in the worst three. His ambition was to lunch for Australia but it clashed with his other ambition - to shoot his age.